Zoe Zuniga Creations
is creating 2D & 3D art, novels, and a vegan permaculture eco empire
Select a membership level
Monthly progress report on creations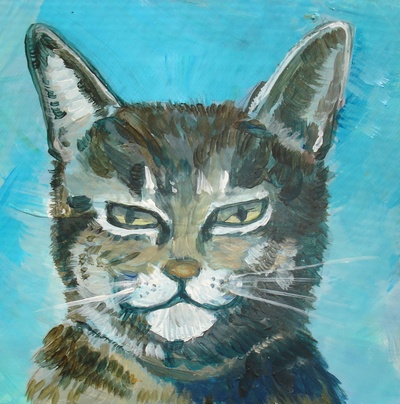 Blog posts on the work progress for everything happening at Zoe Zuniga Creations
Merpig.com
 news on progress of the fantasy art and toys site
Mindfuljoyful.com
Tips on marketing your work, on the artrepreneur site for creatives.
Mindbodyclarity.com
tips on ending processd food and more from the plant-based holistic health site
Plangent Noise Science Fiction YA novel in progress
Plangent Noise one Chapter a month
Learn how one dog was the youngest person finished her doctorate degree at the age of 14, sent her adopted human mom to grad school and bought them a new house.
Read about how one small white rat invented a cure for aging, a mutt dog ran for president of the United States and won, and a svelte cat got to do a music tour with Sting and teach music at the college level.
Go to
Plangentnoise.com
to reserve your copy of
Plangent Noise
a new fantasy novel by Zoe Zuniga.
Help me finish
Plangent Noise
with your feedback.
One Chapter per month will be sent out to you to read and send back your ideas on how the world could best be restructured after The Awakening
Plangent Noise illustrations
Learn how one magnificent malamute canine formed a society for the preservation of wild places for aboriginal animals throughout the world.
They stand for simplicity and equality and living in tune with nature. Go to
Plangentnoise.com
to read about Steiff Peaceful-tail.
How does a cow from a factory farm become a master nutritionist, humanimaltarian and win the Nobel Prize for medicine?
Learn all about doctor Miranda Smith PHD at
Plangentnoise.com
Get a chapter per month and a high resolution printable illustration file: the Mice in Space series is almost ready!
About
Want to find out how one dog became the first female president of the former United States and helped save the world?
Sign up to reserve your the first chapter of
Plangent Noise
a new fantasy sci fi novel by Zoe Zuniga and get new chapters every month until the book is finished. It is almost done but I need your input on a few key chapters in the middle about rebuilding the world with a structure that works.
The second half of the novel has chapters on rebuilding the world after a huge shift through crowd sourcing, using computer intelligene to sort resources (in a sensible non big brother style), and using permaculture principles like blaance, honoring nature, and always giving back and improving a place when you take something out.
Get involved in the art making process, see under the hood and watch and participate as I finish up an illustrated young adult novel.
Once Plangent Noise is sorted, help me design a new line of toys with and 2D and 3D art prints for sale soon.
I have projects galore at
Zoe Zuniga Creations
Including
a plant-based nutrition site
with a food addiction course in the works and a
creativity site
on how to market and empower the creative fields.
And once those streams of income and creative juice are sorted, join me in creating a whole new world with a vegan eco village with onsite jobs for as many of us as want to do it.
I'm thinking green houses with vertical aerponics as well as traditional gardens, permaculture food forest gardens, low till and no till regenerative farming with minimum work and maxiumum fun, mushroom growing in the basment, rammed earth homes, and other interesting DYI structures, perhaps a container house.
How about companies to support nomadic and alternative lifestyles?
A skoolie bus conversion training and building center?
A solar installation training and service center for tiny houses.
Our own waste veggie oil conversion service for buses and RVs or we could designing a fully solar powered electric RV based on the solid school bus designs of yore,
and later our own mag lev bullet train service between eco villages.
A state of the art 3D printing and maker lab
I have a big vision and I need your help getting started.
First we need land and a well for the first green off-grid eco-town. Land is inexpensive out in the boonies, but wells and permits to grow food and build non-traditional structures are going to be keys to success.
Where are we going to do this? Where ever the system will allow it. There are many states opening up to tiny house permiting etc these days.
We are going to need engineers, architects, coders, farmers, artists, and cooks.
If you are up for starting a new society that works along side the old dying one that hasn't worked well for quite a while, drop me a line and let's get started.
$0 of $60
per finished piece.
I will be going to tech shop to learn how to build three panel tryptichs for a series of autobiographical paintings using child hood photos as well as imagery and fantasy elements. These will serve as sample pieces for commissions based on ancestor photos and present day imagery for vision board style meditation pieces and ancestor altars for clients.
1 of 1
By becoming a patron, you'll instantly unlock access to 1 exclusive post
By becoming a patron, you'll instantly unlock access to 1 exclusive post
Recent posts by Zoe Zuniga Creations
How it works
Get started in 2 minutes