ZUZU CAST FETISH
is creating Cast fetish video clips
Select a membership level
know me
Hello Dear! Thank you very much for being with me, and supporting me. If you choose this package you will get access monthly to my account, you will see my photos and very short videos teasers,  with me casted. Well...for this price you can NOT see my  longer  or full length  vids or those with discrete artistic nudity content materials, no application videos no backstage videos in this package, but if you just curious or want to be with me and want to be my supporter fan this is for you. Patreon will be my  official info sharing site about my cast my life casted with my crutches collection, come with me and follow how I feel my self in my casts. Im very happy to see you here! Kisses Zuzu
Voyeur Fan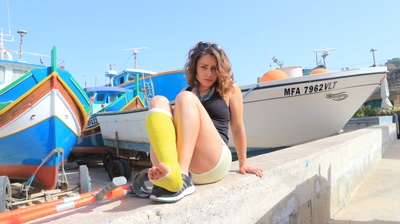 It's more now than simple curiousity Honey? Or you love me so?  Come with me as my friend and big supporter fan of mine! Im going to give you FULL ACCESS to my videos short and long videos BUT! without  nudity, and in this option there are no behind the scenes videos,  OR APPLICATION VIDEOS but you get :
All access to my long and short cast videos (no nudity)
Content about me and my life in my casts 
INFO about my future plans of getting casted about how Im feeling in my casts
 You are going to know me better than before, because im sharing longer videos and interesting facts about my self
This Tier is following my casted life from a simple daily wiev. If you want to know the wildes actions of a casted Zuzu, go for Tier 55 there are Zuzu goes wild materials.
CAST FETISH ADVANCED
If you are here Im sure you are one of my best fans and Im very happy you are here! I need your attention like fresh breath. 
After you are a sophisticated cast gourmet, come because you will get for sure: 
ALL BEFORE YOU GET, PLUS YOU WILL  GET:
All content limitless what I post on patreon
Cast appplication videos
I sign your name on my crutches called 'Crutches of Fame' who Im using in the videos mostly
V.I.P behind the scene footages 
Crazy Zuzu Goes wild contents like artistic nudity or lingerie cast vids
About
PATREON IS THE ONE  AND ONLY OFFICIAL SITE OF ZUZU
WITH THE WIDEST CONTENT / PHOTO/ VIDEO/ TEASERS/ VIDEOS MESSAGES WITH ME/ INFO/ CONTACT / OFFICIAL FAN SITE
LLC SLC LLWC SLWC DSLLC DSLWC CRUTCHING 


Hi Im Zuzu Coupè cast fetish artist and model.
My art project is being casted at the least 200 days a year, and wear a cast sometimes for weeks, just because when im casted  can feel the attention and appreciation what I need and what I can proud of it. Last years I was shooting several cast fetis videos, have been stayin casted sometimes for weeks sometimes just a few days in my, while I was shooting videos of my daily life.But besides my daily job  there was not as much time for me to do my most beloved thing in this world to cast my leg, because of had to go every monday to work, so the cast what was applicated on friday  had to be cut off on early monday mornings. What made me sad. 
I have experiences in REAL HOSPITAL REAL MEDICAL casts due to accident what made my ankle too flexible, so sometimes I just sprain my ankle more than normally people does. 
My plan this year to remake a hospital enetrieur as my past memory from first injury.
Keep on with me and my home videos and make the most creative and sometimes soft sexy or crazy girl next door  videos by the best camera angles and quality. THE MOST AUTHENTIC CASTS YOU FIND ON MY LEG BABY! Shiny Shiny Casts.
I have videos here from the last 5 years when I had medical cast and art cast also. You will see applications, gimp, crutching, bathing in  cast, sleeping in cast, eating, fittness, yoga and even driving. Or application and Cut Off in real medical environment, in a real hospital. Please patron me, your new sexy cast freak Zuzu to help me keep on!
I want to shoot as much cast videos also by custom, as it  can be shoot. Only when im casted and the camera is rolling I feel my self proud. You know what is that proudness, I mean. Arousal experience when the cast is on me. So this travel project I want to make it this year, if you have ideas, what kind of videos or casts you like contact me.
I want to travel with my cast set and crutches, to make videos for this project I need patrons to suppport me, to provide them back the best quality creative cast content what I can do. With the most artistic close ups from the surface and the texture of the cast.
 I love to touch my cast coldness and hardness soft and warm inside. Shiny surface. In my videos you can see me how I cope with the difficulties and how im enjoying being casted by my fetish and all admire for the plaster and crutches.
FOLLOW MY EVERYDAY LIFE IN CAST


To buy a picture stabilizer steady cam grip a bigger objective and microphones for the better sound quality for my Canon EOS M10.
And buy new crutches one elbow one pink and one patterned, and a serious amount of plaster materials for color and patterened llc slc and more materials and heelbars for my white classic slwc llwc videos. 
1 of 1
Become a patron to
Unlock 286 exclusive posts
Connect via private message
Recent posts by ZUZU CAST FETISH