Sailing La Vagabonde
Creating an adventurous voyage around the globe
Select a membership level
Vicarious Vagabondes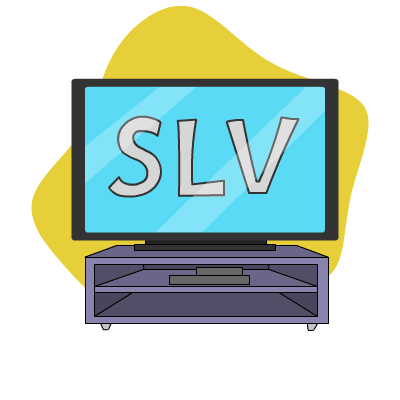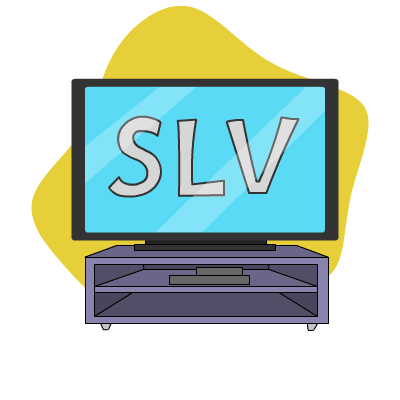 This is the "I no longer have cable TV or go to the movies anymore tier". Support real people making real stuff. By joining our crew, you can help us grow as independent artists and get better at what it is that we're doing.
Episode preview before they are released to the public
Access to MONTHLY LIVE videos (ask us anything).
First in for meet up announcements
Free or discounted event tickets
Be a part of a tight knit Patreon community and connect with others in the sailing community.
Salty Sundowners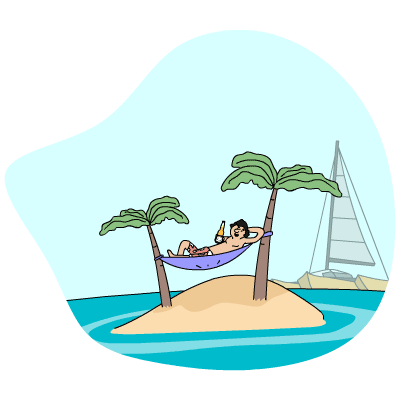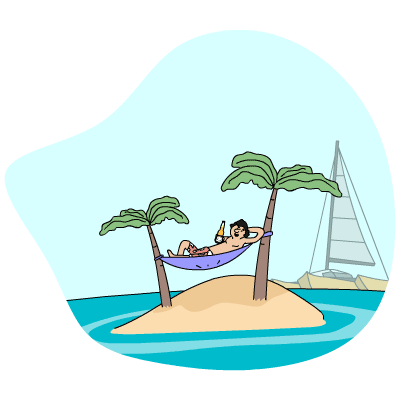 You are all, a seriously AWESOME bunch of humans! Thanks for getting behind us and keeping us afloat.
As well as everything previously aforementioned in the $3 tier level tier, we will send you out..
2 x Sailing La Vagabonde (SLV) Beer Can coolers*
2 x Sailing La Vagabonde (SLV) coasters*
A Sailing La Vagabonde (SLV) sticker*
*After 3 months of membership.
You guys help us in the process of posting movies. Whilst we are sitting in a hot sweaty cafe, somewhere where we have found civilisation, uploading the video and slowly watching the "percentage complete" crawl over the 30% mark we will have time to really consider how you guys are helping us.
If you watch our first few videos and our most recent, you will see the difference we're referring to and that's all because of our amazing patrons.
Legend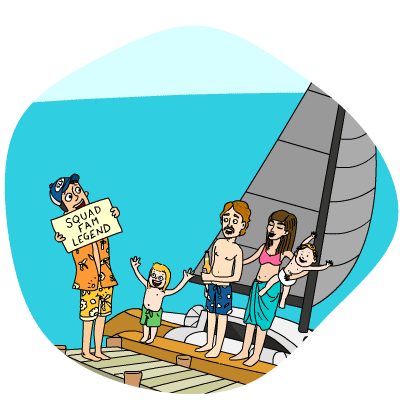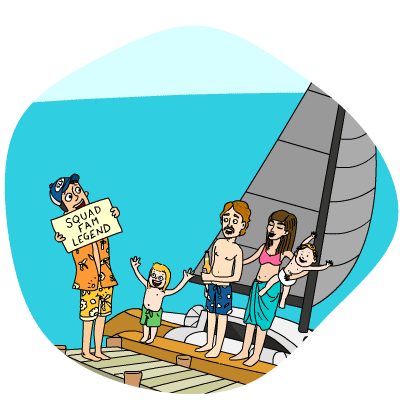 For your 25 squid, on top of everything above, you shall receive:
1 x SLV Essential Sail Guide (make sure to follow along with the videos!!)
** If you run into us, produce your Squad Fam Legend card for a free tour of our floating home + DINNER at our place, drinks on us and 10 pressing questions lol. Unlimited philosophical discussion also included.
1 x Signed Postcard written with love from Elayna and Riley. Probably either child will have dribbled on it a little. :)
Woohoo thank you guys so much for the support! We love sharing this adventure with you all, and the challenge of producing weekly videos during a storm, at night, lost, pregnant, with a dozen velociraptors tearing at our sails. (The winged ones. If I'd of known the correct spelling for Pterodactyl I would obviously have used that instead).
About Sailing La Vagabonde
Hello world!

We are an Australian couple who met in Europe over 6 years ago now. Riley had bought a yacht, having no clue of how to sail and met myself in the Greek Islands while I was playing music for the summer. He asked me to set sail with him on his 43.4ft Beneteau Cyclades 'La Vagabonde'. I didn't tell mum at first, but I said yes. It has been quite the adventure "learning the ropes" and the wild but beautiful ways of the ocean... we are forever learning new things. We have sailed over 70,000 nautical miles together now!

In the beginning, I started making 'home made' style vlogs for friends and family back home to see what we we're up to. Suddenly we had quickly gained views and followers from all over the world who wanted to watch and come along for the ride. Recently this media hype we have had, has all lead us to striking a great deal for a new catamaran in France to continue our adventure around the globe. This new home will allow us to be able to work more comfortably out at sea and to continue to sail around the world much more safely (now you can relax a little more mumma bear). We have big exciting plans for the future!

We want to keep our production OURS and by becoming a Patron and supporting each episode we make, this allows us to do so. Because of Patreon we have been able to say no to many large companies and sponsorship deals we didn't feel suited us nor did we want to support. Sailing is also a very expensive hobby and there's no way we could continue the adventure without help from you guys. Our patrons are like our family. They are a part of something very special and we can't wait to see where it takes us all! We feel very blessed to be surrounded by such a lovely bunch of people. THANK YOU!

Love Elayna & Riley.
Sailing La Vagabonde

We are currently in discussions with Buzz Aldrin, Mikhale Korniyenko and NASA, the specific gravity, trajectory optimisation and escape velocity of La Vagabonde has been discussed, agreed upon and finalised. We just need a little finance for rocket fuel, space helmets (we already have the suits) oxygen, more rods and lures, space food etc. The rest should be easy.
:A minimum specific gravitational potential energy needs to be overcome: for the Kármán line this is approximately 1 MJ/kg. W=mgh, m=1 kg, g=9.82 m/s2, h=105m. W=1*9.82*105≈106J/kg=1MJ/kg (*copied and pasted directly from wikipedia)
Up up and away.
2 of 2
By becoming a patron, you'll instantly unlock access to 406 exclusive posts
By becoming a patron, you'll instantly unlock access to 406 exclusive posts
Recent posts by Sailing La Vagabonde
How it works
Get started in 2 minutes