Ludella Hahn
is creating SAUCY & EXCLUSIVE Cosplay/Pinup Photosets & Videos - NSFW!
Select a membership level
Mild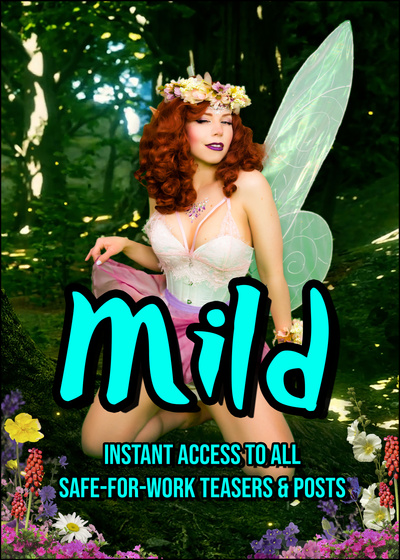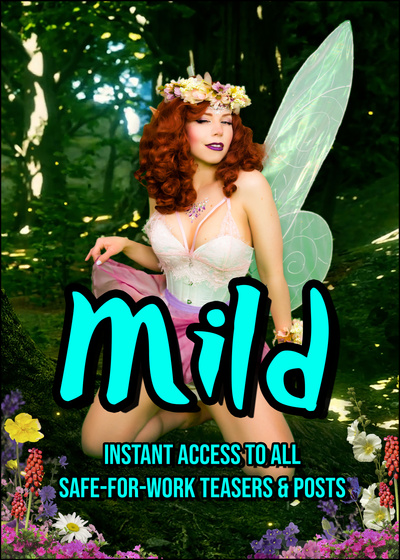 Instant Access to all NON-NUDE Posts to Patreon Feed, including access to non-nude teasers from ALL past #ExtraSauce shoots.
Spicy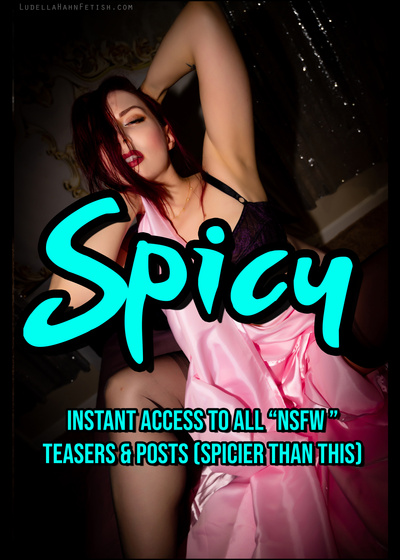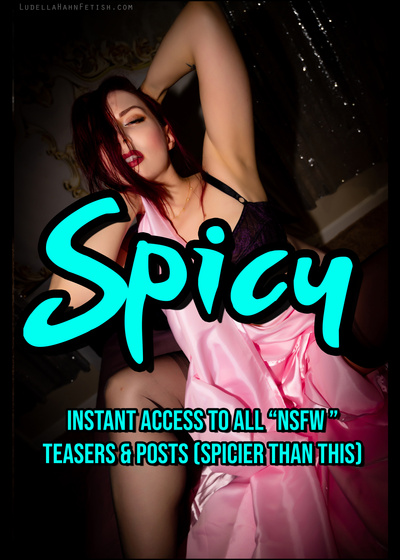 Instant Access to all NSFW Nude & Lewd Posts on my Patreon Feed (Bare Boobs and Butts and Art Nudes and stuff, including NUDE teasers to ALL past #ExtraSauce shoots**. Just scroll down the feed for hundreds of posts)
As well Instant Access to all Non-nude posts  
*PLEASE NOTE: Image in tier photo is "mild" per Patreon's request. To see any "spicy" nude or lewd imagery, you must be a paying patron.
**
*ALSO PLEASE NOTE: 
This tier does NOT include this month's FULL downloadable ExtraSauce video or photoset--just a few nsfw teasers from the set. But you do get access to ALL TEASERS from every past set in the feed. 
Extra Sauce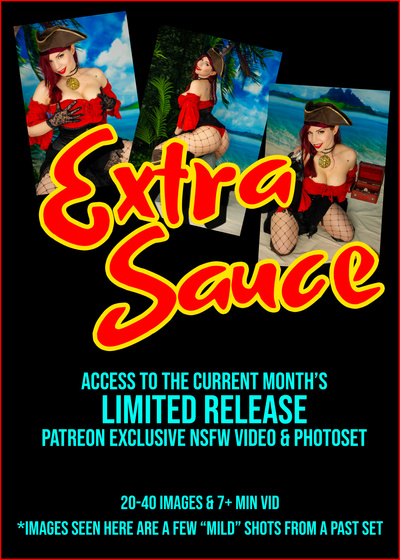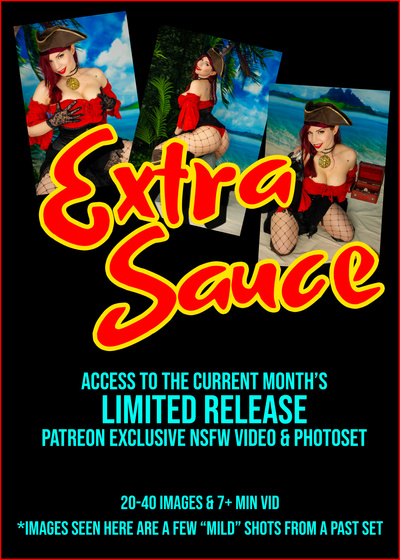 Access to this month's FULL ***LIMITED RELEASE*** Patreon Exclusive  EXTRA SAUCE Photoset & Video  (20-40 images & 7+ minute vid) (This gets posted right to my feed accessible for $30 & Up Patrons. If you join later in the month, just click the "Downloadable Video" Tag in the sidebar to find it more easily, or scroll down the feed. Gets archived at the end of the month, so download it asap!)  
The really NSFW Blog Content (INSTANT ACCESS to ALL PREVIOUS NSFW  & SFW Blog Posts PLUS the "peek" shots not posted for lower tiers. Just scroll down the feed for hundreds of posts)
*PLEASE NOTE: Images in tier photo do not accurately depict what you get to see on my feed. I can only show "mild" images here per Patreon's request. To see any nude or lewd imagery, you must be a paying patron.
About Ludella Hahn
Welcome! And thank you for taking the time to check out my Patreon!
First things first...this is an ADULT page with nudity and sexy stuff inside (unless you stay in the Tip Jar or Mild tiers. which are non-nude). I am only able to post the tame, "mild" images here per Patreon's rules, so you'll need to join the "Spicy" or "Extra Sauce" tiers if you want to unlock the lewd/nude posts.
Here are just some of the things you can expect to see here
(
read the rewards sidebar for what's specifically included in each tier
):

-
Sexy Photos
(the kind of stuff I can't share on social media anywhere due to censorship issues, but now I can share EXCLUSIVELY with my super cool Patrons here)
- 
ULTRA EXCLUSIVE Limited Release Photoset and Video
shot for Patreon each month for "Extra Sauce" Tier (Both EXPIRE at the end of the month to keep things EXTRA EXCLUSIVE for long-term patrons.)
-
Selfies and Behind-the-Scenes
 of everyday life as well as peeks at projects I'll be able to work on thanks to your support here. I share more of my personal self here than anywhere else, so if you're into being more of a friend than just a fan, this is the place to be.
- 
My love for you for showing your support for me and my work! <3
ABOUT.

I'm Ludella Hahn, and I'm so excited that you're here! I've been working as a freelance artist since I graduated college (which actually had nothing to do with my degree...haha) Perhaps you might know me from my modeling work on magazine covers and pictorials, or maybe you've seen me perform burlesque on a stage somewhere, or maybe you've seen me cosplaying at a convention, or maybe you know me from the fetish videos I produce, or maybe you just know me from social media... (Or maybe you don't know me at all, but you'd like to!) Either way, I am so happy you're here and I can't wait to meet you! <3
I LOVE playing characters. It's my favorite thing to do in my fetish videos and my modeling, which is why I cosplay. It's probably because I'm actually a shy introvert and cosplaying gives me a chance to act extroverted since I'm playing a character instead of myself. Anyone who has seen me in a candid video vs. one of my fetish videos will definitely see the difference. Haha. 
I also LOVE stories. This is why most of my fetish videos are more like mini movies. (I've actually even won awards for them!) The same goes for photosets and again, cosplays. My favorite photoshoots have always been the ones that make you think of the narrative behind it. 
A couple random tidbits...
I love vintage things. My favorite era is the Art Deco style, but I have inherited a lot of 1950's and 60's items from my late Nana. As a very little girl I grew up on shows like I Love Lucy, Bewitched, & I Dream of Jeannie. All my Barbies were named after X-Men characters....and they were the moms to my action figures.
I also love Dinosaurs, Vampires, Harry Potter, Outer Space, Star Trek TOS (LLAP), Star Wars (particularly R2-D2 & BB-8 because I guess I love droids), and Batman. Harley Quinn is my absolute favorite person to play ever. I like to mix my love for Art Deco, Retro, & nerdiness in my home decor. Dance has always been my outlet, and modeling, and acting are an extension of that. 
WHY PATREON?
Patreon is kind of like the inner circle for artists. You get to know me in a more intimate way than other places and get to see stuff that nobody else does. You also get to be interactive with me and help me work toward new goals and projects, take votes on things, and basically be my closest internet friends. It's like a secret fan club that comes with all kinds of exclusives, and you guys will know everything FIRST. And I can actually post nudity here (for the paying patrons anyway)! 
Basically I want to create the content you want to see and this is a way for me to do that and to give you some amazing and EXCLUSIVE stuff in the process.
GOALS.
Thanks to your AMAZING support, I reached my NEW CAMERA goal. Since I shoot all content entirely on my own 99% of the time, having a better quality camera with a flip-able viewfinder was important to me for the sake of achieving the cinematic look I desired on my own...because playing actress, director AND director-of-photography is already challenging as it is. :P SO THANK YOU AMAZING PATRONS!!!! And THANK YOU for helping me achieve my goal for a new computer built to handle all the intensive special FX editing I do. It has been INCREDIBLE to be able to edit videos without my computer crashing all the time. I truly appreciate your help in this. 
What's next? 
I have a passion project idea to start my own podcast, and I'm hoping patrons will be along for the ride!
***NOTE: Please do not feel obligated to sign up for a membership here. This is just a place for my mega fans, my inner circle, to get some amazing exclusives just for them while being part of bigger things I'm working on and to hang out with me in a way I'm unable to on other social media (as well as see uncensored content I can't post on social media). If you decide to join, THAT WOULD ROCK MY SOCKS. But either way, I love you. <3
THANK YOU AGAIN SO MUCH FOR YOUR SUPPORT! <3 
And THANK YOU to everyone who believes in me and my work. It's because of YOU and your amazing support that I have received so many awards and nominations for my work, so THANK YOU!
Mailing Address if you want to send me mail things:
Ludella Hahn
PO Box 695
Londonderry, NH 03053
Wishlist: 
https://www.amazon.com/gp/aw/ls/ref=cm_sw_su_w?ie=UTF8&lid=H8PFGTEYUYVK&ref_=cm_sw_su_w&ty=wishlist
Facebook: 
https://www.facebook.com/LudellaHahnFanPage

Instagram:
www.instagram.com/LudellaHahn
Get a Shout-out:
www.cameo.com/ludella
www.LudellaHahn.com
www.LudellaHahnFetish.com

www.allmylinks.com/LudellaHahn
When I reach and maintain at least 200 patrons, I'll start producing a podcast.
1 of 1
By becoming a patron, you'll instantly unlock access to 1,018 exclusive posts
By becoming a patron, you'll instantly unlock access to 1,018 exclusive posts
Recent posts by Ludella Hahn
How it works
Get started in 2 minutes