The MonoGame Team
Creating a Free Multi-Platform Game Dev Framework
Select a membership level
Cornflower Blue
You get our unending thanks for supporting MonoGame, open source, and indie game development.
SpriteBatch
In addition to our thanks for your generous support, we will give you a Twitter shout out and a special badge on the MonoGame community site.
Model.Draw
We can't thank you enough for supporting us... actually come to think of it we can! As well as the previous tier's shout out and badge [We are still finalising the extra reward for this tier]
We are still finalising the rewards for this tier.
About The MonoGame Team
Hi! We're the MonoGame Team. We are a small group of developers that maintain the .NET game framework called
MonoGame
.
What is MonoGame?
MonoGame is an open source C# library for game development inspired by Microsoft's XNA Game Framework. It has brought the much loved XNA API to all major gaming platforms. To date thousands of developers have used MonoGame including many popular 2D and 3D indie games. 
Some games you may have heard of recently that have used MonoGame are.... 
Or maybe some of these older titles...
Our goal is to make MonoGame the
best
possible C# game framework for new and experienced developers!
Why do you need the money?
Over the last 12 years all fixes and improvements to MonoGame have been on a volunteer basis. Contributors have donated huge amount of their nights and weekends to the project. The core maintainers have managed and contributed to the project on a daily basis always trying to improve the quality and usefulness of the code.
Tom and Dominique interviewed at BUILD 2012
We have had a PayPal donation link for the last 7 years. There have been many contributions, but very inconsistent and the process has always lacked transparency. It has only been enough to cover hosting and a few hardware purchases.
Dean and Dominique at Microsoft XFest 2015

Your support thru Patreon would give us a consistent source of funds and a better way to communicate to our supporters.  We hope this helps us take MonoGame to the next level.
What do i get out of this?
Our first goal from your support would be to continue to pay for services and buy hardware from time to time.  For example the hosting for the website and community forums, our GitHub private repository hosting, console and mobile testing hardware, as well as better and faster build servers.  This is all critical infrastructure to keeping MonoGame development going.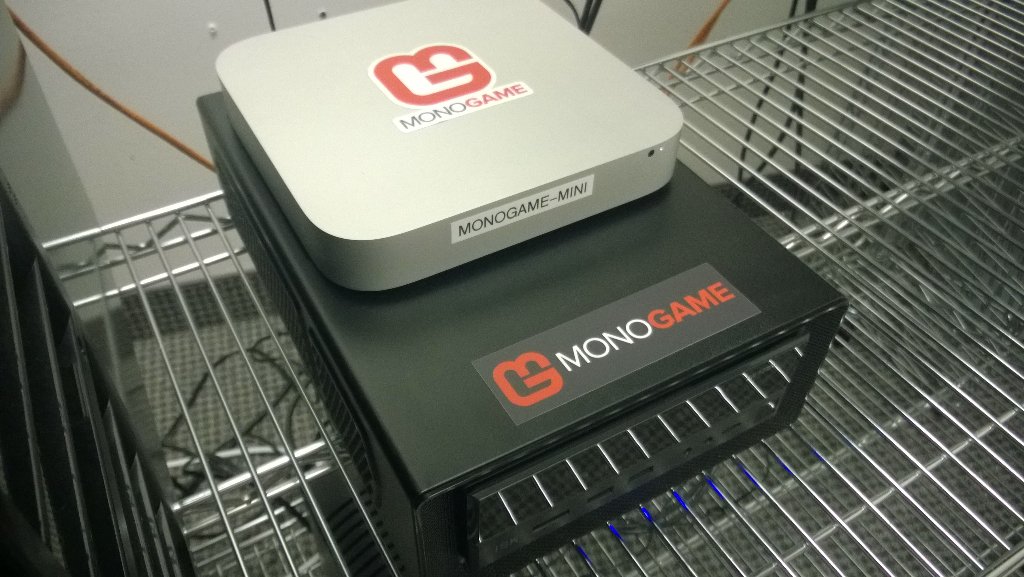 The current build server setup
If we are able to hit our bigger funding goals your monthly support would allow us to improve MonoGame at a more rapid pace. We could dedicate one or more developers to the project on a semi to full time basis. This would mean quicker fixes, better support for individual users, and further expansion of MonoGame platforms and features.  For example we are looking to support Metal, DirectX 12 and some VR features in the next year.  We would also like to dedicate some time to writing documentation and create more video content on our 
YouTube channel
.
Finally we want to also look into doing some gifts and exclusive swag from time to time when the funding allows.  We all love t-shirts and stickers!
Thank you
Thanks for reading this far and thanks so much for your support!                
$220.99 of $600
per month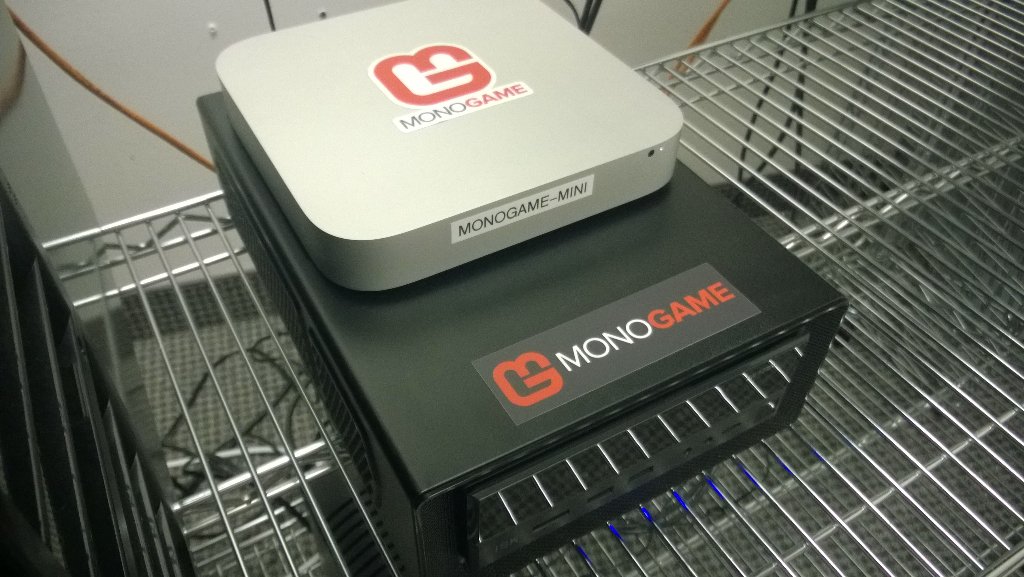 When we reach $600 per month, we'll be able put money towards upgrading and adding to our build servers and testing hardware.  This allows us to ensure MonoGame continues to work on existing and new platforms.

2 of 5
Recent posts by The MonoGame Team
How it works
Get started in 2 minutes