SuccuDev
is creating Lewd Games
Select a membership level
Supporter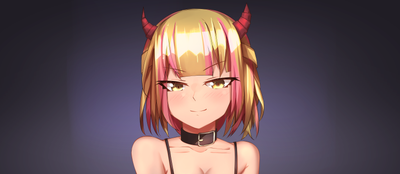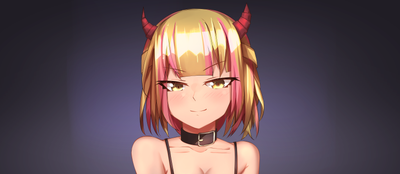 Thanks for supporting the game!

You'll get access to the latest Virtual Succubus stable builds, and the patron surveys used to collect detailed feedback.
Includes Discord benefits
Contributor
Wow! Thanks a lot!
Same as the supporter tier, but with extra thanks for your generosity.
Includes Discord benefits
Enthusiast
I really appreciate it!!

All of the previous benefits, plus:
Access to the test builds and test channels on the discord server, where you'll get early access to some unstable builds & ingame debug tools.
Includes Discord benefits
About SuccuDev
Virtual Succubus is an AI-driven lewd game that's all about becoming a succubus' personal plaything.

Sign over the rights to your pleasure, and allow her to decide how (and if!) you can play with yourself.
-Game Features-

Inspiration from many different types of JOI content


Over 1000 tasks, taking many forms. One-time tasks, counted, timed, post-session, and others.
Red Light / Green Light - Let her dictate your actions closely. Supports several kinks and accessories.
Rhythm Events - Inspired by CockHero, with additional support for kinks and accessories; Handjobs, footjobs, pegging, all through a magical portal to your genitals!
Support for both types of genitals, and separate pronoun selection.
Cross-Session Persistence


She remembers prior sessions.
Earn her favor so you may be granted her mercy; sometimes she'll even reward you!
Many aspects of the game run on real time. Her mood persists for several hours, she changes outfits daily, she'll notice if you're returning quickly or late, and more!
Put large stakes on your session's performance! Your succubus will thoroughly enjoy the consequences of your failures.

Procedurally Generated AI


A new experience every session!
Tasks differ based on her mood; you'd better keep her pleased!
Intro states that heavily affect gameplay. One day she might be moody, while the next she may feel risky.
A fun experience first, and an AI second.
Designed to be enjoyed forever. Replayability and variety are a priority!
Your succubus keeps track of how you're doing, and will change the difficulty accordingly.
If you really dislike a task, your succubus will adjust your future sessions.

Procedurally Generated Text

Almost all text is procedurally generated based on customizable options and the current state of the game. 
If she's in a good mood, the tone of tasks and commands will be phrased very differently. 
Be addressed differently based on various factors like her mood or your failures of the session. You'd rather be your mistresses' favorite plaything than her bratty liar, wouldn't you?... Or maybe not. 
100+ different naming schemes for both you and your succubus.

Content Customization


Over 150 different toggles for kinks, toys, and more!
Various different forms of time limits, including endless, her choice, until dry, or a simple randomized range customizable down to the minute.
Customize your potential ending types, the chance that events appear, etc. Sliders! Sliders for everyone!
Post Session Tasks


Being her favorite toy takes some commitment!
Some tasks will be simple lewd homework, while some may prove to be... adventurous challenges :)
Unique Chastity Implementation


Grant her complete control over your release.
Session-based instead of time-based. Combine this feature with the Scheduling feature to create a time-based chastity feature. Or don't, and have her dictate when you can see her!
Support for chastity device sessions. No touching! (Other accessories & kinks are recommended)
ChastiKey support. You'd better ready for what you're signing up to do!
-The Succubus-

Innate Feature Customization

Want a yandere cat girl to play with you?
How about a mischievous dragon girl, or a sadistic angel?
Like glasses, or piercings?
Perhaps an almost completely normal girl?
Into chicks with dicks (Futa), maybe?
Up to you!

Outfits

Your succubus has a sizable wardrobe! She'll be changing outfits daily.
Want to see it again? Compliment her and she might just fulfill your wishes.
Be a good little toy, and she'll reward you with something very lewd!

Hair Color

Turns out your succubus enjoys variety too!
Every few days, you'll see new colors, and she'll even change her furry ears and tail if she has them.
-The Dev-
Hey there!
I'm SuccuDev, a unity developer working on making adult experiences best served through games. I'm a completely self taught developer, with a few years of experience developing various types of traditional games.


Why Patreon?

I've chosen Patreon as the main way to support this project as I believe lewd games are a great way to make NSFW content that can appeal to a large variety of people - I think the optimal solution to this is involving the community as soon as possible, and implementing as many suggestions as I can.
While I do use Patreon...
I don't plan to do ''goals'' or fill up bars to incentivize you to pledge more.
The only thing kept behind the Patreon is the game builds, and the patron surveys.
The only thing held behind higher tiers is test builds that are definitely not ready for public usage.
I strive to provide enough value with my monthly releases for your $5 a month!


Feedback and its importance to me & the project.

Since this Patreon's launch in early May 2020, I've been on 
Discord
every day and have personally replied to hundreds upon hundreds of precious feedback givers.
I don't plan to stop, and I consider this an integral part of a Patreon-driven development process. Many parts of the game were already derived from all your suggestions!
I am not making my own adult content for my own consumption, I am using my ability to design that adult content to create something that others (you) will enjoy.
As I don't personally have interest in every single aspect of the game (there's just too many at this point!), your feedback is crucial to helping me fulfill your wishes.
I think my patrons are owed the thought process that goes into designing the project they're supporting. I want to be the kind of dev that can hear out anything, and that provides feedback to feedback.
Please, if you have any feedback to give, any suggestions to offer, or any questions;
Always feel free to throw me a message!
Want to learn more before signing up? Contact me on discord and I'll get back to you as soon as I can!
Game voice acting by Nami955 
https://twitter.com/nami955
Patreon Art by iBooBee
https://www.deviantart.com/iboobee
Become a patron to
Unlock 27 exclusive posts
Connect via private message
How it works
Get started in 2 minutes