ThatEvilOne
is creating 28mm 3D Printable SciFi Miniatures
Select a membership level
The Auxilia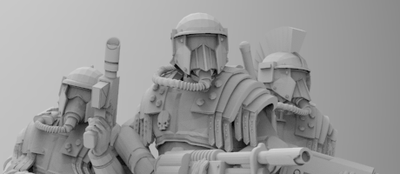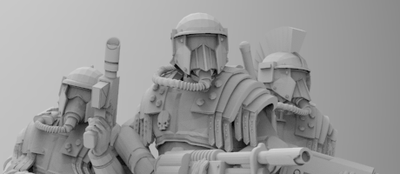 The Auxilia of Rome are many and varied. A Teir for those who would like to support me in a small way. Your names will echo amongst the legions.
Includes Discord benefits
The First Founding
Limited (0 remaining)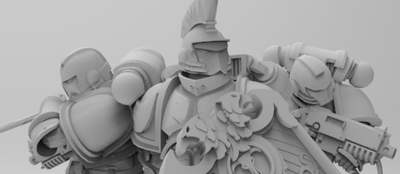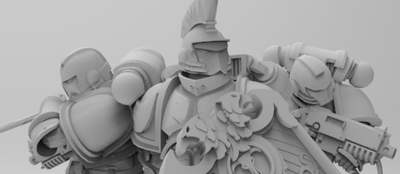 Access to the Monthly Theme Vote and Themed and Generic Patreon Only Poses, as well as any extra models I work on a week before public release
Includes Discord benefits
The Legions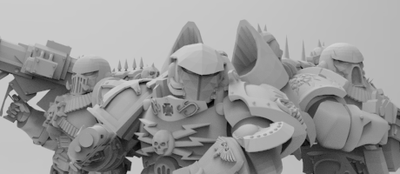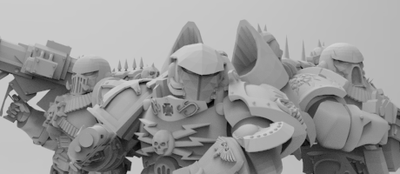 Access to the Monthly Theme Vote and Themed and Generic Patreon Only Poses, as well as any extra models I work on a week before public release 
Includes Discord benefits
About ThatEvilOne
What you can expect from this Patreon?
Every month you can expect to recieve:
- A Bust
- 2 to 3 units worth of STLs (This can come in the form of 5-10 man squads or Vehicles)
- Characters from time to time (Not Monthly)
What sets me apart from other similar Patreons?
I'm an animator by trade, that means when I pose a model I am always taking into account line of action, weight, sense of fluid motion and dynamism. All my models will appear as if they are frozen in the middle of a very explosive motion or seem to be very natural in their bearing, as if they are settled properly in weight and centre of gravity.
How many models per months?
You can expect Presupported and Unsupported versions of 5-10 man squads and a vehicle range depending on whats on deck for that month.
To access the 3D printable content, you must pledge for one of the available tiers available, custom pledges don't work. The First Founding, The Legions and Forgemaster Tiers get all the models I make (except past months releases that are available on the shop).How does it work and why be part of the community?
During every month I will upload our new set of models to MMF for you to download and enjoy.
As soon as you subscribe you will gain access to this month, and the Welcome Pack
If you are have missed older models you can access them by purchasing through my MMF store.
You will have access to our own Discord Community
During the month you can expect me to share my ideas and 'WIP' pictures to allow you to engage with me to share your thoughts. I want to involve you as much as possible so that you enjoy the most out of my designs.
What can you do with these files?
Models will be provided ready to print. I recommend Resin for miniatures and FDM for larger pieces.
License
Private Use Only
Non Commercial
No Derivatives
NOTE: Do not under any circumstances share these files for free or commercially! It is a one way ticket to a ban on patreon and discord. It is not fair on other patrons and will discourage me from continuing this service.About Me, Why Patreon?
Hi! I'm ThatEvilOne. I am a Canadian based Animator who has worked on many popular Films and TV shows and is just now breaking into the Video Game Industry. But that's just my professional life, in my own time I've had a passion for table top gaming and grew up on systems like Warhammer, 40k and Battletech. Now with the advent of 3D printing technology I've found a way to merge my professional skills with the hobby that I love and it's only fair that I share my work with the larger community both through patreon and freely on thingiverse.
Patreon is just a platform that keeps me motivated and earns me a little side money I can put pack into my hobby without the Girlfriend getting too angry ;) that being said if we ever get to the point where I can make this my full time job I'll be more then happy to step away from animation and really ramp up production
Thingiverse
https://www.thingiverse.com/ThatEvilOne/about
Store
https://www.myminifactory.com/users/ThatEvilOne
Instagram
https://www.instagram.com/thatevilone3d/
Discord

https://discord.gg/wuXGb9q
I am very open to discussion and sharing our printing experience. I am looking forward chat with you there.Thanks you! I really appreciate your support and hope to make your time as a patreon an enjoyable experience. Cheers.
I will quit my job and completely focus on getting you guys models. That means releases every 1-2 days forever.
8 of 8
Become a patron to
Connect via private message
Recent posts by ThatEvilOne
How it works
Get started in 2 minutes