Liberty Lions
The Fastest Path to Liberty Beyond Uniformed Service
Select a membership level
The Lone Ranger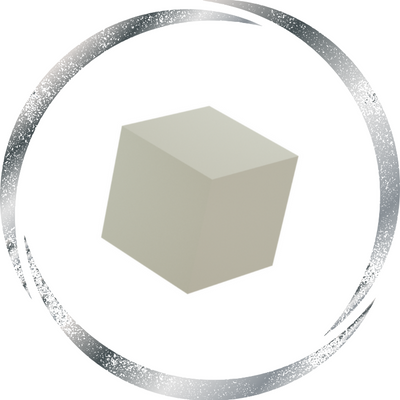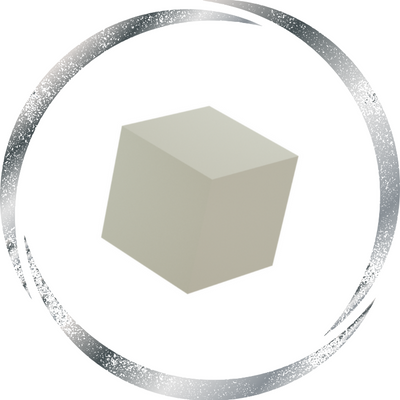 This is available for two types of Armed Forces Family servicemembers or spouses:
1) Those who believe in the movement and desire to financially support as this business launches in its early days (imagine the story you'll be able to tell your grandkids!), or...
2) Available to the Lone Ranger servicemember/milspouse 
who values their "money" more than their time
, and had rather keep their thinking inside the box, but still be in the circle early on.
They're curious enough to spend just a little bit of cash to get access to a community of like-minded rangers. Think of it as your Liberty Posse.
Nobody's in charge, but you're in a group of like-minded winners seeking something.
Lone Ranger Community Access
Jarrod's 'FULL' Recommended Reading List
Self-Access to ALL LIBERTY RESOURCES in CYBERSPACE
Free access to the one-of-a-kind InfoLetter: Miracle Bombs for Military Transition
NO VIDEO CONTENT
NO specific HEALTH | SELF | WEALTH POSTS
NOTE: Only Tier 3 can send Jarrod private messages
Very little interface with Jarrod should be expected.
Occassional touchpoints might occur, depending on patron activity in the community.
This forum exists for
the military family to congregate with other families
while having very limited access to content from the higher tiers in the Patreon.
Be sure to buy Jarrod's
flagship publication
,
Avoiding Each & Every Military Veteran's DIS-Advantage: How To Overcome the LIEs A Military Family Believes To Get Our Freedom Back
, along with all the openly available content in cyberspace.
It's yours to consume on your own, and a slight payment will enusure you use it to embrace the
ad
vant
age
and are fully equipped upon joining the community.
To Your Liberty,


liber
Get the book here:
https://www.jarrodhsmith.com/chapter13
Liberty Pride (Mission Planning Teams)
Limited (100 remaining)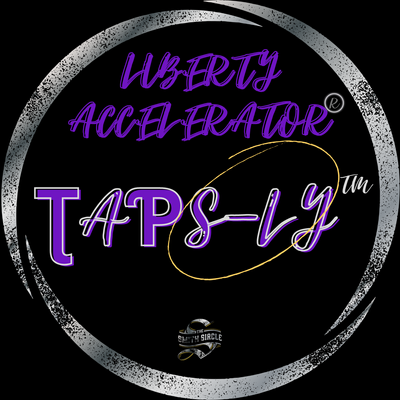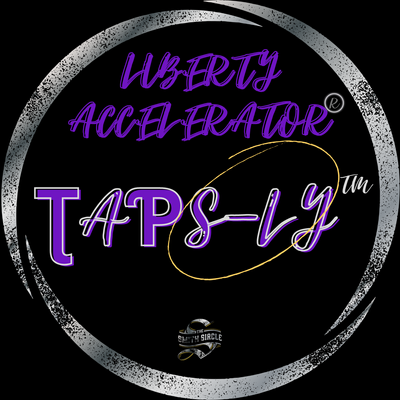 At a low price of $2.50/week (or $1 per LIE; whatever tickles your fancy), it's the foundational structure the military family requires to ensure complete readiness for embracing Liberty...and Freedom beyond service:
Tier 1 (access to Lone Rangers to provide your insights and support to them and the benefits of that membership level)! PLUS
Regular Posts from Jarrod (The Commissioned Officer's Guide) on all things "military transition," for military families, to include:
True military family readiness, 
Includes Health (and Medical/VA Disability Compensation rating preps) discussion topics
Finding true Self beyond the rank, weapons platform, & service branch, or beyond "military spouse," and
The Economy, family finance, the money system, prices, and a whole lot more around "Wealth" matters.
Develop FINANCIAL LITERACY and MONEY APTITUDE (true Education)
Patreon Posts: My regular insights on the Economy from services I pay for externally, as well as updates on government program traps.
Behind the Scenes updates from Jarrod's Transition Battle!
NO PRIVATE MESSAGING WITH JARROD
NOTE: Only Tier 3 can send Jarrod private messages
To Your Liberty,

libertGet the book here (Don't you think reading the first 12 Chapters might help before diving into Ch 13?):
https://www.jarrodhsmith.com/chapter13
Liberty Lion - Transition Field Guide
Limited (26 remaining)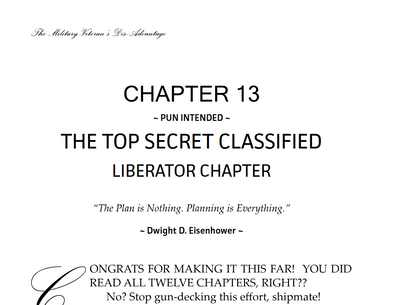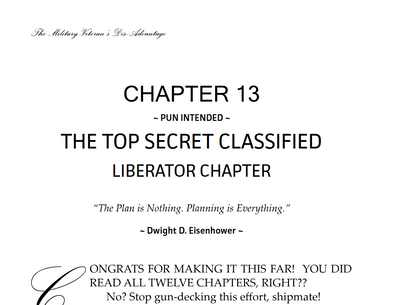 For less than $1/workday...onramp to the
Transition Superhighway:

Complimentary initial strategy session ($~250-500 value) with Jarrod personally to orient you/your MilSpouse in the direction best for you and provide guidance for your immediate family concerns.
Miracle Bombs for Military Transition Newsletter ($7/mth value included with this subs)!
Jarrod's Liberty Battle Buddy ONLY videos (not available to the public or lower tiers)
See Jarrod's FULL Liberty Battle Plan
Access to the TAPS~ly (Transition Acceleration Project Solutions~love yourself/spouse) structure within the Liberty Accelerator Program transition superhighway and access to the TAPS~ly OPREP Series, too, exclusively for paying members.
ASK Jarrod 1 question per month via private message (I will personally answer your private message; make it worthwhile!)

NOTE: You must have Tier 3 to send Jarrod private messages
Access to a digital copy of Jarrod's best selling Armed Forces Family Readiness book (with 2nd payment)
Access to the Liberty Accelerator Program Mastery mini-courses:

Liberty Mastery;
Accelerator Mastery
Your Family Liberty Plan
Health & Wellness Mastery
Self Mastery
Wealth Mastery
The Commissioned Officer's Guide to Liberty;
USVetFreedom;
Cash Flow Mastery;
and more to come in the future!
Most importantly, be an early contributor to the movement that's creating optionality, Liberty, and Freedom for all those coming behind us. Those brave few souls who grabbed opportunity when they first had the chance, will lead others to victory with them.
Schedule follow-on 1:1 Strategy Sessions with Jarrod for his expertise and guidance concerning your particular situtation during planning, preparations, and workups to the inevitable Transition Mission (48 months out from last day), the Liberty Battle (begins 24 months prior to last day) and on to Victory beyond uniformed service.
The cost structure for strategy sessions is based on your timeline ahead of separation or retirement, and is calculated as a small percentage of your basic pay amount at the rank you joined the program, which locks you in so long as you remain a paying Patron.

Lock in rates at your current rank by joining now, and all that changes are the cost increases given yearly by the pay charts. This is a limited time offer for early contributors, so don't get caught with your pants down!
+ Additional Benefits not included in Tiers 1 or 2
To Your Liberty,

🗽
Complimentary Strategy Session ($250 value!)

Mastery Courses Access (Health | Self | Wealth | Relationships)
About Liberty Lions
The typical approach to "Military Transition" is dangerous!🤔😔
Why is it so hard, we wonder? Well, I know exactly why!
Planning for the inevitable
(post-service life) must begin much, much sooner
during the servicemember's and military family life-cycle, not near the end
.
It's not the traditional planning we're so familiar with, either...prepping resumes and networking for the job hunt.
That's rookie level, grade-school preparations in today's economy and information age.
And it begins with
informed, intentional planning
upon completion of the training pipelines...or NOW!
By
applying the "mission readiness" concepts to each individual military family
, we'll be
more ready than typical and able to embrace the Liberty at "transition"
whether it's
separation after five years
or
retirement after three or more decades.
The
Liberty Accelerator Program
provides the terminology, structure, and timeline
we're comfortable with from service to the Nation and
transforms the mind for Liberty
beyond the rank, weapons platform, and service branch
,
for both the spouse and their hero.
To Your Liberty,
Jarrod
https://linktr.ee/LibertyAccelerator
By becoming a patron, you'll instantly unlock access to 21 exclusive posts
By becoming a patron, you'll instantly unlock access to 21 exclusive posts
Recent posts by Liberty Lions
How it works
Get started in 2 minutes