Elaine Ho
is creating The Tempest and the Fire, illustrations, fanart and prints
Select a membership level
Farmhand
$1
per painting (1-2 a month)
♦ Early Access to all new artwork!
♦ Access to patron-only news feed
♦ Vote on patron-only polls
Soldier
$2
per painting (1-2 a month)
Bonus access to:
♦ WIP Wednesdays

♦ Studies and warm-ups
♦ Process gifs from sketch to completion 
Physician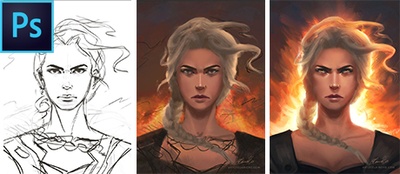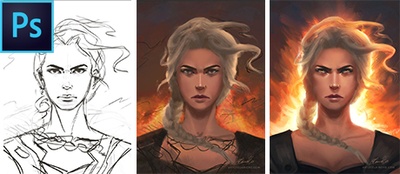 $5
per painting (1-2 a month)
♦ Reduced-size PSD process files
♦ Wallpapers specially formatted for your screen
♦ 10% Discount from the Art of Elaine Ho store
About Elaine Ho
Hi, I'm
Elaine
! You might know me from the
Disney Women Series
, which went viral on Imgur and Tumblr. I worked as a concept designer for theme parks (Springfield & Wizarding World of Harry Potter at Universal Studios Hollywood) and virtual reality (Mission: ISS, Blade Runner 2049).
I've been wanting to tell my own stories, so in 2017 I made the switch to becoming a self-employed artist. As I'm focusing on creating my own art full-time, my fans are my biggest pillar of support.
I stream on
Twitch
every
Wednesday
, from
9-11am PST
.
With your help, I'll be creating these projects on Patreon:
In a world where magic is forgotten, Eris strikes a deal with the Beast, promising to use her hidden powers to restore life to his dead land. But as her fear of him turns into affection, Eris finds that the Beast's intentions might not be so pure after all. Eris gets caught up in a tale of revenge, discovering a dark secret that links him to her home, and is pushed to the limit as she tries to save the Beast from his own destruction.
The Tempest and the Fire is my Beauty and the Beast retelling. A full manuscript has been written, and I'm currently creating illustrations to accompany the text.
If you'd like to view the art in chronological order, visit
tempestandthefire.com
for updates (updated every 3 weeks). Patrons have early access to all new TTATF artwork.
While I'm committed to finishing The Tempest and the Fire, I occasionally dip back into fanart. My interests are wide and varied, which include Final Fantasy, My Hero Academia, K-Pop, Disney, Beauty and the Beast, Phantom of the Opera, Receiver of Many, Shakespeare and history.
My fanart tends towards emotional storytelling. As my love for Beauty and the Beast-related stories would show, I highly enjoy conveying bittersweet love through my illustrations.
View all fanart here.
Sketch Tuesdays are my "no pressure" days, where I do studies of anything that catches my eye. The purpose of these studies is to try new techniques, better understand values, and attempt to transfer this knowledge to my original work.
Sketch Tuesdays give a brief insight into my approach to art. I raise questions about the challenges I face - in art or in life - and express that in the painting.
Patrons are
not
charged for paintings in this category. Updated every Tuesday.
View all Sketch Tuesday paintings here.
My finished paintings will always be free to view via
Tumblr
,
Instagram
, my
website
and
Facebook
. But if you become a patron, you'll gain early access to everything I create.
Pledging on higher tiers nets you PSD process files, wallpapers, detailed walkthroughs and limited edition prints. You'll also receive a discount to the Art of Elaine Ho shop.
Sometimes my paintings are not suited for selling at conventions. I paint according to what I feel is necessary or right, and sometimes it contradicts the audience's expectations. Patreon is the solution. Your support helps me in continuing to do what I do.
Posting Schedule:
Finished work is posted
once
every three weeks, on 12pm PST Saturday.


On the following week that the finished work is posted, rewards are posted via the schedule below:
Sunday:
Process Gif ($2 tier and above)
Monday:
PSD Process File + Wallpapers ($5 tier and above)
Tuesday:
Sketch Tuesday ($1 tier and above - Early Access)
Wednesday:
WIP Wednesdays ($2 tier and above)
Thursday:
Extended Excerpt/High Res JPGS ($10 tier and above)
Friday:
Detailed Walkthrough ($10 tier and above)
All rewards will be granted after the first payment has been processed.
Thank you for reading, and thank you for your support.
Introducing Discord for all tiers, and quarterly postcards for the High Priest Tier and up!
2 of 4
By becoming a patron, you'll instantly unlock access to 354 exclusive posts
By becoming a patron, you'll instantly unlock access to 354 exclusive posts
Recent posts by Elaine Ho
How it works
Get started in 2 minutes