Asatiir
is creating Roses Will Rise, a story-driven strategy RPG
Select a membership level
Patron
The games I make are free, but pledging for me here on Patreon gives a few you bonuses you will not find elsewhere.
You will get a download key for Roses Will Rise on itch.io, registering you as a "paid" user. Bonus content will be added there over time.
Your name will be on the Roses Will Rise patron credits.
Access to reports on my development on a monthly basis, this is locked only to my patrons.
Access to patreon-only Patreon Lens posts that show game progress and a few behind the scenes content besides the public ones.
$1 is the minimum for all this, but if you plan to pay more, I would be more than grateful!

Note:
The reward here, namely the credit, will change by the time Roses Will Rise is complete. If you start pledging after that time, your name will be credited in the next game I shall be working on.
There will more things added and removed  (mostly added) here in future updates.
Anyone who has contributed a sum to Roses Will Rise and then canceled will still be credited in the game, so expect a message once the game is done.
About Asatiir
Hi, I'm Mohammad. A game developer from the UAE who has been grinding to make story-driven horror and fantasy games of various genres. I am mainly an artist and storyteller without prior experience in programming, but I have learned through making and I am working very hard to make this my main craft and fulltime job.
In the past I have made small text adventures and a few prototypes as practice, but now I'm working on a larger, more substantial project:
Roses Will Rise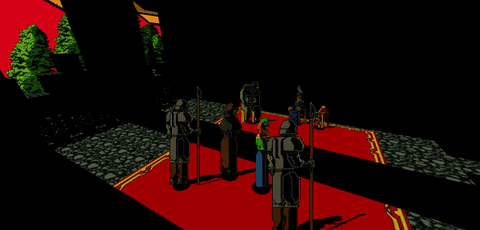 For the past several years, 
Roses Will Rise
has gone through many hurdles and changes, but I remained highly focused on working on it despite it all. Change of game engines, script rewrites, and life getting in the way made it very difficult to get the game done, but I have found my footing and am currently moving steadily towards getting it into a more complete state.
Roses Will Rise
is a turn-based strategy RPG with a story reliant on the player's decisions. The game puts you in the shoes of prisoners of war who find out that a princess rumored to have been murdered is still alive in the castle they're imprisoned in. The alleged murder of the princess started a war through the continent and the prisoners are planning help the princess escape those who imprisoned her. Heavily inspired by Final Fantasy Tactics, The Elder Scrolls lore, the Telltale adventure games, and H.P. Lovecraft, Roses Will Rise tells a story about war politics, its traumas, friendship, family bonds, loyalty and horrors the human mind can't comprehend.
The game is built on RPG Maker MV using the MV3D plugin, release is planned mainly on computer platforms (Windows, Linux, MacOS) with android and iOS after planned at a later date.
Roses Will Rise won 
Best Narrative in Game World Expo's 2017 Indie Dev competition
.
Why Patreon
The games I make are donationware, the games are completely free to download and play in full even after completion, with payment being optional for the player. They can be up to any amount they see fit, and if they decide not to that's okay too. People who do pay for my game get bonuses like wallpaper, scripts, and a planned artbook down the line. If people want to pay for one time, they can buy the game off itch.io, but if they plan to support me monthly in the long run this is what my Patreon is for!
As a patron you will receive updates to the game and reports in both a weekly and monthly manner (with an annual at the tail end of every year), every once in a while you will receive bonuses. Bonuses include hi-res PSDs of works when available (this include in game assets), a special credit in the game and other goodies as they come along.
I do face many hurdles throughout my development, one obvious obstacle is my full time job that I keep as job security, but if I do reach a high enough amount of supporters I do plan to go fully independent.
More of my games available on my
itch.io
page.
Other places to find me:
Upon reaching $99, you fund an iOS publishing license to port Roses Will Rise on iPhone and iPad. The iOS publishing license is good for 1 year, so this will fund its availability for that period of time.
2 of 10
By becoming a patron, you'll instantly unlock access to 80 exclusive posts
By becoming a patron, you'll instantly unlock access to 80 exclusive posts
How it works
Get started in 2 minutes