Cat Rambo
is creating Stories, Community, and Love
Select a membership level
Posse plus!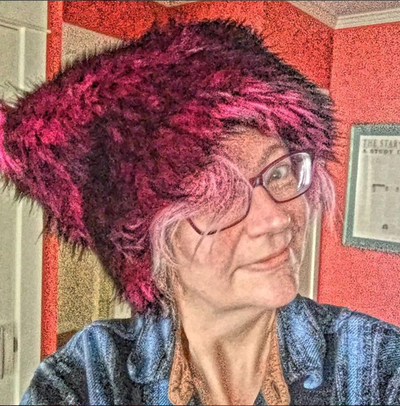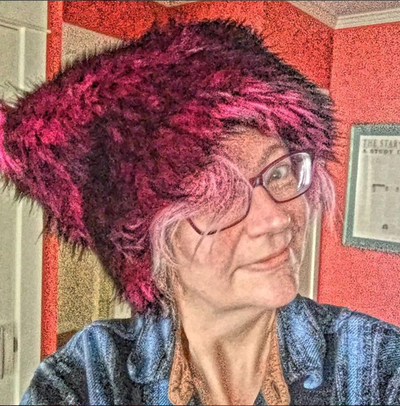 You're helping fund the production of fiction. This gives you access to a new story or chapter each month, occasional glimpses of early drafts of new work, snippets from what I'm currently writing, and other random behind-the-scenes stuff from Chez Rambo.
 Includes
Join Cat's community on Discord
Patron-only content feed of stories, drafts, and writing snippets
Special patron-only meet-ups and souvenirs at conventions
Special rate on live classes through the Rambo Academy
Monthly photo of Taco or a reasonable substitute
Includes Discord benefits
Virtual Coffeehouse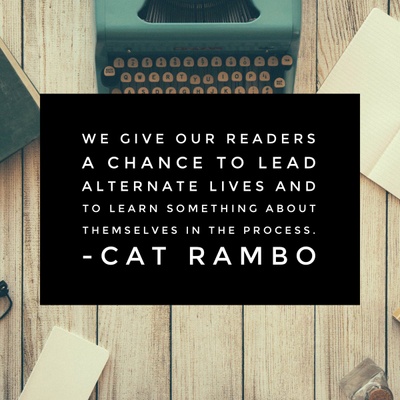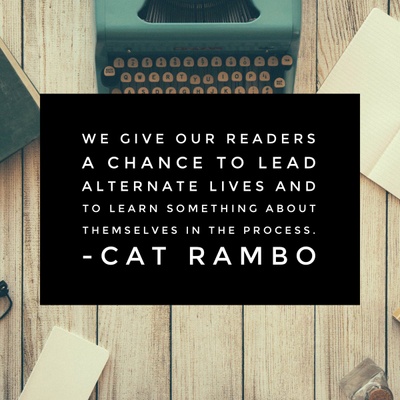 Come in and sit a spell. All lower tier rewards plus access to a private Chez Rambo Discord channel for discussion of books, F&SF, writing, and random pictures of baby goats. 

Includes
Everything from the $2 tier
2 additional monthly co-writing video calls.
Early access to Youtube videos.
Includes Discord benefits
Rambo Ranger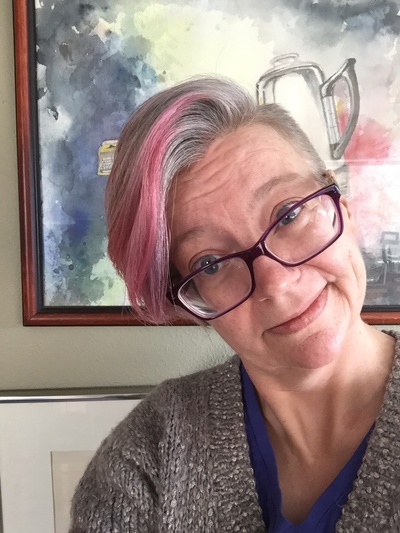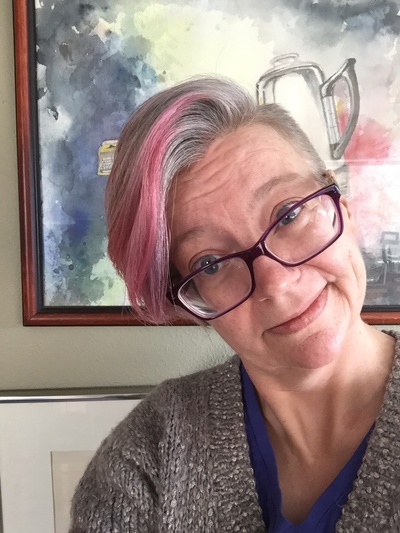 All lower tier rewards plus Rambo reading as soon as it's available.

Includes
Everything from the $5 tier
All e-books as they are released
1 live or on-demand Rambo Academy class per year  (non-cumulative, starts on 3rd month)
Includes Discord benefits
About Cat Rambo
Hello! You're checking out this page because you're considering supporting me on Patreon. Here's some of the reasons that you might want to.
You like my fiction.
With 200+ published short stories, five collections, two published novels and another two arriving in 2020 and 2021, this is the very best way to access my fiction in its range as well as see early versions and discussions about factors in its writing. Six years of this campaign provides plenty of snippets and stories, many of which are not available elsewhere. There's even an occasional poem.
Notification of new publications as well as links, advance access, and giveaways to them, appears here first.
You get exclusive access to snippets, stories, and other fictional treats!
Special meet-ups at conventions and other live events, including con swag!

You want to learn from me -- or at least be able to consult me from time to time.
Patreon support at any level includes access to the Chez Rambo Discord server, a community of writers and readers whose channels include #motivation, where our own Writerbot helps you start or join writing and editing springs, discussion rooms like #bookclub and #gametalk, informative groups like #brainstorming, #marketnews, and #writingcraft, and #critclub, a channel for swapping fiction critiques.
All levels include special discounts on online writing classes from the Rambo Academy for Wayward Writers , but upper tiers include free classes and chances for monthly coaching sessions, depending on level. This includes classes offered by guest authors such as Ann Leckie, Seanan McGuire, Nishi Shawl, James Sutter, and Fran Wilde.
All levels include access to the daily co-working video calls on weekdays and other virtual campus events. 
All levels include advance notice of new classes, early access to registration and special sales, and a special price when registering.

You like the things I do for the community and want to help me keeping doing them.
While I don't toot my own horn a lot, I will for a moment here. Among the more constant efforts that I'm involved in, I maintain Twitter lists for 
non-binary
and 
female
creatives working in fantasy and science fiction as well as 
a yearly round-up of awards eligibility posts
. I make sure the Rambo Academy classes and server are available for everyone in the form of supplying 
the Plunkett scholarships
. I work at providing up to date resources for new writers on 
my Youtube channel
and 
blog
, and a chance for any writer to promote themself via 
a guest blog post
. 
I even write an occasional post myself
.
Overall, I actively work to support independent publishing and to signal-boost my fellow writers -- and to set a good example of community mentoring and leadership: attentive, patient, working to stay informed, and sedulous in efforts to acknowledge and promote the efforts of others, particularly the volunteers whose hard work keeps our community running.
You simply enjoy the absurdities that result from my somewhat unserious take on life and want to make sure you don't miss any.
Special patron-only content includes posts about story inspirations, writing process, f&sf news, and recipes. You'll also see early drafts, doodles, random observations and interesting links, photos of things I am obsessed with, such as cats, coffee, and Breyer horses, and more.
Some Other Stuff That You May Want to Skip; You've Read the Important Things
If you're new to my work, I write both fantasy and SF. Here are some of my favorites:
English Muffin, Devotion on the Side
(near future SF),
Tortoiseshell Cats Are Not Refundable
(near future),
On the Big-Fisted Circuit
(near future, giant fighting robots),
Love, Resurrected
(fantasy, zombies),
Clockwork Fairies
(steampunk),
Five Ways to Fall in Love on Planet Porcelain
(slipstream, Nebula-nominated, trigger warning for sex and violence).
My work has been nominated for Endeavour, Nebula, and World Fantasy Awards.  Most of my publications are short stories, but I'm currently on book four of a fantasy quartet and book three of a space opera series.
I also used to edit
Fantasy Magazine
, and in 2014 guest-edited
Lightspeed Magazine
's Women Destroying Fantasy issue. If you were a fan of
Fantasy Magazine
under my editorship or enjoyed
Women Destroy Fantasy,
I'm taking advantage of the Patreon milestone as well to set a challenge for all the people who keep telling me they want to see me at the helm of a magazine again. Help me hit the $2500 mark and I'll be able to afford to start buying fiction from other people and putting together a publication known for excellence, experimentation, and diversity. If you're one of the people who come up to me at conventions and wistfully express how much they loved my rejection slips, well then... it's within your power to make it happen by donating and/or spreading the word.
This campaign arose in 2014 as an experiment to use up the backlog of short stories I'd accumulated and see what worked better: traditional publishing or this model. Stories you'll find here include urban fantasy, sword and sorcery, near and far SF, secondary-world fantasy, the occasional piece of lit fic, and who knows what else. Enjoy!
$1,299.93 of $2,500
per month
So many people keep saying they'd like to see met editing another magazine. Here's a chance to put your money where your mouth is by helping me reach the point where I can start buying stories from other authors as well.
3 of 3
Become a patron to
Unlock 1,624 exclusive posts
Connect via private message
Recent posts by Cat Rambo
How it works
Get started in 2 minutes