Paul Spooner
is creating awesome for God
Select a membership level
About Paul Spooner
Hi friends!
I head up a medium sized Catholic family who are trying to be as awesome as the God we worship. My goals are threefold:
Care for my family body, soul, and spirit.
Humans and machines in symbiosis as a means to the corporal works of mercy.
A Catholic vision of the New Jerusalem as a means to the spiritual works of mercy.
Perhaps you have a few questions. Things like:
"Why do you need money?"
I've got a wife, six kids, and a mortgage. In order to take good care of our children, my wife stays home. In order to be near my parents and my wife's parents, we live in a fairly expensive part of Southern California. So, we're a single-income family living in an expensive part of the country.
"But you already have a good job. Why are you asking for donations?"
Because I'm super creative, and I have so many ideas for projects, designs, videos, stories, and games that I'm dying to explore and this day-job is killing my sooooooul!
"So, why don't you just get a job at Pixar or Blizzard?"
I'm pretty disagreeable. So I don't work well in a team.
"Okay, you want to work on your own projects, but won't you just daydream all day?"
Fair. I'm also hard-working and organized, which you can tell from my engineering degree and decade of soul-killing day job experience.
Also, here's a bunch of projects I've done in my free time when I'm not at a full-time job.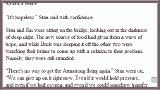 I like doing
3D modeling
. I've done dramatic readings of
books
,
articles
(like this one), and
rambles
on various topics. I
improvise
(mostly on the piano) as well as sing both solo and in a chorale. I also like writing
my own lyrics
. I even made
a terrible music video
! I
maintain
three
blogs
, wrote a
120K-word science-fiction novel
(building on the work of
Shamus Young
with whom I also
co-host a weekly podcast
) and have
another book
in the works. I've also written some
long-form poetry
.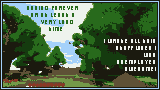 I've done a number of 3d modeling
commissions
and
collaborations
, one of which was a
feature length movie
. I maintain
my own website
, mess with
Python
, wrote some code for
Minecraft
, and enjoy crafting
parametric geometry
. I like making real life objects as well, including
ferrocement structures
and
sculptures
,
tree forts
,
wood
carving
, and
plate armor
.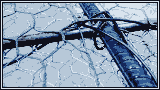 I also act, and have starred as the mad king Macbeth, the crazy nephew Teddy, the murderous king Claudius, and a few others.
"Fine, whatever. If you're such a cool guy, why don't you just ask all the friends you must have?"
That would be great if I were an extrovert, but I'm introverted, and don't really have many friends.
"Ooohkaaaaay... how can I help?"
You can pledge to support me on Patreon. Whatever you pledge will be automatically charged every month. You can cancel whenever you want with no penalty. It all helps, and I'd love to hear from you. That's basically it! Thanks in advance!

We keep a log of patron suggestions in our family "pick a thing" creative-block-breaking boredom-busting computer program that Paul wrote.
1 of 13
Become a patron to
Unlock 83 exclusive posts
Connect via private message
Recent posts by Paul Spooner
How it works
Get started in 2 minutes