ICLMG
is creating videos, a news digest & more on national security & human rights
Select a membership level
Support the ICLMG! Appuyez la CSILC!
You'll get our deepest thanks as well as access to the patron space and some exclusive previews. We'll be using the Patreon comments to interact directly with you all, answer queries, and more!

Nous vous offrons nos remerciements les plus chaleureux ainsi que l'accès exclusif à du contenu avant le reste du public, et l'accès à l'espace Patreon que nous utiliserons pour interagir avec vous, répondre aux questions, et plus encore!

Your name on our website!
We'll put your name in the ICLMG patrons' page on our website. NB: You can give any amount without the rewards by clicking the "Become a patron" button and scrolling down to "Make a custom pledge".

Nous inscrirons votre nom sur la page web des mécènes de la CSILC. NB: Vous pouvez donner sans récompenses en sélectionnant " cliquant sur le bouton "Become a patron" et puis sur "Make a custom pledge" au bas de la page.
Shout-out on social media!
We will put your name on our website and give you a personalized shout-out on Facebook and Twitter! 

Nous mettrons votre nom sur notre site web et vous remercierons personnellement sur Facebook et Twitter! 
About ICLMG
***Please note that all figures are in $US***
(La version française suit.)
Hi! Welcome and thank you for visiting our page! The International Civil Liberties Monitoring Group is a coalition of 46 Canadian civil society organizations that came together after the adoption of the Anti-Terrorism Act of 2001, in order to protect and promote human rights and civil liberties from the impact of the so-called "War on Terror."
WHAT WE DO

Our main mandate is to lobby the federal government on issues of national security, due process, freedom of speech, criminalization of dissent, immigration and refugee rights, Islamophobia, torture, oversight & review of intelligence and security agencies, etc. We publish a weekly News Digest, write reports and briefs, meet with MPs and appear in front of Parliamentary Committees, engage in public education by organizing panels and creating videos, and much more.
Our weekly News Digest is the most comprehensive run-down on news about human rights and national security in Canada, read by politicians, journalists, academics and activists. It also often features ICLMG's own original op-eds, analysis and calls to action. Producing this kind of weekly newsletter takes both hours of work – from research to design – but also the particular expertise that we can offer from 17 years of working to protect civil liberties from draconian national security laws.
WE ARE 100% INDEPENDENT
We do not receive any funding from any federal, provincial or municipal governments or political parties so we need your support to continue our work.
OUR RECENT VICTORIES
The results of the federal government's national security consultation were unequivocally in favour of our positions.
The government has created a new overarching review agency for all national security activities - something we have been advocating for since 2006.
There have been multiple settlements for torture victims that ICLMG has campaigned for alongside several other organizations.
Citizenship equality was restored by the adoption of Bill C-6, something we were among the firsts to call for.
Hassan Diab, who was detained for 3 years without charge in France, was finally released and has returned home to Canada.
For more details, or if you are on the fence about investing in our work, check out ALL our
Achievements
since we were created in 2002, but don't forget to come back to this Patreon page afterwards ;)
THE WORK AHEAD
Bill C-59, the National Security Act of 2017, has received royal assent in June 2019. The Trudeau government presented it as their way to fix the dangerous Anti-terrorism Act of 2015 (also known as Bill C-51). Not only did C-59 not fix C-51, it even introduced huge new powers as well as immunity to Canada's spy agencies. We will be monitoring its implementation closely, its effects on our rights as well as the efficiency of the new oversight and review mechanisms.
We are also working on several ongoing campaigns calling for:
A public inquiry into the case of Hassan Diab and the problems with the extradition law
The end of the deportation to torture of Mohamed Harkat, and the repeal of the security certificate regime
Legislation that explicitly and completely outlaws the use and/or sharing of information that could lead to, or have been obtained through torture
A public inquiry into Canada's role in the torture of Afghan detainees
The protection of privacy and bodily integrity at the border
The removal of the no-fly list and the "terrorist" entities list
And more!
Feel free to contact us if you have any questions.
Thank you for your interest and for your contribution to protecting human rights in Canada!
- Anne & Tim
PS: See further down what the News Digest looks like!
PPS: If you would rather make a one-time donation or not use Patreon, please 
donate here
.
************
***Tous les montants sont en $ américains***
Bonjour! BienvenuEs et merci de visiter notre page! La Coalition pour la surveillance des libertés civiles est une coalition de 46 organisations de la société civile canadienne qui se sont réunies après l'adoption de la loi antiterroriste de 2001 afin de protéger et promouvoir les droits humains et les libertés civiles contre l'impact de la soi-disant «guerre au terrorisme».
NOTRE MANDAT
Notre mandat principal est de faire pression sur le gouvernement fédéral entourant les questions de sécurité nationale, de droit à un procès équitable, de liberté d'expression, de criminalisation de la dissidence, d'immigration et de droits des réfugiéEs, d'islamophobie, de torture, de responsabilisation des agences de renseignement et de sécurité, etc. Nos activités comprennent la publication d'une Revue de l'actualité hebdomadaire, la rédaction de rapports et de mémoires, des rencontres avec les députéEs, des présentations devant les Comités parlementaires, l'organisation d'évènements publics, la création de vidéos et bien plus encore.
Notre Revue de l'actualité est le sommaire hebdomadaire le plus complet des nouvelles sur les droits humains et la sécurité nationale au Canada, et est lue par des politicien.nes, journalistes, universitaires et activistes. Souvent, elle comporte également nos éditoriaux, analyses et appels à l'action. La production de ce type de bulletin hebdomadaire nécessite de nombreuses heures de travail - de la recherche au design - mais aussi l'expertise particulière que nous pouvons offrir grâce à nos 17 années de travail pour protéger les libertés civiles des lois draconiennes en matière de sécurité nationale.
NOUS SOMMES 100% INDÉPENDANT
Nous ne recevons aucun financement des gouvernements fédéral, provinciaux ou municipaux ou des partis politiques. Nous avons donc besoin de votre soutien pour poursuivre notre travail.
NOS PLUS RÉCENTES VICTOIRES
Les résultats de la consultation publique du gouvernement fédéral sur la sécurité nationale ont été sans équivoque en faveur de nos positions.
Le gouvernement a créé une nouvelle agence d'examen pour toutes les activités de sécurité nationale et de renseignement - ce que nous demandons depuis 2006.
Des survivants de la torture ont reçu des excuses et des indemnisations du gouvernement pour lesquelles la CSILC a fait campagne aux côtés de plusieurs autres organisations.
L'égalité de la citoyenneté a été restaurée par l'adoption du projet de loi C-6, une action que nous avons été parmi les premiers à demander.
Hassan Diab, qui était emprisonné sans accusation depuis 3 ans en France, a été relâché et est enfin de retour au Canada.
Pour plus de détails, ou si vous n'êtes pas encore sûr.e de vouloir investir dans notre travail, consultez TOUTES nos 
Réalisations et acquis
depuis notre création en 2002, mais n'oubliez pas de revenir à cette page Patreon après ;) 
ON A DU PAIN SUR LA PLANCHE!
Le projet de loi C-59, la
Loi de 2017 sur la sécurité nationale
, a reçu la sanction royale en juin 2019. Le gouvernement Trudeau l'a présenté comme un moyen de corriger la dangereuse
Loi antiterroriste de 2015
(mieux connu sous le nom du projet de loi C-51). Non seulement C-59 n'a pas corrigé C-51, il a même donné aux agences d'espionnage du Canada de nouveaux et importants pouvoirs ainsi que l'immunité pour certains crimes. Nous surveillerons de près sa mise en œuvre, ses effets sur nos droits ainsi que l'efficacité des nouveaux mécanismes de contrôle et d'examen.
Nous continuerons également notre travail sur plusieurs autres campagnes exigeant :
La tenue d'une enquête publique sur le cas de Hassan Diab et la loi sur l'extradition
Justice pour Mohamed Harkat qui risque d'être expulsé vers la torture en Algérie ainsi que l'abrogation du régime des certificats de sécurité
Une loi interdisant explicitement et complètement l'utilisation et/ou le partage d'informations qui pourraient mener à la torture ou qui ont été obtenues sous la torture
La tenue d'une enquête publique sur le rôle du Canada dans la torture de détenus afghans
La protection de la vie privée et de l'intégrité physique à la frontière
L'annulation de la liste d'interdiction de vol et de la liste des entités "terroristes"
Et plus!
N'hésitez pas à nous contacter si vous avez des questions. Nous vous remercions de votre intérêt et de votre contribution à la protection des droits humains au Canada!
- Anne & Tim
PS: Voici ci-dessous un exemple de notre Revue de l'actualité!
PPS: Si vous préférez donner une seule fois, ou ne pas utiliser Patreon, 
donnez ici svp
.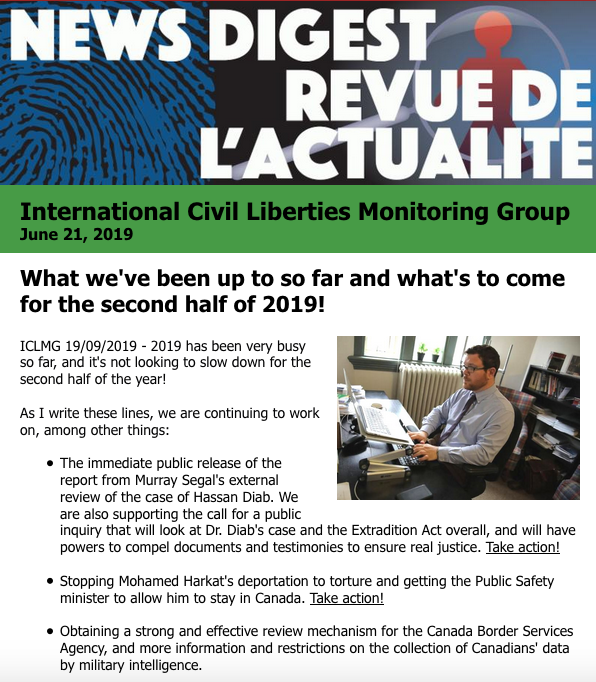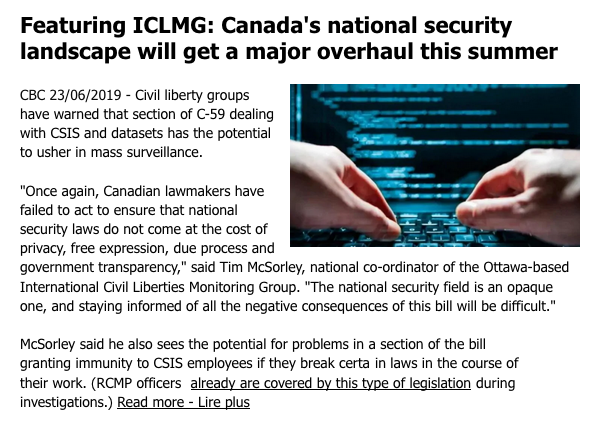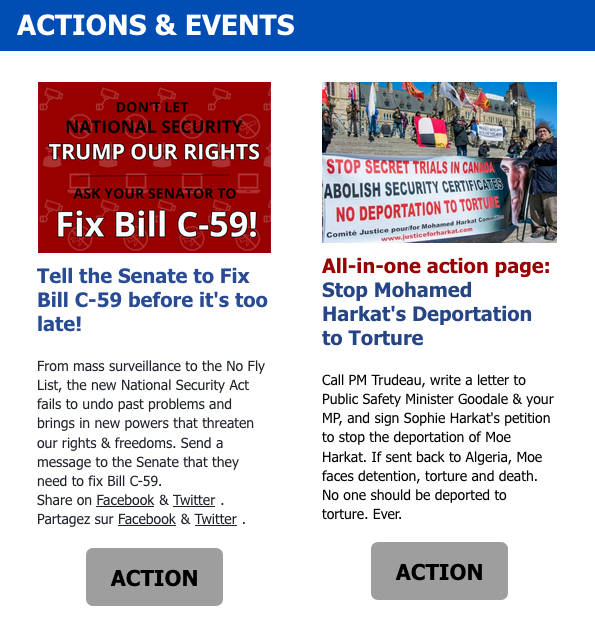 $132.36 of $400
per month
The monthly costs of news monitoring and the emailing tool we use to send the News Digest will be fully covered.

Les coûts mensuels de la recherche et de l'outil que nous utilisons pour envoyer la Revue de l'actualité seront complètement couverts.

2 of 3
By becoming a patron, you'll instantly unlock access to 4 exclusive posts
By becoming a patron, you'll instantly unlock access to 4 exclusive posts
How it works
Get started in 2 minutes