Isaka Shamsud-Din
is creating visual art, paintings, drawings, prints, and murals.
Select a membership level
Tendaji
Tendaji means "makes things happen" in Swahili. After two months of helping make things happen for me, patrons at this level will receive a card with a print of one of my original artworks on the cover. The card is blank inside, and on the back it has brief information about the work depicted. If they continue for a year, patrons will receive five more cards. One of the cards reproduces a painting of Fats Domino, seen above.
Anayango
Anayango
means "friend" among the Af people of Kenya. In thanks for their friendship, patrons at this level will receive monthly digital images and documentation related to my latest environmental art installation,
Honey in the Bee Ball
. This is a series of historical portraits and narratives of influential Portland and Northwest African Americans, some with national and international acclaim.  
<learn more>
Azikiwe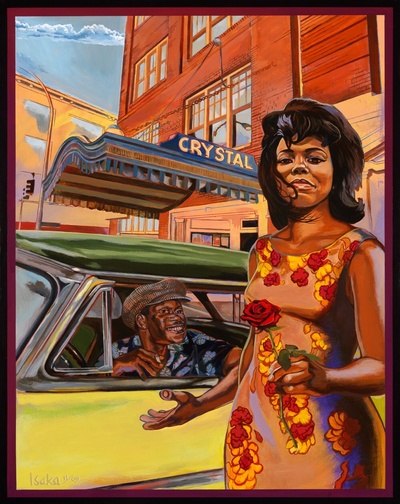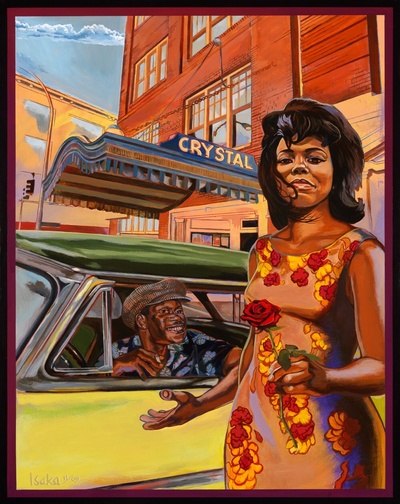 Azikiwe
means "vigor" in Swahili. This level of support invigorates my work on my most ambitious project, the Juneteenth Calendar. Each month, until November 2018 patrons at this level will receive a PDF file of the next month's spread for the next month of the calendar. In December 2018 Patrons will receive a printed 18 month calendar that starts in January 2019 to June 2020 and suitable for hanging on the wall.   
<learn more>
About Isaka Shamsud-Din
Welcome! I create drawings, paintings, and murals that educate, inspire, commemorate, and document the African American and African Diaspora peoples. My art can be confrontational sometimes, even controversial, as it is based on the rare perspective of my life experience.

In addition to my early years in rural Texas, my work is buttressed by my personal activism and involvement in some of the most significant movements and groups of the '60s and '70s: the Student Nonviolent Coordinating Committee, Black Arts West Repertory Theater, the Black Panther Party, and Nation of Islam. Amiri Baraka (LeRoi Jones), Kwame Toure (Stokely Carmichael), Bobby Seale, Emory Douglas, Ed Bullins, John Lewis, and Julian Bond were among my friends and associates.

As my patron here on Patreon, you'll be supporting works in progress, including the production of a calendar of Black history featuring my art; the completion of drawings, paintings, and sculptures for exhibit; and other projects. In the past few years, my overhead costs have risen quite a bit; your help will make it possible for me to keep up with these increases and meet other needs, such as studio assistance and photography. Patrons will share in the fruits of my work, including reproductions in card and print formats and spreads from the calendar.

My art ranges from still life to landscapes to nudes—people of many races, cultures, and walks of life—infused with a spirit that declares a sheer joy of creating. With representational, figurative formats, I use color, line and form to engage the viewer with lively and unpredictable adventures. Among my most notable achievements are murals created over a 53-year span, including those documented in the books Community Murals: The People's Art (Alan Barnett, 1984) and Walls of Heritage, Walls of Pride (Prygoff & Dunitz, 2000). My last project, a public art commission called Honey In The Bee Ball, took six years to complete.

My current work includes a suite of new paintings and drawings centered on portraits of family members, friends, and historical figures and narratives. My most ambitious project now is a calendar featuring my original art and information of interest to the art lover who recognizes the value of history and contemporary life rendered by visual artists.

In addition to my active studio life, I also spent more than 40 years teaching art and Black Studies, retiring in 2006. As a professor of art, I taught drawing, figure drawing, mixed-media drawing, figure painting and mural painting. I plan to share my process with my supporters, including research, preparatory sketches, drawings, and studies. Potential future projects include offering a drawing tutorial and allowing patrons to share their work with me for constructive feedback.

Dear Patrons, 


$400/month  2019 - '20 JUNETEENTH CALENDAR
Achieving this goal will allow me to recover the cost of the past work on the Juneteenth calendar that lays the foundation for future editions. I'll be able to focus on the studio again!

1 of 3
By becoming a patron, you'll instantly unlock access to 15 exclusive posts
By becoming a patron, you'll instantly unlock access to 15 exclusive posts
Recent posts by Isaka Shamsud-Din
How it works
Get started in 2 minutes