It's David and Renee
creating specialty wood surfaces, art, and more!
Select a membership level
The NEW Timberdoodle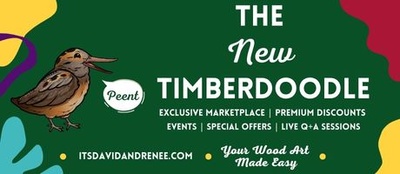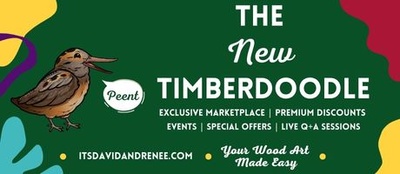 Welcome to The NEW Timberdoodle!
This is the same great Timberdoodle you know and love, but with a new structure.
The Timberdoodle is still for anyone and everyone who wants to create beautiful art on our specialty wood surfaces, but we are restructuring our business so things are going to look and feel different.
Here's what's changing:
The exclusivity of our woods is drastically increasing!

You will no longer get FIRST access to all wood drops- no, instead you get the ONLY ACCESS TO WOOD DROPS in The Timberdoodle Marketplace!!!!
The public will no longer get access to our woods other than our 3 stock items- the rainbow poplar cutting boards, cherry panels, and sample packs.
All ambrosia maple, walnut, hard maple, sycamore, sassafras, ornaments, large cutting boards, special panels, and planks, ETC.- all of that and WAYYY more- will only be accessible to Timberdoodlers and will never get to the public website.
Frequent wood drops are coming to The Timberdoodle Marketplace twice a month- every 1st and 15th of the month!
The wood you need, when you need it
Lots of you guys want custom orders of cutting boards, panels, ornaments, etc, but don't know what your options are. We hear you!
A new, easier custom ordering system is coming soon to help you get the wood you need when you need it.
This is will be set up like a menu of options showing you what woods we have available, what sizes/dimensions you can order, what items you can order (like ornaments, cutting boards, etc), and what current market price ranges are so you can get an idea of what you want and how much it'll cost.
Get your questions answered!
Monthly LIVE Q+A sessions and tutorials will be hosted monthly so you can get your wood and art questions answered live in person.
You can ask about art techniques, finishes, or colors, request wood tutorials and examples, and bring your current project to ask for advice or help with.
Your same great perks are staying!
Permanent, unlimited 20% off promo code

Priority scheduling for custom orders

Exclusive events like Christmas in July and The Timberdoodle Treasure Trove, and whatever else we decide to host!

Freebies & giveaways
You will save more than you spend in this group and we hope you'll join the Timberdoodle family!
The Timberdoodle Marketplace

Exclusive woods you can't get on the website anymore

2x monthly wood drops on the 1st & 15th

Permanent 20% off all wood

Monthly Q+A sessions & tutorials

Exclusive Timberdoodle events

Priority scheduling for custom orders

Get your art featured in our social media

Get your art featured on our website
By becoming a patron, you'll instantly unlock access to 81 exclusive posts
By becoming a patron, you'll instantly unlock access to 81 exclusive posts
Recent posts by It's David and Renee