Jai Uttal
Creating Bhakti Kirtan & World Spirit Music
Select a membership level
Bhakti Family - Stay Close!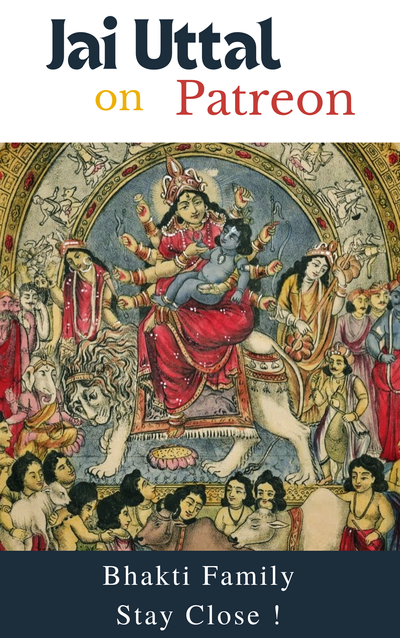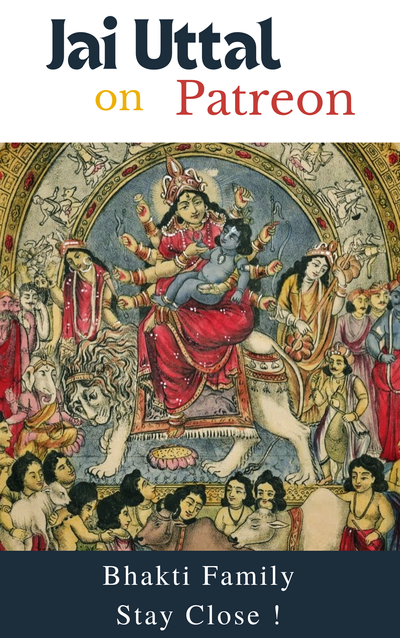 Bhakti Family - Stay Close!
$8.00

Thank you for your generous gift of friendship.
I am so happy that you are joining our family of inspiration here on Patreon.
Thank you so much!

'Stay close' will give you access to the activity feed where I'll post a wide and inspiring range of musical expressions, from total spontaneity to concert videos.

I encourage you to participate! Please, leave comments, ask questions, share your heart and help this community to grow in caring and devotion.
Gratitude,
Jai

🎨 Art by 'Om from India'

Bhakti Balm - Sonic Medicine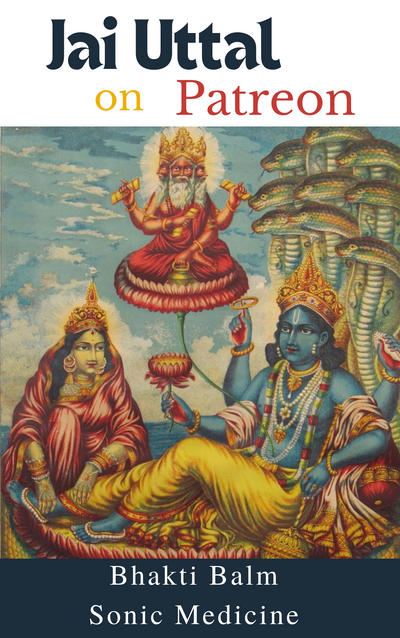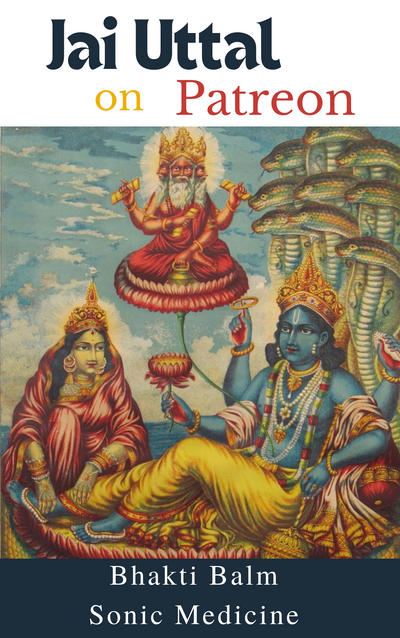 Bhakti Balm - Sonic Medicine
$18.00

I am so happy that you are joining our Bhakti Balm Lounge here on Patreon.
Thank you so much!

Sonic Medicine!
We are all in need of some supersonic healing balm!
Please lounge on a chair, sit in meditation or lay down for a nap and travel with me to the sonic realms of Sargam, Raga and Mantra.
This tier gives you access to 2 monthly live & downloadable exclusive recordings from me. Made just for my patrons, these meditative sonic balms can be added to your personal music libraries!

In addition, you will also receive the benefits of the Bhakti Family Tier.
I encourage you to participate! Please, leave comments, ask questions, share your heart and help this community to grow in devotion and caring love.
Gratitude,
Jai

Learn more about the making of these Bhakti Balm Songs:
One of my favorite things to in the mornings is to practice singing and exploring my ragas, based on my studies with Ustad Ali Akbar Khan. Sitting in a comfortable chair and accompanying myself just with my simple iPad drone and a big cup of my favorite coffee, I've found great solace and peace in rediscovering this practice that I used to do so consistently.
Occasionally I turn on my I-phone GarageBand app and record my practice. I plan to do that more often and share the recordings on Patreon, but here is one for you all. First you'll hear me spending a long time just singing Om and tuning into my 'Sa', or main tone, and then the exploration and prayer begins.
I hope this brings you peace and grounding to start or close your day. And I hope we can all find faith and joy amidst the chaos of these times.
Peace,
Jai

🎨 Art by 'Om from India'

Bhakti Circle - Online Gatherings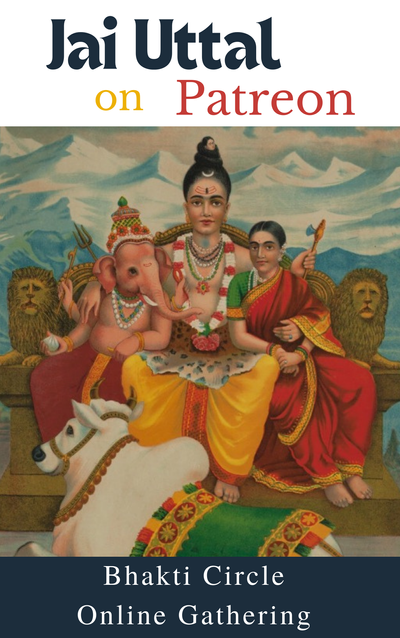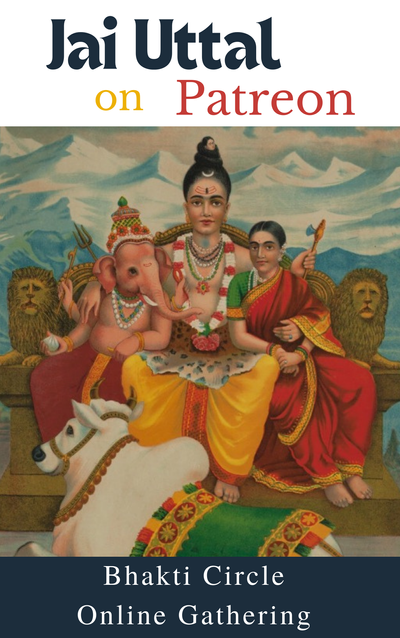 Bhakti Circle - Online Gatherings $25 I am so glad and honored that you've joined me in co-creating this beautiful circle of devotion here as my patron. Thank you so much.
Online Gatherings! This tier will bring us all together as a community! This is an unique opportunity to join me LIVE on Zoom once a month for stories, legends, songs, moody instrumentals, and Q&A.These sincere teachings are derived from a lifetime of deep immersion in the amazing ancient musical and spiritual traditions of India.
We will meet once a month on a Tuesday, from 4:30 to 5:45 Pacific Time to nourish our hearts and our Bhakti community.
In addition you will also receive all the benefits of the Bhakti Family Tier & Bhakti Balm Tier!
I am so glad and grateful we can co-create this wonderful circle of devotion. I encourage you to participate! Please, leave comments, ask questions, and help this community to grow.
Love and gratitude,
Jai
IMPORTANT! Due to Jai's Travels those are the dates set for this offering and they might be subject to change. We will let you know ahead of time.
September 13th 2022
October 4th 2022
November 1st 2022
December 6th 2022
January 17th 2023
February7th 2023
March 7th 2023
April 4th 2023
May 2nd 2023
June 6th 2023
July 4th 2023
🎨 Art by 'Om from India'
About Jai Uttal
Welcome friends, fans, and extended family!
It's a very, very hot day in Northern California and I'm reminded of the first time I walked through my fear and pushed myself to go out and share Kirtan with you. The setting was Bakersfield, in the center of the dry, dusty California desert, and the year was 1969. My friends and I were on a mission to bring Kirtan to the young people of the world! So we packed up our instruments (sarod, guitar, tabla and violin) and set up a 'portable temple' at Cal State University and began jamming. Before we knew it, a crowd was gathered around singing and swaying, and we were on our way....
Well, pretty soon I realized that I actually didn't know enough about anything to be on any kind of a 'mission'! But I did know that I loved music and that I loved sharing the practice of devotional singing, and that I had absolutely no other skills! There was nothing else for me to do... And those of you who have been with me from the beginning know that sacred music is not just a career for me, it's a deep life calling. And there has never really been a question about my answering that call.
Time has passed, and I realize that I've been a part of your lives for over 50 years; driving with you, dancing with you, cooking with you, loving with you, and hopefully helping your inner healing and bringing happiness to your heart. So what's next? I'm 71 and my soul is calling for a slightly different tempo, a new rhythm, and I'd like to invite you and give you the opportunity to join me in a beautiful circle of sharing called Patreon.
What is patronage?
My musical Guru, Ali Akbar Khan, used to speak so sweetly about his time in the Rajasthani court, playing for the king who became his patron and benefactor. It was a time where he didn't need to think about the basic necessities of life and he could concentrate solely on his music. Khansahib, as we lovingly called him, claimed he would never have become the maestro that he was without having had that patronage. And the same is true for so many of the greatest artists, playwrights, scientists and musicians of history - they all had patrons helping them to achieve their life's vision. In the traditions of Ancient India this concept was taken much further. Even today it's considered a blessing to offer food or money to any sadhu, or spiritual seeker, who comes to your door.
Well, it's 2022 and times have changed. The days of royal patronage are long gone. But now, with crowdfunding and other miracles, we're relearning the art of giving in a new and very modern way. As we rediscover our interconnectedness and interdependence, we find the awareness that we all need to become patrons of each other.
Enter Patreon - a new web platform based upon an ancient principal, wherein fans can become an integral part of the lives of the artists they love. Through Patreon, I'm creating a circle of devotion; an opportunity for us to be involved in something bigger than ourselves. My devotion to you, my fans, echoes and mirrors your devotion to me and to my music, and together, like pebbles dropping into still water, our spirits can ripple outward with more energy, integrity and light. I'm not asking you to 'support' me in my creative process; I'm inviting you to become part of my creative and devotional world. Be my co-creator by joining me on Patreon and allowing me to keep on giving my art and my heart to you!
Thank you
You can become my patron by simply choosing the tier that suits you the best!
Your support is very meaningful to me, and I look forward to connecting with you here on Patreon!
By becoming a patron, you'll instantly unlock access to 388 exclusive posts
By becoming a patron, you'll instantly unlock access to 388 exclusive posts
Recent posts by Jai Uttal
How it works
Get started in 2 minutes