Select a membership level
Cartoon Patron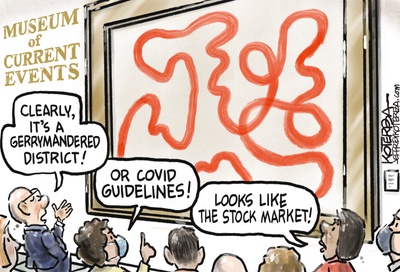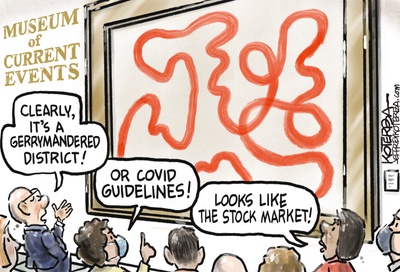 • Three new cartoons per week. 
• Early access—cartoons posted to Patreon first. 
• Discounts on merch from the Koterba Store.
—Your support ensures that I'll be able to continue producing insightful and humorous cartoons on the issues of the day—from the big events that impact our lives to the frustrations we all encounter on a daily basis. —You'll see my cartoons here on Patreon before they're published anywhere else. The very moment I complete a cartoon, no matter day or night, it'll be posted first to Patreon, fresh out of the oven!  —Purchase coffee mugs, note cards, and print from the Koterba store (with more items added all the time)—all at a discount exclusive to Patreon supporters!
Behind the Scenes and More!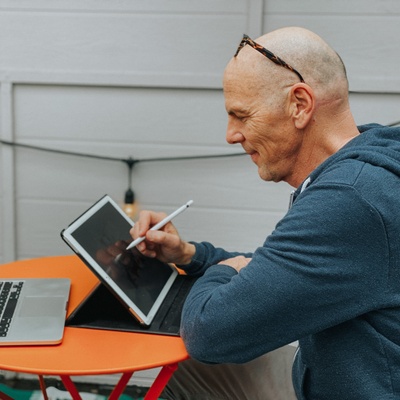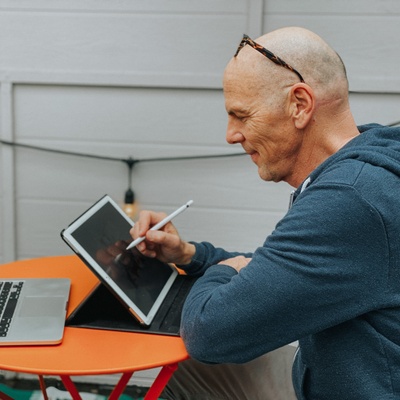 • Everything from previous tier.
• Time-lapse video of each cartoon.
• Access to my exclusive Patreon-only wallpapers.
• Exclusive live video show.
• Unpublished sketches, doodles, rejected ideas, and more.
—Watch as I pull back the curtain and allow you to look over my shoulder as the creative process unfolds. My time-lapse videos takes you inside my drawings—and my brain! You'll experience every line and brushstroke that goes into the making of one of my cartoons. Enjoy!
—Tired of your desktop or mobile looking like everyone else's? Looking for something unique? I've got you covered! I regularly create exclusive wallpapers and other goodies just for you! By joining you'll have access to all new and future wallpapers but every wallpaper from the archives, too. 
—You'll see it all! Full access to thumbnail sketches that are part of my process. The doodles that do the heavy lifting, the ones that inspire a finished cartoon. Because, hey, those little sketches need some love, too!
—Occasionally, I host "Koterba's Theory of Creativity," a live, interactive show over Zoom that includes interviews with special guests. We can also talk about the cartoons I've drawn, or what else I have in the works. But we can also chat about your projects, too! And how overcoming obstacles, and how embracing your vulnerability, can lead to greater creativity. Let's get inspired together! And if you want to ask me about other stuff like learning a new language or travel, I'm happy to chat about that, too!
Work-in-progress/Behind-the-scenes

High-res content (desktop / phone wallpapers)
Inner Creative Circle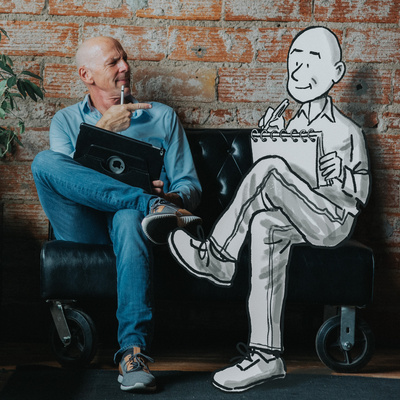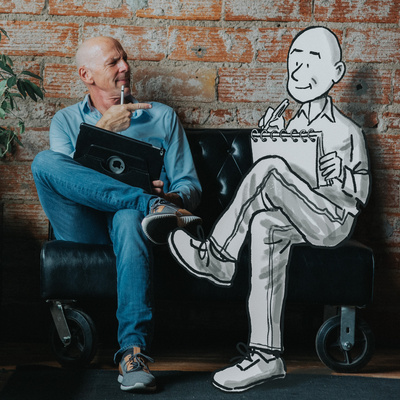 • Everything from the previous tiers. 
• One free 11"x17" giclée signed print, or two free 8 1/2" x 11" prints of your choosing.
• You're the first to know when I'm open for private commissions.
—Once a year you'll also receive a large print of your choice, or two smaller prints, suitable for framing. Makes for a great gift—either for you or someone else! Simply go through my archives on Patreon and send me a message!
—I don't take on many private commissions. But when I am open for commissions, those slots fill up quickly. I'll let you know when I'll be taking on caricatures and other cartoons—which make for truly unique gifts for birthdays, graduation, the holidays, or...for yourself!
High-res content (desktop / phone wallpapers)

Work-in-progress/Behind-the-scenes

One large signed print or two smaller signed prints of your choice
About Jeffrey Koterba
Hello and welcome! Thank you for visiting me here!

As one of the last remaining full-time newspaper cartoonists left in the U.S., I was starting to feel like a contestant on one of those reality shows. You know, something like "Last Cartoonist Inking." And then it's like I was kicked off the show.

After 31 years drawing award-winning cartoons for my beloved hometown newspaper, The Omaha World-Herald, my position fell victim to cost-cutting measures. In the aftermath of losing my job in September of 2020, the response from readers has been overwhelming and humbling. I've received literally thousands of messages on all platforms from friends and strangers, alike, amazing humans who have expressed their sadness about my work going away.

Perhaps even you, dear reader, made a post on social media, or tracked down my email address, or sent a carrier pigeon with a message asking how you will now see my cartoons? And how can you support me in my quest to continue making cartoons?

Well, you've come to the right place! While my work will continue to be syndicated to other newspapers, there's honestly not much money in it. I mean, what's happening in Omaha is pretty much happening all over. Newspaper budgets are being slashed left and right, and sadly, cartoons are often seen as frosting on the cake, so to speak, but not always a necessary ingredient for the cake. But I beg to differ and I hope you'll agree!

So what to do? More than ever, the world needs journalists and, I would argue, satirists. Not only to poke fun at politicians and newsmakers, but also to bring a sense of humor to a world seemingly having gone mad.

For those of you who already know my work, I draw with a sense of compassion and humanity. Even when criticizing newsmakers. And I certainly poke fun when necessary—at those from across the political spectrum. But I also try to bring a little joy, too, by commenting on the stuff that we humans must face on a regular basis, especially in these trying times.

So that's why I'm here on Patreon. I'm truly excited about this new chapter and I can't wait to meet you, or if we already know each other, to get to know you even better. And best of all, I'm looking forward to these shared experiences—laughing or commiserating, or sometimes doing both at the same time. Let's bring each other a little joy and laughter, shall we?

What's also really great about Patreon is that now, when finishing a cartoon, I'll post it immediately here—so you'll always see it first. The other awesome thing is that I'll now be able to pull back the curtain and let you in on my creative process and also involve you, too!

So come have a look around my Patreon page and see which tier works best for you. If you have questions or comments, don't hesitate to reach out! Let's keep the conversation—and the creative process—going!

A bit more about me:
Honored by the National Cartoonists Society, National Headliner Awards, and Great Plains Journalism Awards, my cartoons have appeared the globe in such publications as The New York Times, The Washington Post, and USA Today. My cartoons have also flown around the globe aboard space shuttle Discovery.

Back on earth, my work has been included in multiple exhibits in the U.S. and Europe, alongside Picasso and Banksy.

Entertainment Weekly called my memoir, Inklings: "…a powerful and moving portrait of an artist."

A two-time TEDx speaker, I'm also a two-time nominee for a Heartland Emmy Award.

Show more
By becoming a patron, you'll instantly unlock access to 927 exclusive posts
By becoming a patron, you'll instantly unlock access to 927 exclusive posts
Recent posts by Jeffrey Koterba
How it works
Get started in 2 minutes