jeranism
Creating a crypto community!
Select a membership level
CRYPTOISM STARTER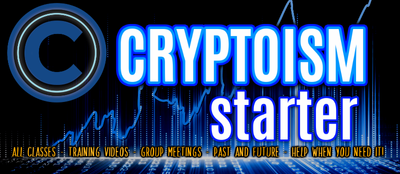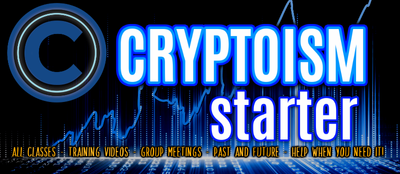 CRYPTOISM STARTERS GET...
₿- 2 hr. group class (Every other Friday night) 
₿- No need to attend class live - You'll get the video the next day!
₿- Video on Demand for all past and future classes.
₿- 24/7 Private Telegram Support Group with my Team
₿- Contact me easily through Telegram
🚩BONUS🚩
If you sign up for a year ($100) you will receive a free 1 Hour Consultation! ($119 Value)


About jeranism
Welcome to the best crypto group around!
      I've said it before and I will say it again. Crypto is going nowhere. It is not a fad or a flash in the pan. It is the future of finance whether we like it or not. So I want to make it easier for everyone to get involved.
     We offer crypto consulting and we teach classes and group meetings covering various crypto topics. When you become a Patron, you will get access to all the past and future trainings. All classes were recorded and are available 24/7 to Patrons. We've had classes on wallets, getting started, how to HODL, MetaMask and more including presentations from ARRR, COVAL, Liquid Loans, EPIC Cash, Hedron, HEX etc.
This is the best deal in crypto! For $10/mo you will get the following.
2 Hour Group Class (Every other Fri evening) If you can't attend you will get the video the next day.
You will get full access to every class that has been done up until now and all future classes as long as you remain a Patron. These Videos on Demand are available now!
You get access to two private Telegram groups. One 24/7 for crypto and one for non crypto.
IF YOU PURCHASE A YEAR (2 months free $100) You get a free 1 hour crypto consultation with me, Scott, Nathan or Caprice. ($119 Value)
Contact me easily through the Patreon app with any questions and I will reply within 24-48 hours. For a quicker response you can easily reach out on Telegram.
If you are looking for truth content, you can now find it at Rokfin.com! You will get every show I do plus you get the other 220+ channels that are already there celebrating free speech. Click 
here
to join Rokfin! You can support me with a one-time tip through Cash App or with crypto. All my links can be found here: 
links
By becoming a patron, you'll instantly unlock access to 23 exclusive posts
By becoming a patron, you'll instantly unlock access to 23 exclusive posts
How it works
Get started in 2 minutes