Jerome Stueart
is creating joyful paintings of hairy fairies in a garden
Select a membership level
Get exclusive patron-only merch
Fairies
Thank you!  You get to see Art of the Day, the 4 x 6 paintings I create and have first chance to purchase them at a discount! These could be about 7-8 pics a week.  You will also see them early, before anyone else, often the day before! giving you a shot to purchase them first.  You will also see any extra paintings FIRST here exclusively on Patreon.  You will also receive any news about myself as an artist.  Thank you! 


Mermaids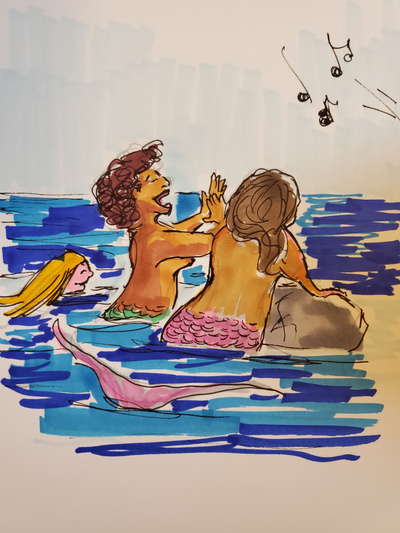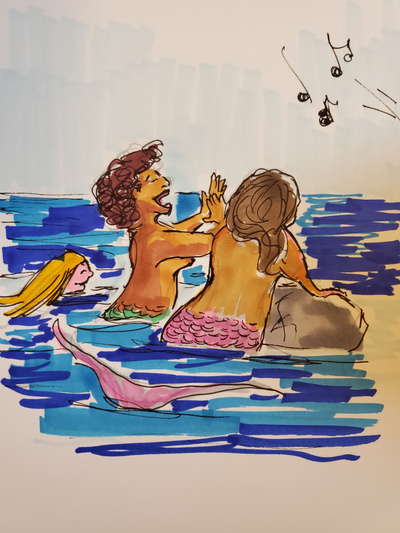 Thank you!    Mermaids get to see the paintings I create, the discounts, the early access + process photos, process videos (when I do them), and notes about how I am creating and my decisions about what I'm doing--all the work below the surface, just perfect for Mermaids.


Satyrs
Thank you! 

Essays about Art

Along with the news, early access, discounts, pics, and process, you will receive two monthly essays on art, on being a queer artist, talking about past queer artists, or present ones, my queer and non-queer influences, longer discussions about what I'm doing with art and why, with usually a great piece of art by one of the people who inspire me, classic artists like Marc Chagall, NC Wyeth, or contemporary artists Joyce Majiski, Sandra Storey, Nathalie Parenteau, Marcus Blackwell, or the artists of the New Yorker covers that I love like Barry Blitt, Adrian Tomine, Arthur Getz, Peter de Seve, or other artists I admire. 

I hope these essays introduce you to new artists to follow, and collect.  

My first essays will be on Gardens in Art.  I want to look at how gardens were depicted in art.  





About Jerome Stueart


Welcome to the Hairy Fairy Gardens! 
A place away from the chaos, where fairies fly in between the flowers, where minotaurs serenade mermaids, where Gryphons relax in the sunflowers, and where YOU can relax and enjoy the peace during this chaotic time in the world. 
My name is Jerome Stueart and I'm a 52-year-old queer writer, cartoonist, and illustrator living in Ohio creating paintings I hope will bring you joy.  I know I'm having a blast! 
My paintings have a queer bent to them because I'm gay and I like the representation!  There will be tasteful, artful nudity (however, there won't be any explicit sex in public pieces, but fairies and other creatures will probably be tastefully nude).
I use watercolor and pen and ink, mostly, and an occasional marker. I also find creative ways to use liquid paper (Whiteout).  I'm creating a postcard a day for as long as I can keep it up!  If you'd like, you can help me keep going! 
You can keep me in art supplies--paints, cards, envelopes to ship them in, markers! 
I use Winsor & Newton watercolors, Blick art markers, Whiteout, and mostly 4 x 6 Strathmore Watercolor Postcards (140 lb) acid free.   
But I also would love to become more stable with my art--- use it to support me.  Come on this journey with me!  You'll get to know me through my art process, and help me keep everything going, as well as receive lots of pictures of joyous fairies playing in a garden! 
The Tiers:
The Tiers reflect a broad range of interests. 
If you just want to see what I'm doing, take the lowest tier--I'll send out 7 new paintings a week! 
But if you want to see process photos, get an art card with one of my images sent to you, read a meditation on being a queer artist twice a month, or if you want to commission works, feel free to check out the different tiers.  Here's a run down of them--remember each tier is cumulative--everything from past tiers is included in the next tier (Except for the Minotaur and Dragon tiers as they just reflect different sizes of commissioned art!):  
For $1 a month
:  you get to see the daily paintings I create and have first chance to purchase them--at a discount! Paintings I'm selling at $40, you get for $35. You'll see them by at least 10am EST, but usually the day before! while everyone else has to wait till the day of.  You'll also receive any news about myself as an artist. (This $1 a month is also a great way to support artists you love and keep up to date with them.)
For $2 a month
:  you get to see the paintings I create, plus process photos and notes and process videos about how I am creating and my decisions about what I'm doing.   
For $5 a month
:   you receive the paintings, and process, and will receive at least twice a month 200- 600 word essay on being a queer artist, other queer artists, or themes I'm working with (like gardens in art!) and on artists I draw from for inspiration, probably Marc Chagall, NC Wyeth, Rubens, or Yukon artists Joyce Majiski, Sandra Storey, Nathalie Parenteau, or the artists of the New Yorker covers that I love like Barry Blitt, Adrian Tomine, Arthur Getz, Peter de Seve, or other artists I admire.  If these prove popular, I may do them more often. 
For $10 a month:
You receive all the benefits of previous tiers, but now you get fun merch! Stickers and buttons, some sort of surprise during the month.  
For $15 a month
--- everything from previous levels + a fine art print card, signed with a thank you note to you every month, printed exactly how fine art at gift shops and art galleries are printed, with a note from me. + after 3 months you get a complimentary mug with "Fairy Cannonballing the Birdbath" (our cover photo).
For $20 a month
-- everything from previous levels + an illustrated story in a PDF with hi rez illustrations once a month. + after 3 months at this level you also get the complimentary mug (assume the mug will be part of all higher levels).
For $40 a month 
-- everything from prev. levels + a free softcover, semi-glossy full color 8 x 6 signed photobook of ALL the paintings I made for the month! + mug at 3 months!
Collector levels:
$85 Minotaurs
--- everything from previous levels + commissioned 5 x 7 work once a month.  Your own commissioned work! + mug and a t-shirt of a dancing minotaur! 
$300 Dragons
---- everything from previous levels + commissioned 11 x 15 work once a month (or something from my previous paintings)--this is a $300 value alone. This is a good collector's tier if you are interested in my medium sized work. + buttons and stickers and fine art cards!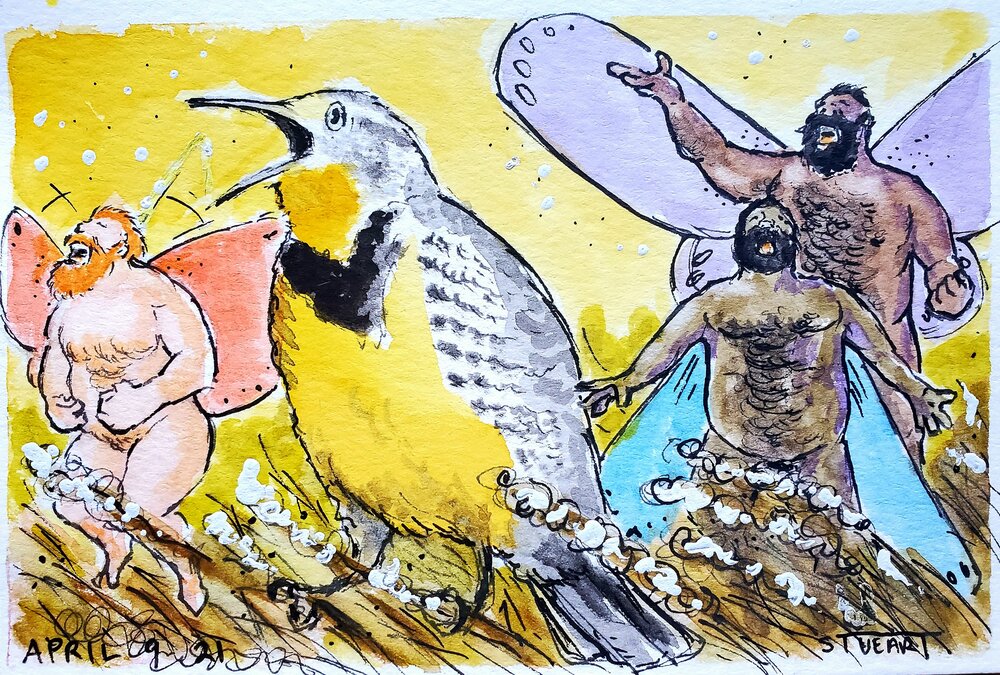 WHY AM I DOING THIS?






Today the world seems to be in chaos, and we are looking for a little joy.  I created this garden area to be a place outside of the world, and its chaos;  it calls back to a pastoral innocence present in Renaissance Art, Baroque, Romantic, and Neoclassical art--you know with all the naked figures! ---where the garden is a space set apart, a magical  space between wilderness and society, where nature and beauty and people intermingle safely and magic can happen. I also wanted to make a queer space--where my big hairy fairies could frolic and have fun being themselves. 

I would like to send you a little joy every day, and you can get that joy for a $1, or more if you like other levels, and collectively, you help me pay my bills.  You will also have first notice on when I put originals up for sale on Squarespace, or prints (and pillows and mugs, etc) on Redbubble.  The art I produce here will appear on Squarespace for your purchase (and you'll know about it ahead of time) and will also be available on Redbubble to be made into collectible things (including prints, if you like).  

My painting is keeping me alive right now. I've always dreamed of being self-sustaining using my own creative skills. I'm still aiming to make my writing sustaining too, but I will consider this my day job!  For right now, it's the best thing for me to be doing. It keeps me happy and I try to keep you happy too.  


ABOUT ME

             
I started making art when I was a kid, doodling cartoons, and drawing portraits of famous people from TV Guide, and eventually live portraits. I had a pencil portrait studio for awhile in front of the local Piggly Wiggly in Caruthersville, MO.  
I kept doing portraits on and off while I went to college, whenever I needed money.  But I pursued writing and teaching writing, so I didn't take my art seriously until 2018.  At that time, I first got my own studio and decided to see what might happen if I thought of myself as an artist.  I was 49.  Now I am seeing what I can do to make art sustainable, and you are helping!  
I took one year of Art School at the Columbus College of Art & Design, which gave me the studio space and the determination to make my art practice grow, and I learned watercolor there from Carol Griffith--who is an amazing teacher, and I have forgotten much more than I currently use. I learned cartooning from doing a cartoon twice a week for 4 years at the University of Missouri-Columbia for their newspaper, The Maneater, and working with Frank Stack, my teacher. 
I ALSO write science fiction and fantasy, but also queer literary stories/novellas.  My work falls in between a lot of categories.  My first book of collected short fiction,
The Angels of Our Better Beasts
, came out in 2016 from ChiZine Publications (
if you would like to purchase a copy of the book, please email me, as I have copies I can sell you and the publishers are no longer involved with my book
).
I'm a 2007 Clarion graduate, a 2013 Lambda Literary Fellow, and a 1996 Milton Fellow. I write science fiction, fantasy, and mainstream short stories and am working into novellas and novels. My work has been published or is forthcoming in
The Magazine of Fantasy and Science Fiction
,
Fat & Queer,
Tor.com
,
Lightspeed's Queers Destroy Science Fiction, Fantasy, Geist, Geez, On Spec, Joyland
. I've co-edited three anthologies:
Imaginarium 4, Wrestling with Gods: Tesseracts 18
, and
Inhuman. Currently my story, "Postlude to the Afternoon of a Faun" is a finalist for the Eugie Foster Memorial Award and the World Fantasy Award for short fiction.  
I tend to touch on the spiritual side of my characters and my worlds —trying to understand their (and our) search for something deeper in the chaos that we live in.
I hope you enjoy your stay here. Let me know if I can do anything to improve the garden grounds. 
Thank you for spending time with us in the Garden! 
Thank you so much! Honestly, my first goals are art supplies from Blick Art Supplies, and reference drawing books from Etherington Brothers.  Things to make my art better!  All Patrons in the first goal get their names in the Founders List.  I will also choose five queer writers or artists to support every month at $5 a piece. 


1 of 4
By becoming a patron, you'll instantly unlock access to 182 exclusive posts
By becoming a patron, you'll instantly unlock access to 182 exclusive posts
Recent posts by Jerome Stueart
How it works
Get started in 2 minutes