Wild John Reinhart
is creating Poetry
Select a membership level
sparks
For every dollar pledge, you will receive previews of my poems/art/music-in-the-works here on the Patreon website.

candle
For every three dollar support pledge, I will email you one of my fiddle albums and occasional postcards with poems.

matchbox
For five dollars I will send you a copy of one of my various chapbooks in progress, one of my fiddle albums, and occasional postcards with poems.

About Wild John Reinhart
Perpetually sharpening his fiddle at the crossroads, John Reinhart is an arsonist, father of three, and poet. He was born in Denver, which suffered major fires in the 1860s, leading city officials to change building standards. He has managed to escape twice. A long distance admirer of Herodotus and William Butler Yeats, he has encouraged his children to play with matches from an early age.
A 
Horror Writers Association
Dark Poetry Scholarship recipient, he has won the 
Poetry Nook Weekly Contest
, a 
Zathom
open call contest, and been a Pushcart, Elgin, Rhysling, and Dwarf Stars award nominee. His work ranges from fantastical to experimental, published in 
Pedestal Magazine
, 
Holy Shit!
, 
Fleurs du Mal
, 
Liquid Imagination
, 
Popshot
, 
Better Than Starbucks
, 
Crannóg Magazine
, 
Poetry WTF?!
, 
Indigent Press
, 
FishFood Magazine
, various anthologies, and across seven collections of poetry.
In a world of planned obsolescence the most rebellious act is continual creation. With three children, I feel a visceral obligation to live artistically, to demonstrate that there is no need to live inside a box - in fact, that box can be transformed.
I
write poetry
because I love language. I'm a word nerd. By transforming our language, we can envision new worlds.
To date I have published
Chapbooks:
encircled (Prolific Press, 2016)
Horrific Punctuation (Tiger's Eye Press
, 2017)
screaming (Lion Tamer's Press, 2018)
Arson (NightBallet Press, 2018)
Full-length collections:
dig it (Arson Press, 2018)
invert the helix (Pski's Porch Publishing
, 2017)
broken bottle of time (Alban Lake Publishing
, 2017)
I collect refuse I find in while walking. I
transform these oddments into new forms
, redeem their obsolescence by discovering new beauty.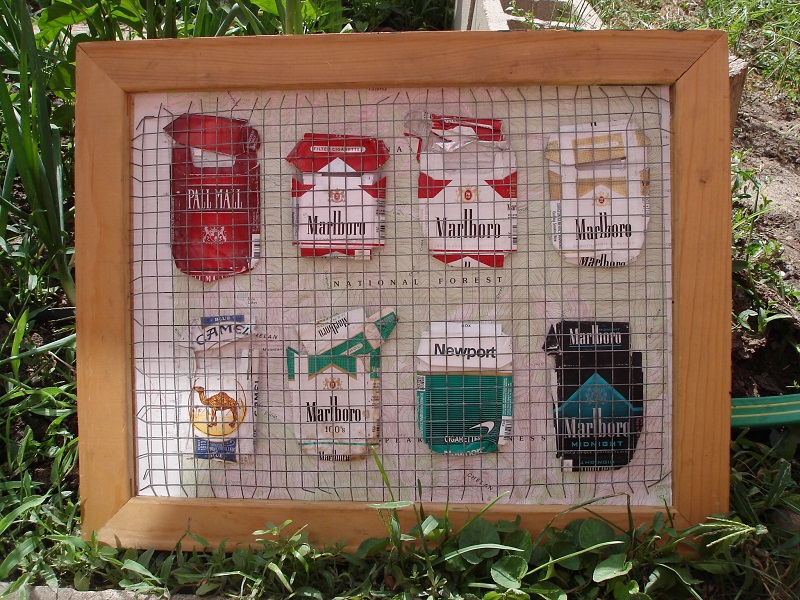 I have
recorded three albums of traditional fiddle music
. I still collaborate musically on an infrequent basis with
Patrick Reinhart
.
I teach high school students. I have three young children, lots of school debt, a mortgage, etc. Every summer I take odd jobs to pay down the debt we accrue in the course of the year. Between these summer jobs and tax returns and family support, we manage to scrape by. We refinanced our house one summer to pay off the excavation of a broken water pipe and purchase a long-since necessary minivan.
What is the difference between an artist and a  large pizza?
A large pizza can feed a family of four.

What will your money do?
Your patronage will give me more flexibility to create and care for my family without continually scavenging odd jobs. Poems do not require expensive materials, but the research and efforts around publication take time away from paying pursuits; my collages are mostly composed of discovered material, but I pay for glue and continually break drill bits; recording takes time, and upgrading from basic equipment is expensive. Every little bit helps.
What can I expect you to produce and how often?
I write poetry constantly, and it is published online and in print regularly. Many of my online poems will appear in my posts on this page free for anyone to view.
While I have charged patrons "per thing" in the past (which meant a thing about once a month), I am committing to writing something every day for 2019, and will change to a monthly contribution, making this more predictable for everyone. I am exceptionally grateful for all your support.
Thank you for your interest in my work.
John Reinhart
HOMEPAGE: 
http://home.hampshire.edu/~jcr00/reinhart.html
FACEBOOK: 
https://www.facebook.com/JohnReinhartPoet
TWITTER:
https://twitter.com/JReinhartPoet

INSTAGRAM: 
https://www.instagram.com/johnreinhartpoet/
BANDCAMP: 
https://reinhartbrothers.bandcamp.com/
When I hit $15 in pledges from patrons, I will self-publish a chapbook length collection of poems and mail a copy to each patron regardless of your pledge amount.

2 of 2
Become a patron to
Unlock 625 exclusive posts
Connect via private message
Recent posts by Wild John Reinhart
How it works
Get started in 2 minutes