Josh Tynjala
an ActionScript, MXML, and SWF extensions for Visual Studio Code
Select a membership level
Indie Developer


Buy me a coffee/beer once a month to say, "Hey, I appreciate the work you're doing!"

Professional Developer


Does the AS3 and MXML extension for VSCode help you build better apps? Do it save you time and money? Support a guy who loves building quality tools to help his fellow developers.

Team


Take a moment to invest in the tools that keep your team finishing projects on time, and at the highest quality.
About Josh Tynjala
Hi, I'm Josh Tynjala, and I'm working on the
ActionScript & MXML language extension
and
SWF Debugger extension
for Visual Studio Code. You may know me as the creator of
Feathers UI
, an open source user interface component library for Starling Framework and Adobe AIR — or as a contributor to
Apache Royale
.
ActionScript & MXML for Visual Studio Code
Adobe no longer updates Flash Builder, and the latest version isn't particularly stable anymore. While ActionScript and MXML support continues to be maintained in IntelliJ IDEA, there hasn't been a lot of new development lately. Newer SDKs, like the Feathers SDK and Apache Royale, require special workarounds and extra configuration to work. We deserve better.
That's why I started working on an
ActionScript & MXML language extension
for Microsoft's popular (and open source!)
Visual Studio Code
editor. I believe that it's now up to the community to ensure that we continue to have a modern development environment for ActionScript that supports all of the SDKs and features that we use today to build our projects.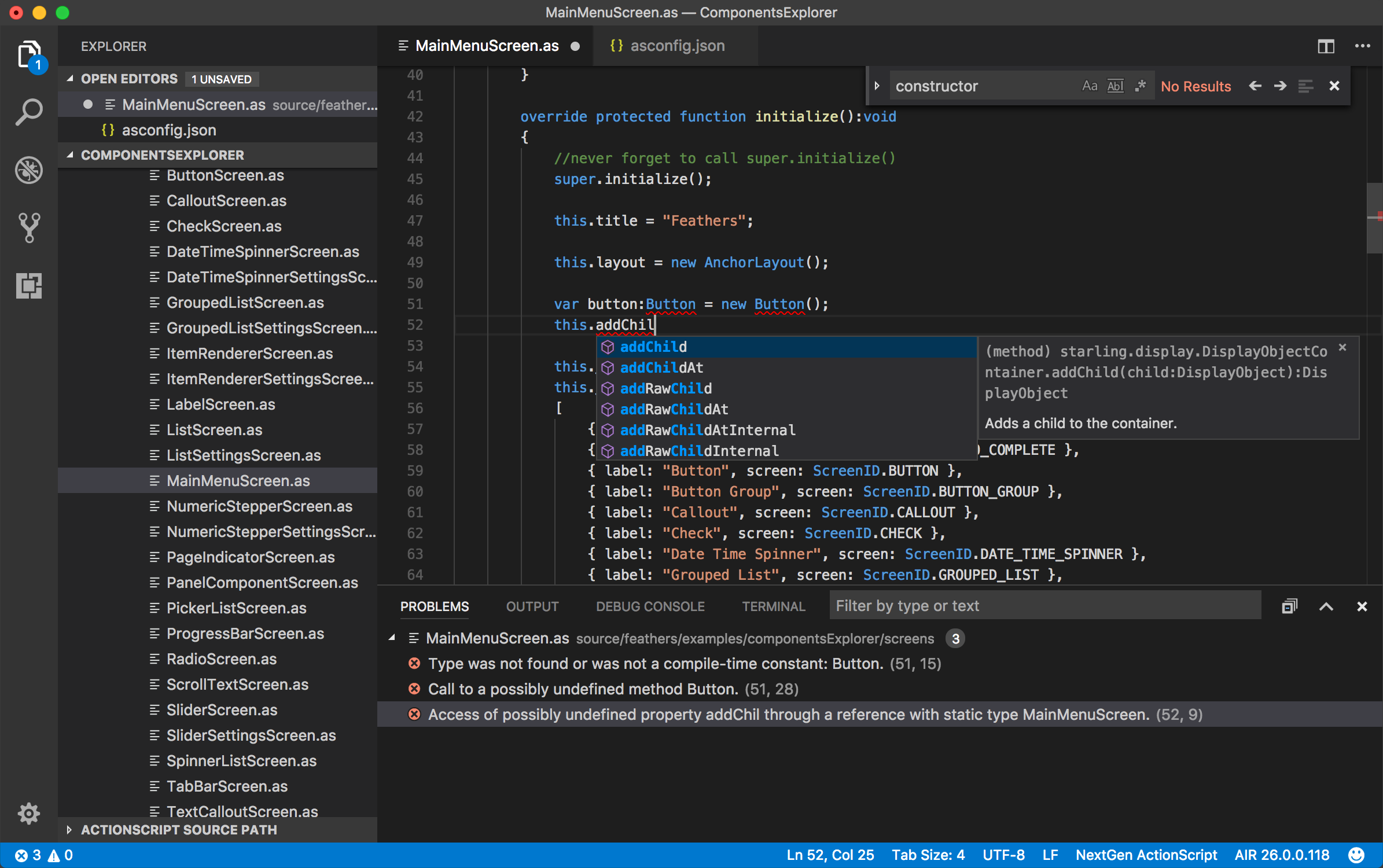 When I work on any ActionScript & MXML project, I've made it a point to always use Visual Studio Code. The needs of real-world projects should be driving the development of the AS3 & MXML language extension and Debugger for SWF extension. Additionally, multiple developers contributing to
Apache Royale
use the extension to work on the Royale framework and components. Here's what Gabe Harbs had to say about the extension:

As a patron, your contribution will support continued development of this VSCode extension, and I will share exclusive, early previews of new features as they're still in development.
Thanks for your support!
Does this project help you out by saving you time and money? Do you want to support new, open source, high quality developer tools for ActionScript, Flash, Flex, and Apache Royale? Please consider
becoming a patron
.
By becoming a patron, you'll instantly unlock access to 103 exclusive posts
By becoming a patron, you'll instantly unlock access to 103 exclusive posts
Recent posts by Josh Tynjala
How it works
Get started in 2 minutes