Karolina Laskowska
is creating couture underthings, corsetry & educational resources
Select a membership level
$2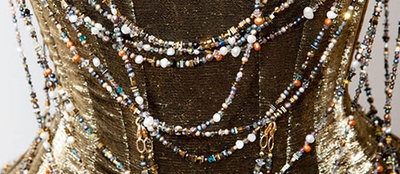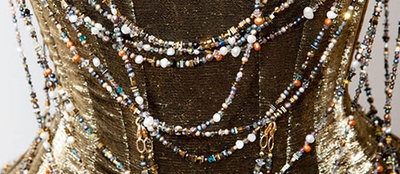 For just $2/month,  you can get access to my regular 'BTS' posts and see all of my Patreon 'Lens' posts. Plus, the warm, fuzzy feeling of supporting my work!
$5
A taste of the Patreon experience! Get access to all BTS and Lens posts, plus access to a minimum (usually more!) of 1 Patreon exclusive post. Content varies between lookbooks, inspiration, tutorials, essays, new designs in details and more. 
$10
Access the ENTIRE Patreon feed: hundreds of exclusive archive posts, and all new content. Be the first to see my latest creations and photoshoots, and learn about my design process and construction techniques. There are a minimum of 4 posts/month, but often many more, with content varying regularly. You will also get priority access to all new products, sales and exclusive store discounts.
About Karolina Laskowska
I'm Karolina Laskowska and I make underthings that are so ridiculously decadent and deeply impractical that they're basically art.
I nerd out on historical garments, then spend thousands of hours making crazily detailed gorgeous things that will probably never sell, because what lifestyle really involves wearing a bobbinet tulle corset outfit covered in carefully mirrored handmade lace outlined in jewels and spikes?
You love it anyway, though. I do too. So how do we make these confections come to life without needing to be hired by a couture house? We club together on Patreon and BOOM, in an explosion of ridiculously expensive materials and sheer genius, super fancy underpinnings comes into being. Like this:
Photography by Laura Sheridan, modelled by Tinotenda

Photography by Laura Sheridan, modelled by Maki


Photography by Laura Sheridan, modelled by Surkura


Photography by Tigz Rice


Photography by Tigz Rice


Photography by Tigz Rice
These garments are made from materials that cost hundreds of pounds, with research, sampling and expert level labour on my part that lasts for days, weeks or months. Most of them involve up to a hundred hours just of hand stitching: physical labour that takes its toll and requires exceptional skill and patience. 
Join me for the ride and you'll see every part of that process, from my initial dreams through the design process, finding the materials, developing the original pattern, and then the fittings, stitching, embellishments and photoshoots. Plus also the swearing, tears and melt-downs when reality doesn't match inspiration! There'll be Q&As and tutorials, plus essays on underpinnings-related topics close to my heart, rambles about underclothing history and the stories behind past designs and collections. Whether you're just here for the pretty or you want to get into making, there'll be something for you.
Testimonials from my patrons:
"I highly recommend joining Karolina's Patreon. She posts several times a month, uploads high-quality photos, and offers behind-the-scenes looks at her collections and techniques. She loves experimenting and isn't afraid to write about her mistakes. I admire her frequent use of antique silk and deadstock lace; she makes beautiful lingerie out of materials that would otherwise go to waste. Karolina clearly loves her craft and is extremely knowledgeable and passionate about lingerie." - A.B.

"Karolina's Patreon is easily one of my favorite corners of the internet! I personally chose to support her at the $10 tier, and I'm constantly amazed by how frequently Karolina publishes such detailed posts. Nearly every day, I open my inbox to posts that offer insight into her process, embellishment tutorials, updates on ongoing projects, and lots of really, really, really beautiful photography. It's a true privilege to see these couture lingerie and corsetry ensembles come to life, especially considering that almost none of these projects are ever posted publicly on social media. Karolina's technical mastery of the craft is mind-boggling, and her creativity is seemingly endless. I've been following her work for years, and I'm still constantly delighted by the variation in her couture work -- each creation feels so fresh and new, yet still unmistakably made by Karolina's hands." - L.S.

"I do not have time to read everything Karolina posts. She works a lot and posts a lot: not just text, but videos and photos as well, sometimes in extraordinary quality for the limited resources she works with. She is a very articulate person so her text are a joy to read, very candid, very informative and sometimes going into technical and economical details which I for one really appreciate.

However, what Karolina excels at is creativity and she has an incredible grasp of her craft. Although I have been following her for some years now, I gasp often when presented with new creations. I get the feeling she creates because she cannot live otherwise." - A.C.

"I signed up to Karolina's Patreon to be able to enjoy lingerie content online without the frustration of social media algorithms. Even on a lower tier ($5 per month) it has given me access to a space to nerd out over lingerie design, materials and history with like-minded people. It is always a joy to get a new post notification because I know I can expect exceptional designs and beautiful photos. Karolina posts regularly and often. There are several other incentives too: often new designs are released to Patreon subscribers before they go public, they get first access to sample sales and sometimes even discounts." - S.G.
Love the pictures but want to know what my writing is like? Check out my current work on
The Underpinnings Museum
,
The Lingerie Addict
, and
Knickerbocker Stories!


Membership to my Patreon will get you immediate access to literally
hundreds
 of archive posts, as well as delivering my latest posts directly to your email inbox. Higher tier memberships will also get your exclusive merchandise benefits, including souvenir printed booklets and even limited edition lingerie, made just for you! 
-
Karolina Laskowska's Privacy Policy
This Privacy Policy describes how and when I collect, use, and share information when you contact me, or otherwise use my services through the Patreon platform. This Privacy Policy does not apply to the practices of third parties that I do not own or control, including Patreon.
Information I Collect
To fulfil Patreon rewards, you must provide me with certain information such as your Patreon membership name, Facebook display name and direct correspondence.
Why I Need Your Information and How I Use It
I rely on a number of legal bases to collect, use, and share your information, including:
• as needed to provide my services, such as when I use your information to fulfil your Patreon reward tier, to settle disputes, or to provide customer support;
• if necessary to comply with a legal obligation or court order or in connection with a legal claim, such as retaining information about your purchases if required by tax law; and
• as necessary for the purpose of my legitimate interests, if those legitimate interests are not overridden by your rights or interests.
Information Sharing and Disclosure
Information about my customers is important to my business. I may share your personal information for very limited reasons and in limited circumstances, as follows:
• Compliance with laws. I may collect, use, retain, and share your information if I have a good faith belief that it is reasonably necessary to: (a) respond to legal process or to government requests; (b) enforce my agreements, terms and policies; (c) prevent, investigate, and address fraud and other illegal activity, security, or technical issues; or (d) protect the rights, property, and safety of my customers, or others.
Data Retention
I do not retain any of your personal information via the Patreon platform. See Patreon's privacy policy:
https://www.patreon.com/privacy
Your Rights
If you reside in certain territories, including the EU, you have a number of rights in relation to your personal information. While some of these rights apply generally, certain rights apply only in certain limited cases. I describe these rights below:
• Access. You may have the right to access and receive a copy of the personal information I hold about you by contacting me using the contact information below.
• Change, restrict, delete. You may also have rights to change, restrict my use of, or delete your personal information. Absent exceptional circumstances (like where I am required to store data for legal reasons) I will generally delete your personal information upon request.
• Object. You can object to (i) my processing of some of your information based on my legitimate interests and (ii) receiving marketing messages from me after providing your express consent to receive them. In such cases, I will delete your personal information unless I have compelling and legitimate grounds to continue using that information or if it is needed for legal reasons.
• Complain. If you reside in the EU and wish to raise a concern about my use of your information (and without prejudice to any other rights you may have), you have the right to do so with your local data protection authority.
How to Contact Me
For purposes of EU data protection law, I, Karolina Laskowska, am the data controller of your personal information. If you have any questions or concerns, you may contact me at
[email protected]
, or mail me at Karolina Laskowska, Org. Nr. 921456980, Garver Ytteborgsvei 135, Oslo 0977, Norway. 
Full time Patreon! Once I hit this goal, I will be able to focus exclusively on projects for this platform. That will mean fantastical couture ensembles with no commercial viability... Beauty for the sake of beauty, documented from start to finish on this site. These funds will also allow me to invest in new equipment to start creating video content. 
3 of 4
By becoming a patron, you'll instantly unlock access to 745 exclusive posts
By becoming a patron, you'll instantly unlock access to 745 exclusive posts
Recent posts by Karolina Laskowska
How it works
Get started in 2 minutes