Lili VonSchtupp
is creating Live Burlesque Experiences
Select a membership level
How I Got Sued In My Hot Tub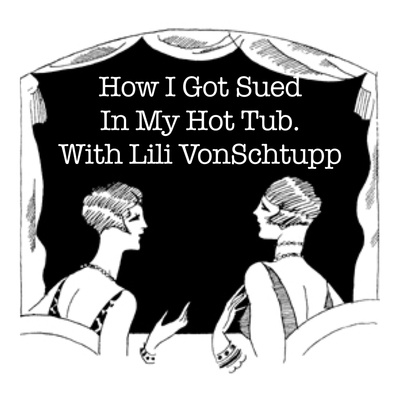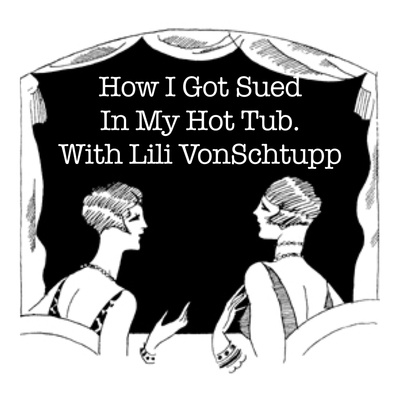 You can watch me read stories or tell stories in my hot tub.
You like me, you really like me!
When you pledge $20, I'll send you a thank you vintage style viewer of the amazing topless photo Brain C Janes took for my 50th birthday party along with a thank you card.
About Lili VonSchtupp
I am, first and foremost, a burlesque entertainer, making my stage debut in 2004. Three years later, the opportunity arose to combine my business acumen with my love of entertaining, and I was able to add a burlesque producing hat to my onstage feather boa and tassels.

Since committing myself to working just as hard behind the scenes as in front of the audience, I've produced over 600 burlesque shows/events; these include my weekly show Monday Night Tease, (2003-2017), The Hollywood Burlesque Festival, (2013 - 2019), and a gallery showing of burlesque photos, The Monday Night Tease Retrospective. I've also produced LA's chapter of Dr Sketchy's and executive/co-produce 3 other shows. Production has been in my blood, as I weekly produced 18 live hours of radio and 2 recorded for 10 years. I proudly run Lili's School For Wayward Girls (and men) and teach the art of burlesque and tour as a teacher as well. 

I have three sites dedicated to burlesque. The Burlesque Podcast, a weekly show with interviews and conversations about the burlesque industry. BurlesqueCasting.com which facilitates producers and performers to connect and assist in booking. Burlesque411.com is a resource to find burlesque performers and productions in your area.

Private events are often funded by corporations, or individual financial backers; larger entities with deeper pockets that are able to easily absorb any losses they may incur and spend money needed to ensure losses don't incur. When I produce a show, however, the burden is all mine: if I don't raise enough funds through ticket sales and sponsorships, I pay any losses directly from my own pocket … and honestly, ticket sales rarely cover all the costs of original content.

The hard costs from a weekly show are over $500 per event, while the Hollywood Burlesque Festival saw me risk $20,000 from own pocket … TWICE. The financial uncertainty of where and how I can raise enough money to put on these events is extremely stressful; even if they break even or turn a profit, it rarely pays me minimum wage for the hours of time I have put in. While producing and performing the art form I love dearly is a dream come true, it's also placed me in a position of nearly bankrupting myself several times.

Following in the footsteps of many great artists whom I've worked with and admire, I am turning to fans and supporters to help continue creating spaces for women and men to entertain and practice their art.

(I know that sounded like your cue, but hang tight; just a little more ground to cover, but I do appreciate your eagerness.)

In my almost ten-years of producing, I have booked over 600 different artists. Hiring a performer is so much more to me than just writing in their name and giving them a time to show up; if I book someone it means I trust them as a performer. The magic they bring to the stage never ceases to take my breath away … and every night, every show, I'm always transported by the Magic. I don't want to just hire people; I want to facilitate the art of each one of these women and men, allowing them to grow as performers, and get better at the thing they love to do.

Many times I've had to sacrifice, hang up my feather boa and put on my business hat; I do this because risking money from your own pocket to produce live entertainment isn't always profitable. I've managed to eke out a living and I'm grateful for my experiences … but sadly, experiences don't pay the rent. Worrying about meeting not only the show's expenses but my personal obligations as well is taking its toll. My personal art is also suffering. 

I've decided it's time I ask for help.

(WAIT! Not yet; we're almost there, I swear)

I teach burlesque, produce burlesque, perform burlesque … hell, I eat, sleep and drink burlesque. Whether I'm booking my own shows, hiring performers for independent performances, making costumes and pasties, or just developing my own stage persona, I am working endlessly to improve my craft and keep the art form I love alive and well. Taking on an outside job would never leave enough time to keep working on the weekly show and pursuing art … so I turn to you.

(Ah-ha! Here's where you come in; look at you, striding confidently through that door, all square-jawed and determined to help!)

I ask now for your help to fund productions and cover all the extra costs that keep the show - and my career – from getting that final curtain call. I ask for your help not only for me, but also for the hundreds of performers pursuing their own dreams on my stage; I do this not only for me, but for them … so they can continue to transport me, transport all of us, with their Magic.

I'm not trying to go all Ziegfeld here; my goal is to raise enough money each month to pay my personal needs and allow my entertainment and art to fund itself. Knowing my rent is paid provides two necessary functions: it will allow me the freedom to reinvest profits and survive those weeks that fall short of covering their own costs, and give me the financial breathing room needed to focus on advancing my personal art as well.

Thank you for reading this, and for your support.
... and as always, support live entertainment. #BuyATicket




It costs a lot to be a performer. Between costumes, props, rehearsal space, marketing materials, you always have to compromise stuff. Working with photographers to create images is often one of those areas. We often do trade for photos where both parties need to have their goals meant, rather than being able to create the images you need for promotion and career building or even the art you want to create. This goal is to create images for the my Boobdini character and my general emcee persona. Thank you.
1 of 2
By becoming a patron, you'll instantly unlock access to 196 exclusive posts
By becoming a patron, you'll instantly unlock access to 196 exclusive posts
Recent posts by Lili VonSchtupp
How it works
Get started in 2 minutes