Lucid
is creating gay shit
Select a membership level
Ghost Boner
Access to advanced The Hunt and River St updates, 5 pages ahead. 
Access to the novel + illustrations of Blackwater
Access to sketchbook posts!
Big Dick Energy Drink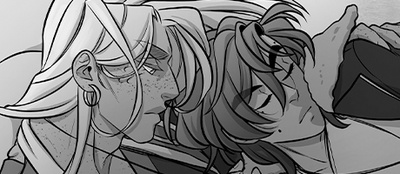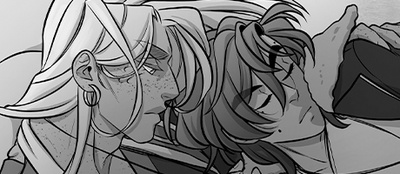 All lower tier benefits
Access to the Patreon-exclusive NSFW Occultus comic and/or NSFW extra comics
Advanced pdf versions of my comics. This includes advanced access to print exclusive NSFW extras
Access to process videos
About Lucid
I'm Lucid, and I'm a full time NSFW webcomic artist and resident purveyor of boys-kissing. This Patreon supports my work and helps me keep my main webcomics free to the public! My patrons get early releases of comic pages and access to exclusive content.
My active webcomics are:
The Hunt
: Avery and Rhys rekindle their middle school hobby of hunting for ghosts in their senior year of college. Avery wants to join the super elite paranormal investigators club, Ghost Encounters Inc., while Rhys is as skeptical as he is averse to full moons. Slowly but surely they uncover the haunting secrets of their local abandoned asylum as well as their feelings for one another. (BL • supernatural • 18+ • updates Tuesdays and Fridays)
River St
: There is a River wherever lost souls wander. Drake is the newly minted reaper of the New Orleans River St. He's feeling quite unprepared for the job and equally unhappy with the fact that his reaper's touch is a literal buzzkill to any potential dates with the living. Luckily he gets assigned a reaper's escort to show him the ropes, who just so happens to be a vampire, and just so happens to be Drake's type. (BL • horror/supernatural • 18+ • updates Saturdays)
My latest completed webcomic is 
Avialae
, a webcomic about a gross bird boy and his nerdy wannabe ornithologist boyfriend--Imeanneighbor who helps him out during the painful and bloody process of growing wings. (BL • light fantasy/drama • 18+)
My current exclusive comic for $10+ patrons is a side comic from Avialae called 
Occultus
. It tells the story of Silas and Ezra. (BL • light fantasy/drama • 18+ • updates Wednesdays)
I have also started a novel titled 
Blackwater
that is currently exclusive for $5+ patrons:
A war between the Grenaldian Empire and the Uncharted had been raging on for nine years. Sivan, a once decorated war hero, had served for most of them, losing more of himself to his guilt than to the Uncharted legions. The war ate away at the Grenaldian forces, leaving the country on its last gasp.
Sivan had been forced out of service after suffering a major defeat and forced into an unwanted engagement. But the night before his wedding Captain Black of the Blackwater slithered out of the shadows and stole him onto his ship. Now Sivan was at the mercy of pirates and at the mercy of this devilish captain who looked at him with such fierce intent it made him question his loyalty to his country.
Yet Black was more than a wildcard pirate in a war waged over an ocean. And Sivan would grow to know this more intimately than anyone.
(BL • fantasy • 18+ • updates most Thursdays)
*Impact Theory is on hiatus until further notice as I'm having a creative crisis on it;; Full announcement on that 
here


I also post exclusive NSFW illustrations and offer physical rewards including postcards and physical books! Check out the tiers if you are interested, and if you have any questions about my Patreon, please take a look through my 
FAQ
. If you still have a question, feel free to send my team an email at 
llllucid.publishing(at)gmail.com
$25,000
-
reached!
per month
We can get a bigger office! Oh my god we need it so bad!
6 of 6
By becoming a patron, you'll instantly unlock access to 1,448 exclusive posts
By becoming a patron, you'll instantly unlock access to 1,448 exclusive posts
How it works
Get started in 2 minutes