Lucien Welsh
is creating novels & short stories
Select a membership level
The Early Access Alliance
For $5 per month, you'll get weekly updates for my webnovels that are otherwise exclusively posted to Voyce.Me! Free updates are made twice a month, but by supporting the Patreon, you will get these updates early and more often.
Current projects are:
But I'm Not Just an NPC!!

a sci-fi gaming isekai jam packed with action [for fans of SAO and Star Wars]

My Garden Shop Delivery Boy is a Shape-Shifting Fox God

a slife-of-life comedy filled with Japanese inspired mythology [for fan of Spice & Wolf and Blend-S]
The Exclusive Originals Club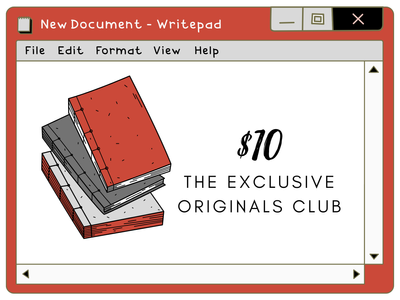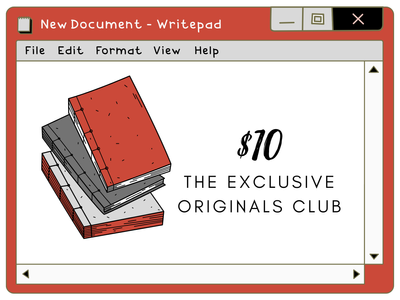 At the $10 tier, you not only get early access to my webnovels, but also exclusive and original short stories and novella chapters. The stories will range from all ages to NSFW with ratings and potential warnings at the top of each story. There will be between 1 - 3 posts per month at this tier.
Exclusive original fiction
The Scrap Squadron
Along with early access and exclusive original content, there's a special kind of content at this level: the scraps that don't turn into anything. Every writer has that notebook or section on their phone or the folder of misc documents on their computer that are full of snippets of stories or fragments of ideas that just don't seem to appear at the right time.

This $15 tier is a glimpse into those scraps and commentary on where the idea potentially came from. And who knows, maybe they might become something later on in the future.

The Scrap Squad also gets to follow along with my NaNoWriMo progress throughout November!
Exclusive original fiction
About Lucien Welsh
My name is Lucien Welsh and I'm a transgender author from Ontario, Canada.

Writing is the one thing in the world that always makes me happy and I honestly hope to one day be able to make it my day job. I write inspired entirely on mood and find inspiration in just about anything, meaning that I plan on sharing a wide range of stories for a wide range of readers on this platform. Finding a good place to share original writing is so difficult and I'm hoping to make this page a place for me.

I would love to be able to commission artists to do interior illustrations for my webnovels. At this level I can do that and support other artists!!
1 of 2
By becoming a patron, you'll instantly unlock access to 6 exclusive posts
By becoming a patron, you'll instantly unlock access to 6 exclusive posts
Recent posts by Lucien Welsh
How it works
Get started in 2 minutes