Banshee Miniature Art Academy
Banshee Miniature Art Academy
Creating an academy focused on miniature painting and sculpting.
Select a membership level
Thanks for your support!
We are actually trying to create free content in our youtube channel and also in Patreon. We'd like to offer something to the community. If you like this content, help us yo continue generating it. We thanks a lot your support!
-------------
Estamos generando contenido gratuito para youtube, intentamos ofrecer algo interesante para la comunidad. Si quieres ayudarnos a seguir creando contenido, ¡te estaremos agradecidos!
Miniature art academy Tour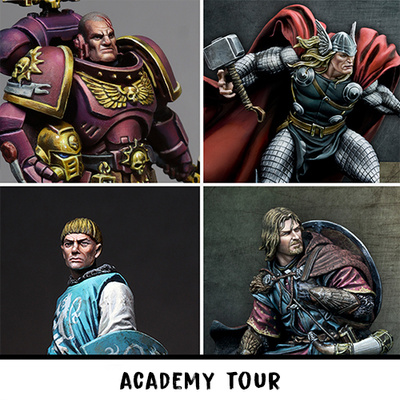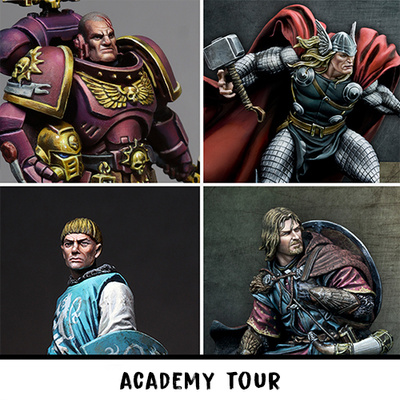 Miniature art academy Tour
We have opened a new website
www.miniatureartacademy.com
with a lot of content and a lot of new services.
Take a tour to the academy content.
With this tier you have access to:
-Hellboy part 1 and 2
-Punisher part 1
-Horos part 1
-Space Marine part 1
-Antioch Knight part 1
-Thor part 1
We don´t add new content in this pledge
-------------
Miniature art academy Tour
Hemos abierto una nueva web
www.miniatureartacademy.com
con muchísimo más contenido y una navegación mejorada.
Este pledge es un tour a la academia y con el tienes acceso a:
-Hellboy part 1 and 2
-Punisher part 1
-Horos part 1
-Space Marine part 1
-Antioch Knight part 1
-Thor part 1
Este pledge no añade contenido mensual
Includes Discord benefits
Painting Academy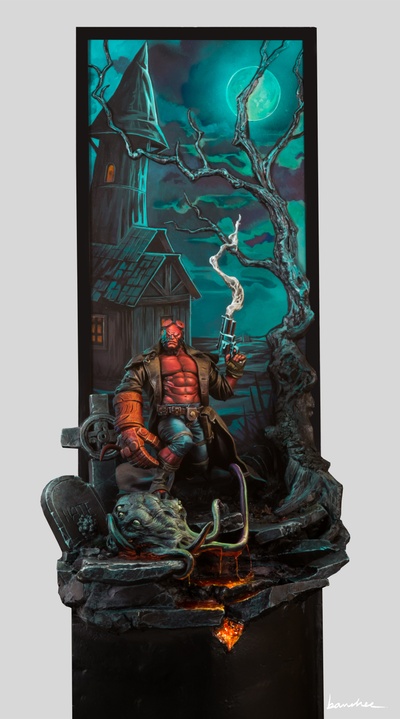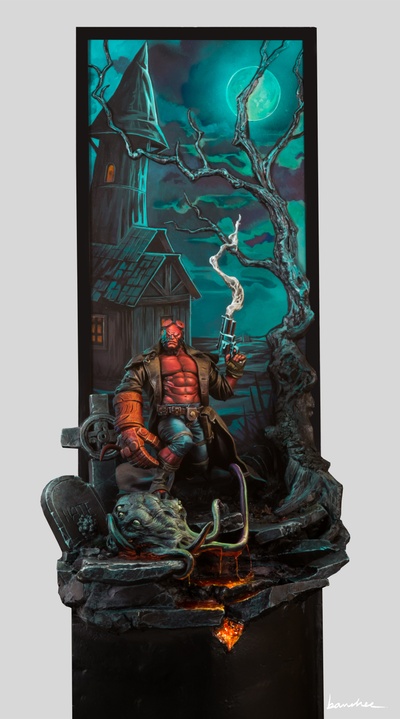 Access to Painting Academy, by Banshee & Basilisk For People Who Want...

A deeper understanding of the Miniature Painting Art.
To start in the miniature painting world looking for fundamentals of painting.
To see different styles and understanding the different processes of a painting project, developing his own art
Content per month:
At least 3 videos each month.
Special Patreon offers from brands
Access to all the painting videos
------------- Acceso a Painting Academy, por Banshee.
Para gente que quiera...
Un conocimiento más profundo del Arte del Pintado de Miniaturas.
Empezar en el mundo del pintado de miniaturas pero busca fundamentos de la pintura.
Ver diferentes estilos y entendimientos de procesos distintos del pintado de un proyecto, desarrollando tu propio estilo,
Contenido por mes:
3 videos mensuales, al menos.
Acceso a todos los videos de pintura
Ofertas especiales de marcas.
Includes Discord benefits
About Banshee Miniature Art Academy
Banshee Miniature Art Academy
is a miniature painting academy based on Spain managed by Alfonso Giraldes "Banshee" 
Banshee is aprofessional designer, sculptor, miniature painter and art director with more than
15 years of experience
. Alfonso has worked for Andrea Miniatures, Knightmodels, Scale 75, Forgeworld, Nuts Planet, Pegaso models and many others companies. He is one of the most prolific teachers of the Miniature industry,
teaching in more than 30 cities
all over the world and with
hundreds of students
guaranteeing his methods. Also is an international award winning painter and sculptor, with Crystal Brush awards, Golden Demon, Slayer Sword, Best of Fantasy at Monte San Savino, etc.
What are you going to learn with us?
1. We are THE FIRST real academy about painting and sculpting miniatures. Our content is focused on teaching you true knowledge, not recipes.
2. All the techniques, tricks, theory and processes avaiable, not just the one we like more.
3. Develop your own style. No copying. Create your own way of painting. Enjoy the hobby.
4. Special guests of the miniature painting world, as Marc Masclans, David Arroba, Rodrigo Akore, etc.  Learn the methods of great painters. Enjoy them all in just one Patreon.

Learn with us, support our art!
---------------------------
Banshee Miniature

Art

Academy
es un equipo basado en España y compuesto por Alfonso Girandes "Banshee" y David De Blas "Basilisk".
Banshee es un diseñador, escultor, pintor y director de arte profesional con más de
15 años de experiencia
, que ha trabajado para Andrea Miniaturas, Knightmodels, Scale 75, Forgeworld, Nuts Planet, Pegaso Models y muchas otras empresas. Es uno de los profesores más prolíficos de la industria de la miniatura,
enseñando en más de 30 ciudades
por todo el mundo y con
cientos de estudiantes
garantizando sus métodos. También ha ganado muchos premios a nivel internacional, en Golden Demon, donde tiene varias espadas matademonios, Monte San Savino (donde además es Gran Maestro y Best of Fantasy), Crystal Brush, etc.
Basilisk es uno de los mejores alumnos de Banshee. Profesor de profesión, entusiasta del modelismo y también ganador de múltiples premios, oro en Golden Demon, en Monte San Savino, Leganés, Best of Fantasy en Soldat de Plom, etc. También ha pintado box art para Semper Fidelis o Raging Heroes, y ha dado clases en Nova Open, Adepticon y varios lugares en España
.
Qué vas a aprender con nosotros?
1. Somos LA PRIMERA y auténtica academia sobre el mundo de la pintura y escultura de figuras. Nuestro contenido está enfocado en el conocimiento, no en recetas.
2. Todas las técnicas, procesos, teoría, trucos, etc., disponibles. No sólo los que nos gustan más.
3. Desarrolla tu propio estilo. No más copias. Crea tu propio camino en la pintura. Disfruta el hobby.
4. Invitados especiales, artistas mundialmente reconocidos (Marc Masclans, David Arroba, Rodrigo Akore...) hacen procesos para nosotros. Disfrútalos en un sólo Patreon.
Are you ready to learn?
Become a patron to
Unlock 534 exclusive posts
Connect via private message
Recent posts by Banshee Miniature Art Academy
How it works
Get started in 2 minutes