Zachary Mazi
is creating Mycophagy: The Art and Science of Cooking (and eating) Mushrooms
Select a membership level
Chanterelles
Supporter of Mushroom Knowledge! 
-Get PATREON exclusive updates of book progress!
-Access to ALL RECIPES shared via Patreon!

Porcini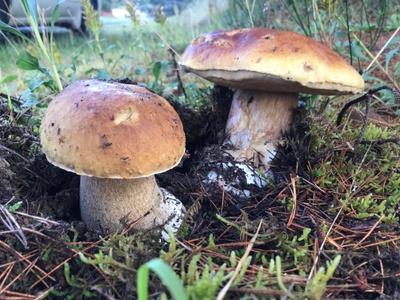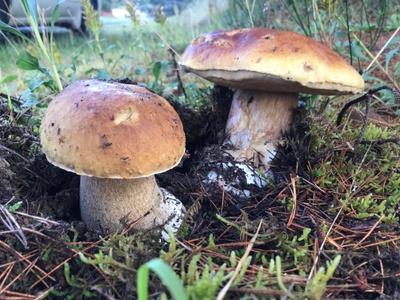 Enthusiast of Mycelial Expansion!
-Get PATREON exclusive updates of book progress!
-HOW TO Cook Mushrooms: Recipes from the SPORE/LAB
-Scientific articles and Essays from the In-spore-mation Desk

Black Trumpets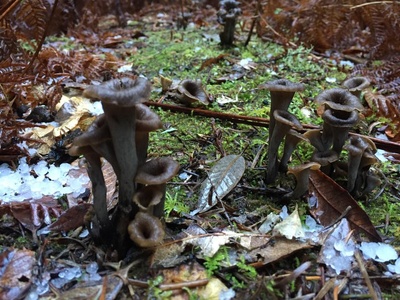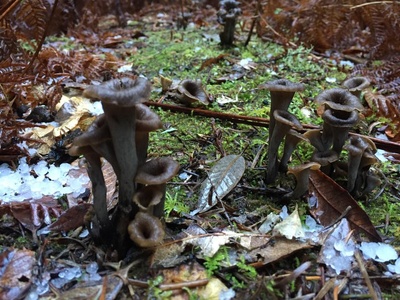 The hard-to-find and most awesome of all:
-Get PATREON exclusive updates of book progress!
-HOW TO Cook Mushrooms: Recipes from the SPORE/LAB
-FIRST LOOK at Essays and studies as we create them.
-Access to to Google Sheets and Docs in the process of creation
-FIRST LOOK at Book entries as we produce them.

About Zachary Mazi
Hello fellow chefs, home cooks, science geeks, and mushroom nerds!

I have run into a problem (and I am sure some of you have, too):

What in the world should I make with my mushrooms? (e.g. How do I know what to pair with these blewits I just purchased/found?)

I can't find the answers that I am looking for on how to properly treat specific mushrooms in the kitchen. I am not talking about the innumerable cookbooks out there ascribing people's opinions about how to cook mushrooms.  I have plenty of my own opinions! But to date I have not found an accessible and authoritative cookbook on the science of cooking mushrooms.
And I have been looking!

Why not?

This deep, scientific information is readily available for coffee, chocolate, cheese, herbs, weed, wine, beer, and any number of other foods. Luckily, each of these categories provides a roadmap for the information that has yet to be collected on mushrooms, but no one has done it yet... what is a home cook and professional chef to do?

By nature, I am inquisitive. I have questions.

I want to know the how-to's and don't do's of cooking mushrooms, from start to finish... all of them. And so I have looked through every mushroom cookbook I can find, through every cookbook I can find, through all of the modern science cookbooks both for professionals and for home cooks... and there is a ton of information missing.  Not calling any books out by name here, but in our world of modern cuisines and home-science-cooks, why is there such a void when it comes to an entire biological kingdom that so many people eat and love?

Despite numerous scientific papers written about the specific volatile compounds, and the differences in these odors when fresh dried and cured, nothing of this information has made it into anything published and widely accessible to me or to the body public. And beyond what already exists, the number of new questions we can formulate and explore are basically endless!

If you want something done right (or done at all!) you have to do it yourself.

It seems that through my diverse pursuits (bachelors in science, professionally cooking, mushroom geeking, writing, traveling and bringing communities together) that I am in a unique position to organize and write the book we have been looking for, and the project map is now pretty well underway!

I believe now that this book, this compendium of new scientific information is a legacy project: a grand piece of science & art that will resonate long into the future and inspire others to see mushrooms for what they are: a completely separate kingdom of potential food, as uniquely different from both plants and proteins as the latter two are from each other -- not to mention a huge library of unique flavor compounds, as well as other chemicals that affect our experience of both cooking and eating.

I'm not going to kid myself or you. This is a huge project.

In order to accomplish it, I will be going through a number of DEFINITIVE STEPS to get to the final result of the published book. Along the way, I will be creating recipes, investigating existing and new science, publishing essays, sharing tips & tricks for cooking, and sharing some of the wisdom from mine and others' relationships with mushrooms... eventually rolling all of this into one volume!

And since we are basically in the future already: creating original content in the form videos: tutorials, how-to's, foraging & cooking tips and online-y stuff to go with it!

-----------------------  The Steps -----------------------

Step 1) Scour all the existing research to understand what is currently "known" and written about both in public and scientific literature, and compile that information, mushroom by edible mushroom; This includes understanding not just the volatile suites of chemicals that make up each individual mushroom, but also physical properties they contain, such as mucilaginous qualities that act as thickeners, etc. This work includes hiring biochemistry partners who can translate some of this work, food science professionals, as well as poring over all the existing cookbooks that exists to extract the mushroom specific information that is available (and the new cookbooks as they become available).  This alone is a monumental task, and thank the Mushroom Gods, is already underway!

Step 2) Develop our Kitchen/Lab work series, where we answer the questions that remain after completing 90% of Step 1), as well as other questions that may arise in the process (e.g. Can fat soluble components of edible mushrooms be isolated and used separately from the water soluble components in a home kitchen?). This is the stage we expect will be the longest and most costly, requiring a number of staff and laboratory equipment, as well as scientific experts to decode what we learn and help us put it into layman's terms, as well as drawing connections to existing scientific literature of other food that already exists.

Step 3) Using the above information, formulate recipes specific for each of the mushrooms based on the pairing information as well as the proper techniques for bringing out the desired quality of each mushroom in the many states that one may encounter: dried, fresh, early season, late season, stored over time, fermented, etc.

Step 4) Assemble all of this information into a narrative structure and publish this book, create a web portal or app, with photos, essays, and contributions of many authors, as well as a trying-not-to-be-too-boring summary of all of our findings, in a manner that is fun to read, and will be a long-lasting guide to help refine this study of Mycophagy even further into the future!

---------------------

So there you have it!  As I said, this is a huge project, and so far as I have been able to tell, very little of this information exists in the body public that is available for both professionals and for the public, so I NEED YOUR HELP!!  If you see the value in getting this information out there and this book published, then I know you will be excited to contribute to the cause. 

But to sweeten the deal, I want you to be a part of this exploartion, and so I have some offers for my patrons!

I can't wait for you to JOIN THE CLUB!

---------------------

Here is a little more information about me and where I am coming from...

My name is Zachary. I am a chef, and though I have been wearing a chef coat for about 13 years now (whoa!), I have been working in the service industry since 1992, when I started washing dishes for my high school during my freshman year; even before going to school and taking this on as my career, I have been the so-called "Kitchen Mama" for my groups of friends since I have been an independent human, I have seemingly always been the one in the kitchen making sure everyone else is eating well! So what can I say... I cook for a living, and when I have some time off, I cook...

...unless it is mushroom season, and then you will find me in the woods looking for the delicious bounty that comes with the rain! Growing up in Oregon, and doing time in Santa Cruz, CA (where THE tomes of mushroom identification "Mushrooms Demystified" by David Arora & "Mushrooms of the Redwood Coast" by Christian Schwarz and Noah Siegel were written) has given me so many chances to explore, to find, collect, cook and utilize mushrooms. To say these little creatures have captured my heart and my imagination is a significant understatement!

When i see that 100 or more people are interested in supporting this kind of research and depth of study, I will probably cry, and definitely throw a party! Just being real.

1 of 1
By becoming a patron, you'll instantly unlock access to 44 exclusive posts
By becoming a patron, you'll instantly unlock access to 44 exclusive posts
Recent posts by Zachary Mazi
How it works
Get started in 2 minutes