Obsessive Viewer Podcasts
Obsessive Viewer Podcasts
Select a membership level
$1 - Gratitude Level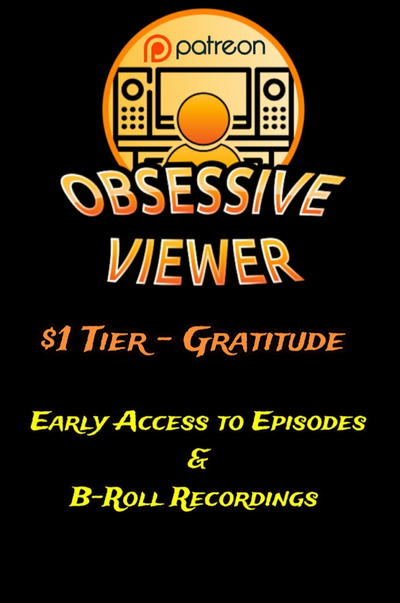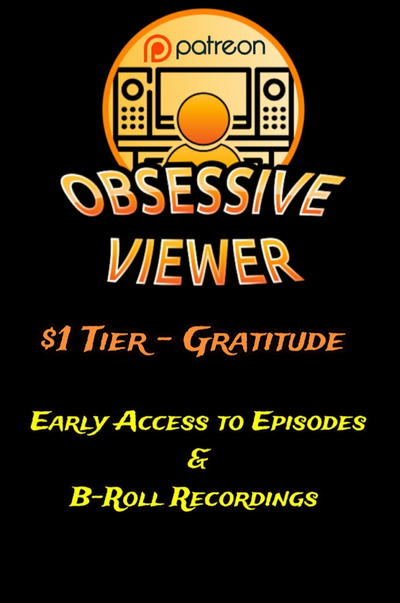 By supporting Obsessive Viewer Podcasts at the $1/month level, you are showing me that you appreciate and support the content I provide through all of my podcasts.
Early Access to Episodes

Basically the moment an episode of any of my podcasts are ready to be uploaded, you're the first to get it.

B-Roll Recordings

Fun conversations I have with co-hosts and podcast guests before we record the official episode. Oftentimes these are laid back conversations with loose topics thrown around, other times they are structured around a specific topic or question.
$2 - Supporter Level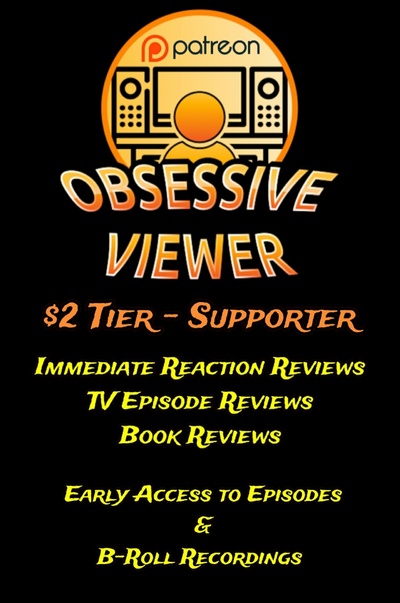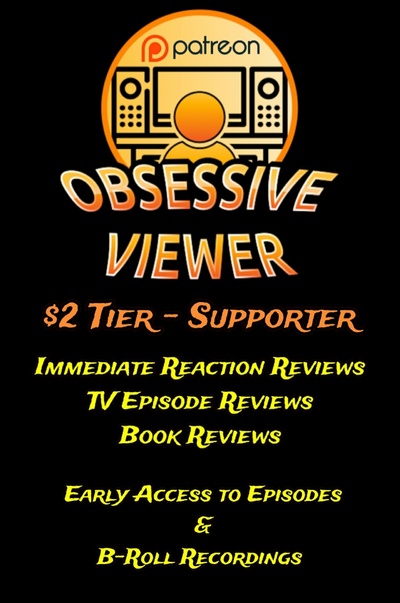 By supporting Obsessive Viewer Podcasts at the $2/month level, you're showing your support and looking for a plethora of exclusive content.
Immediate Reactions

The moment I leave the movie theater, I am recording my thoughts on whatever new release I have just seen. You are getting the most immediate and freshest reaction to a new release with this benefit.

TV Episode Reviews

Individual episode reviews of TV shows I watch. Series include Midnight Mass, The Falcon and the Winter Soldier, Foundation, Stranger Things, Hawkeye, Chapelwaite, and much more. Oftentimes these reviews include a ridiculous attempt to sing-along to whatever music is in the series I am reviewing.

Book Reviews

When I read a book, I record my thoughts about it. This is where my "Church of King" series resides wherein I review Stephen King short fiction collections story by story. I also review new release Stephen King books and whatever else I read.
Also Includes $1 tier Benefits:
Early Access to Episodes
B-Roll Recordings
$5 - Super Supporter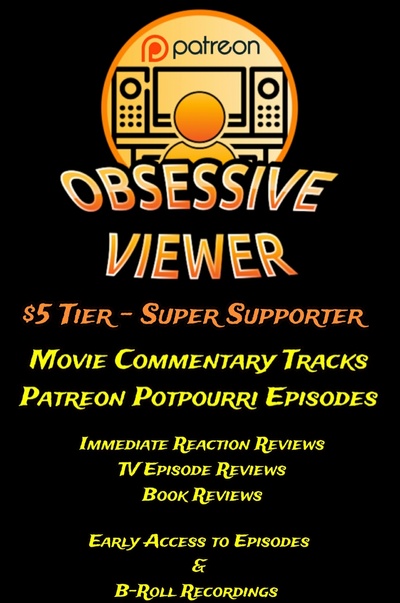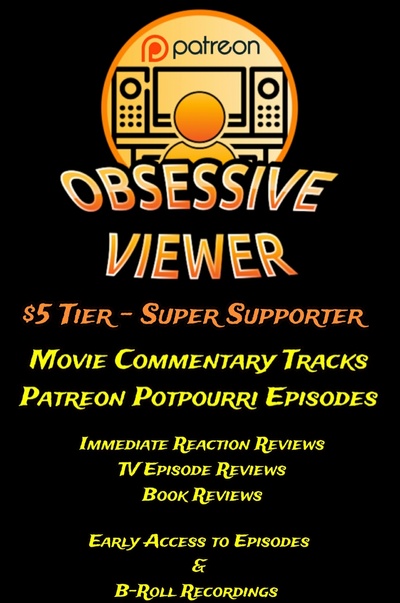 Be a super supporter at the $5/month level for even more exclusive content as well as everything else in the $1 and $2 tiers!
Full-Length Movie Commentary Tracks

Throw a movie on and listen to me talk about it while you watch it. I have recorded commentaries for several Stephen King adaptations and movies from my All-Time Favorite Movies list.

Full-Length Patreon Potpourri Episodes

These Patreon-Exclusive podcast episodes are my way of talking about a group of movies (4 at a time) that I have watched recently and oftentimes feel fit a specific theme or have something else in common. I've done Patreon Potpourri episodes evaluating late 90s teen slasher movies that came up in reaction to the success of Scream as well as a retrospective on Sidney Poitier, a breakdown of Live Action Batman Movies, and plenty of year-end awards season viewings.

Also Includes $1 and $2 tier Benefits:
Immediate Reactions
TV Episode Reviews
Book Reviews
Early Access to Episodes
B-Roll Recordings
About Obsessive Viewer Podcasts
Hi. I'm Matt and I love podcasting. I have been hosting and producing podcasts since 2013 and have 3 shows in total all under the shared theme of my love of pop culture. My podcasts include 
The Obsessive Viewer
(general movie/TV review show), 
Anthology
(The Twilight Zone and Classic Sci-Fi review show), and 
Tower Junkies
(all things Stephen King related).
I love sharing my thoughts on the media I consume and have created a Patreon for listeners to support what I do. The money made from Patreon helps me offset the cost of hosting fees for all three shows, domain registration, podcast equipment upgrades, and other costs that pop up along the way.
More importantly, Patreon allows me to have a platform on which to post a variety of different and exclusive audio content that doesn't necessarily fit into the structure of my 3 main podcasts.

By supporting me on Patreon, you are not only supporting my passion for producing audio content but also helping me create exclusive and interesting content just for you!
Thank you for your support and I hope you enjoy the content on here!
Where to find my podcasts:
Thanks in large part to Patreon support, we have been able to upgrade the podcast equipment to a technical level that allows us to record, edit, and publish episodes in a fraction of the time it took before. Because of this, we are able to produce more content in a higher quality than ever before.

However, there are still monthly fees associated with hosting three separate podcasts. We host our shows through Libsyn, which we pay monthly for storage space and an RSS feed that allows the shows to be pushed out to every platform. We also have costs associated with hosting the domains and websites for each individual show.

Although production of the shows has been streamlined, producing podcasts can still be a time-consuming labor of love. Patreon support ensures the podcasts will always be available, always be free, and not be ad-supported. 

1 of 1
Become a patron to
Unlock 482 exclusive posts
Connect via private message
Recent posts by Obsessive Viewer Podcasts
How it works
Get started in 2 minutes