Patrick Shen
is creating pictures + words + sounds
Select a membership level
Notes from the Shed
Curated and written from my small Thoreau-inspired shed, a monthly e-bulletin of noteworthy updates, discoveries & learnings from my daily literary/creative explorations. Plus, the occasional mid-month reflection.
A download of The Shed a 15-minute audio essay about my decision to abandon traditional office spaces and choose silence + solitude instead.
Monthly Notes + Microfilms + Sketches
Get sneak peeks of completed microfilms, other Patreon-backed creations, & glimpses of other works-in-progress via patron-only posts
A monthly e-bulletin of noteworthy discoveries & learnings from my daily literary/creative explorations
Sketches: Monthly posts in which I share lightly-edited footage of things which caught my eye shot using whatever camera I had at the moment 
Generous discounts on most items in my online shop
A download of Silence is a Sound, the double digital album featuring 10 recordings of silent spaces captured around the globe, the IN PURSUIT OF SILENCE original score by Alex Lu, and 28-page e-booklet / production diary with photos and notes related to each recording. ($16 value) 
Access to the PATRONS PORTAL on my website where I offer more exclusive content like a 90-minute audio recording of the interior of Thomas Merton's hermitage, narrated essays, and films.
Something Analog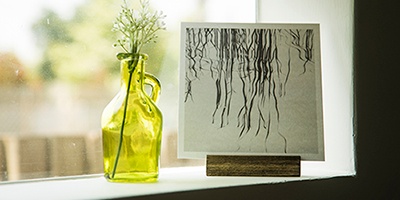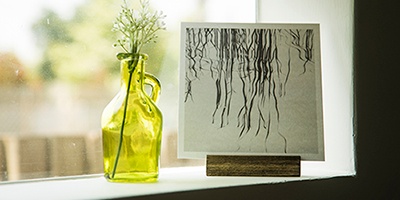 An AUTOGRAPHED PRINT of one of my original photographs and/or an original postcard mailed to you each month, plus the occasional bonus item.
A WELCOME GIFT consisting of a SILENTIUM ET LABORA sticker, a pack of 5 UNIQUE PRINTS, a handmade 3.5" WOOD STAND you can use to display prints, and other analog things.
A download of HOW I PRAY IS BREATHE, a 60-minute companion film to Day of a Stranger, narrated entirely by the silence and the wind in the trees in and around Thomas Merton's hermitage.
PLUS all previous rewards
FOR A LIMITED TIME: Receive a URGENCY IS FICTION sticker ("Time is not real, urgency is fiction, whatever we've been told must be done right now can wait." -Eloghosa Osunde)
About Patrick Shen
I'm a filmmaker + photographer + (sometimes) writer interested in the intersection of work, contemplation, and how one should live, creating work not as a depiction of the thing, but work that *is* the thing.
Over the course of my filmmaking career, I've gravitated towards the existential. My films have become a means for me to work out an existential problem or exercise a particular part of my being which I feel will have benefit to my life and that of others.
My existential yearnings began in my early teens, but they adopted a new framework when I started making films. My first feature-length offering,
Flight from Death
(2005), examines our awareness of our own mortality as a root cause of human behavior. The combo of the deep existential dive and the art-making was eye-opening and I wanted more, much more. Fast forward to my fourth film,
In Pursuit of Silence
, which was released in theaters all over the globe between 2016-2018. Through the lens of silence, my entire perspective on work and how it intersects and interacts with my life expanded and deepened in ways I never could have imagined. In monastic traditions there is no delineation between work and contemplation. The work is the contemplation and the contemplation is the work. Each breath and movement of the body is an opportunity to engage in the only work that matters, namely, that of transcendence or as Susan Sontag called it, "spirit-seeking."
My notebook of project ideas is massive and grows by the week. I started this Patreon account as a way to sort through those ideas, explore them, workshop them, and bounce them off a community of supporters. I'm not interested in adding more to the noise of our lives, of your inbox. You can be sure that everything I send your way will be thoughtful and carefully curated. Along the journey, I'll be sharing things of all sorts, including but not limited to microfilms, sound recordings, photography, essays, dailies, rough cuts, deleted scenes, and noteworthy discoveries from conversations, literary and creative explorations, and the like.
My Bio
Patrick Shen is a filmmaker and the founder of
Transcendental Media
. Patrick's cinematic works include the award-winning films
Flight from Death: The Quest for Immortality, The Philosopher Kings
,
La Source
, and the SXSW 2016 film,
In Pursuit of Silence
. His films have received 24 awards and 11 nominations, and have been featured on the TED blog, CNN, Huffington Post, NY Times, LA Times, Boston Globe, and the Washington Post. In 2009, Patrick was the recipient of the
Emerging Cinematic Vision Award
from Camden International Film Festival and since 2005, he has presented his work at hundreds of film festivals, cinemas, museums, and major academic institutions all over the globe including SXSW, CPH:DOX, Sheffield Doc/Fest, Full Frame Film Festival, USC School of Cinematic Arts, the Smithsonian, The Hammer Museum, NYC Museum of Natural History, Princeton, and Harvard University. In 1999, Patrick was invited to the White House to meet with President Clinton in recognition of his work on the Emmy-nominated documentary
We Served With Pride
. Since 2012, Patrick has been lecturing and teaching filmmaking workshops all over the globe as a film envoy for the U.S. State Department and the USC School of Cinematic Arts for their American Film Showcase. Patrick recently co-authored a book set to be published in 2018 titled,
Notes on Silence
and is currently at work on a new slate of films which include two experimental works,
In Praise of Shadows
and
Four Minutes
.
More about me at 
patrickshen.com
or 
transcendentalmedia.com
. 
Upon reaching this goal, I'll be able to produce one new microfilm every two months.
1 of 2
By becoming a patron, you'll instantly unlock access to 114 exclusive posts
By becoming a patron, you'll instantly unlock access to 114 exclusive posts
Recent posts by Patrick Shen
How it works
Get started in 2 minutes