Reagan Lodge
is creating WYIT, the graphic novel
Select a membership level
Coffee Ration
Just a basic monthly tip. Thanks for your support!
Early access to WYIT production art and select comic pages (all in hi-res)
Concept art, sketches, and layered PSD files I don't post anywhere else
Private Discord access + role
Discounts on prints
Includes Discord benefits
About Reagan Lodge
WYIT
is an epic tale about a young fugitive, and a mysterious soldier, on a journey for survival in a dark world.
Set in a Dieselpunk-Fantasy age of myth and machinery, the story of
WYIT
is a bit like if you took the anthropomorphic style of Brian Jacques'
Redwall
books and the unlikely brotherhood story of
Terminator II
, set in the aeronautic world of
Nausicaä of the Valley of the Wind
.
Currently
WYIT
is in the inking stage, and the end page count will be
approximately
 200 fully-colored pages. Once I've drawn all the book's interior pages, a campaign will be launched to crowdfund the coloring, proofreading, printing, shipping it out to the readers, and funding future
WYIT
-related projects.
WYIT
originally started off as a therapeutic hobby to occupy myself while getting my life back together after my time in the Marine Corps, and serving in Afghanistan. Eventually the story took on a life of its own, leading to a world and characters I fell in love with, and I think you might too.
Fans of PG-rated two-fisted retro-pulp adventure like
Indiana Jones
,
Atlantis: The Lost Empire
, the mystery of
Gene Wolfe's Book of the New Sun,
and heroic themes of
JRR Tolkien
and 
CS Lewis
might especially enjoy
WYIT
. It's the graphic novel I wish had existed when I was 12, but could also take seriously as an adult.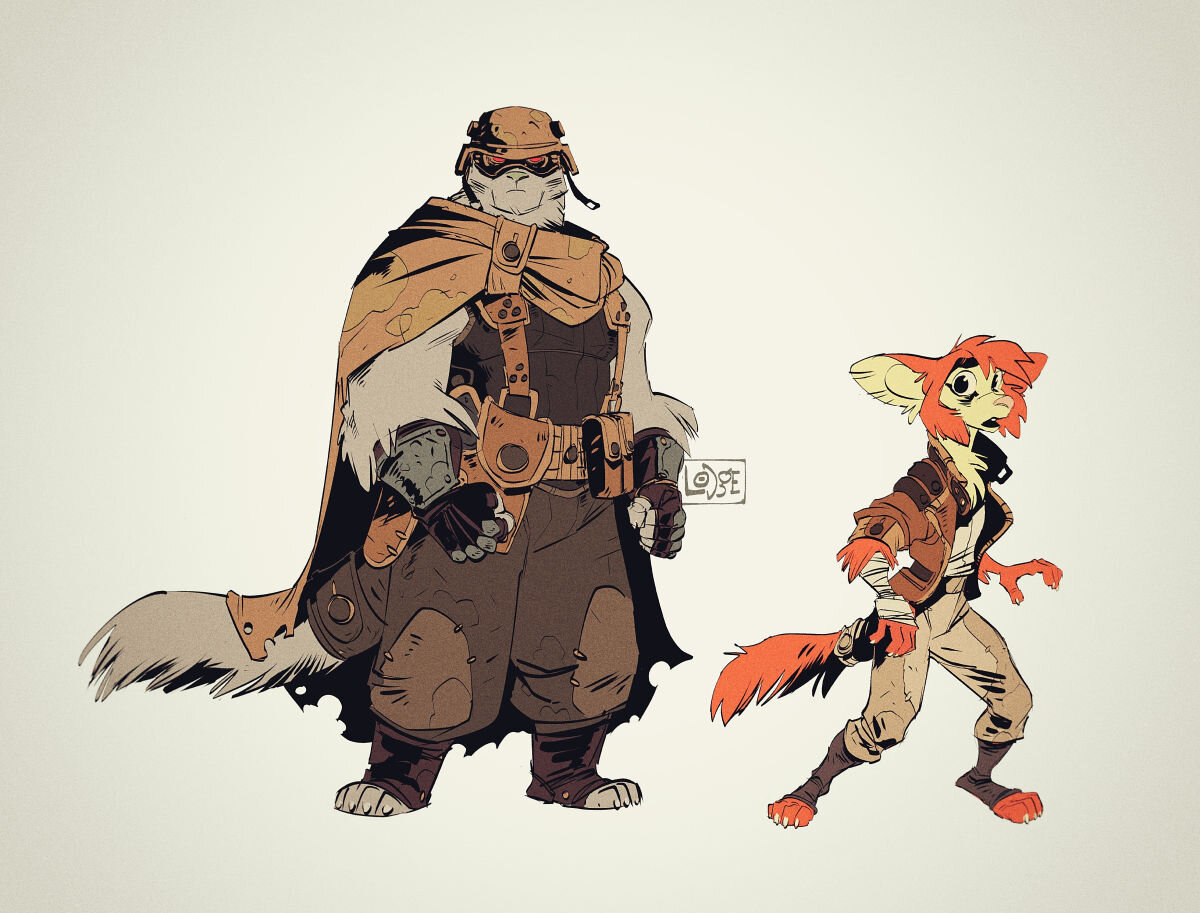 I work a part-time job in farm labor, security, and truck deliveries, so this isn't my full time job
yet,
and I put
a
s much of my free time as possible into working on comic pages (
which you can catch on my Twitch.tv livestreams
). Getting this book done is my #1 priority, so rather than make this Patreon a complicated multi-tier venture, I'm starting it as a simple
$3 a month tip-jar.
For just the price of a cup of coffee, you help me cover monthly business expenses and generally make it easier for me to focus on this graphic novel. You also get
access to 1 or 2 posts a month
 of either my 
unreleased concept art, character figure drawings,
sketches
,
layered digital art files,
or other material that I don't post publicly. You also get access to my exclusive
 Wyit Fan Discord
(
which is full of very cool people
).
In the future I will add higher-paid support tiers, but for now I'm keeping it simple so I can stay focused on making the book, 
and
 make it easy for you to be a part of this journey's early stage.
Thank you for your support!
FAQ
"Will this be a webcomic or digital release?"
This story is intended to be a physical printed book, so right now I don't have any plans set in place for a digital/webcomic edition. This could possibly change in the future if there's enough demand for it, but my main focus right now is delivering a physical story first.
"What age group is this suitable for?"
WYIT is PG-rated, so I'd say about ages 8 and up. It's an adventure dealing with intense depictions of good and evil, life and death, but will have no profanity, or graphic violence/sexual content. It's the story I wish I had as a kid, but it's serious enough that adults will love it too.

"When will it be done? When is the crowdfunding campaign?"
I'm aiming to launch a crowdfunding campaign in the near future. Right now I have to work a day-job with very irregular hours, so it's hard to give an exact date for the launch or the delivery. Just know that I'm working on this as fast as I can!

"What's the point in accepting money through Patreon if you're going to crowdfund the book later?"
Because I have living expenses that need to be taken care of now. My day-job covers my basic needs, but my Patreon makes a huge difference in being able to live healthily and build up savings to protect myself from the unexpected. For example, in summer 2020 my old iMac was no longer able to support my required art software. In order to keep working on the book, I had to quickly get a new computer, which was made possible with some of the emergency fund I had built up thanks to my Patreon supporters.

"Will you ship internationally?"
YES! I will be shipping anywhere there is a functioning postal system. If your country can receive regular international mail, I should be able to send a book there. Unfortunately, postage rates are insane right now and I don't have any control over that.

"How much will the book cost?"
I'm estimating somewhere around $30 USD, since this will be a large book, around 200 pages. I'll know for certain once I have the pages inked and get a quote from my printer.
Become a patron to
Unlock 60 exclusive posts
Connect via private message
Recent posts by Reagan Lodge
How it works
Get started in 2 minutes