Ryan J. Rhoades
is creating multimedia & community to empower creators, startups, & artists
Select a membership level
Creative Superstars
THANK YOU! Your support means the world to us.

This reward gives access to our Patrons only stream and our Discord community, where you'll get access to behind-the-scenes content, any polls that help decide content topics/direction, private Q&A's, networking with other creators in the community, and more! 

Your support helps us in continuing to create content for you...so thank you so much for being part of this journey with us.

Includes Discord benefits
Creator Squad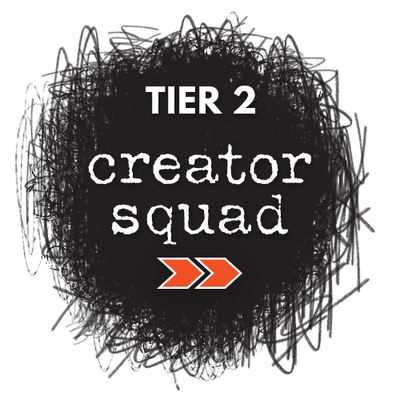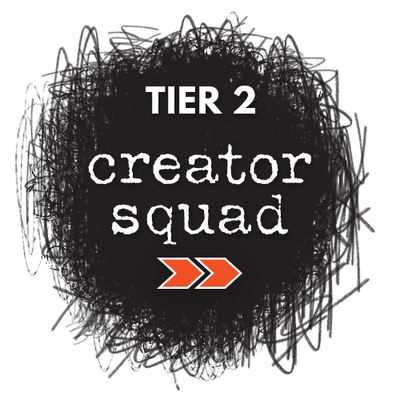 YOU'RE AWESOME!

We've got some cool stuff for you...
Access to our private Discord community / server, the Patron Only Stream, Early Access & Store Perks
This reward gets you access to our patron only stream, early access and behind-the-scenes looks at videos and content that we are working on, and deals on our online store!
You'll get to watch the replays from our live webinars and interviews a week in advance of when we release them to the public and on our podcast.
You'll also get to see early versions of teaching & process videos, blog posts, artwork, store merch, announcements, and more!
(And, of course, you'll receive previous reward tiers as well.)
Includes Discord benefits
The Artisans
Limited (15 of 15 remaining)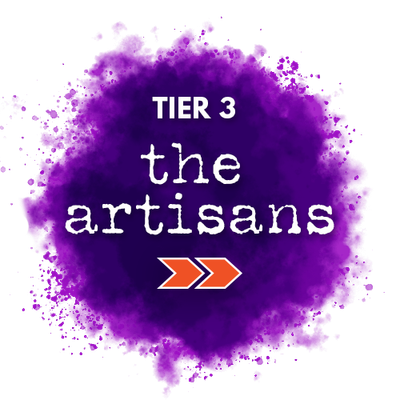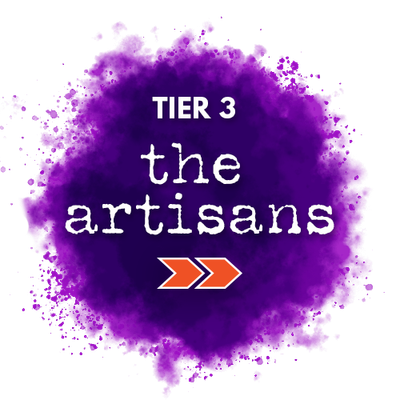 Serious about enhancing and expanding your creativity? This tier is for you.  
(only 15 seats available!)
VIP's Mastermind Monthly Coaching Group
You'll get access to an exclusive monthly coaching call where you can ask any questions you like to our VIP's group about how to bring your projects or ideas to life and launch your own products.
We'll recommend resources, software to use, books to read, people to connect with, and podcasts to check out that will help you hit your goals faster, more efficiently, and in ways that will make you more money and see more success.
You'll also receive 15% off anything in our online store (https://www.RDShop.biz), access to our VIP's Discord channel, and all previous rewards.
You also get a FREE signed copy of my latest book, The Science of Getting Rich to help you learn how to manifest and monetize your ideas!

(And, of course, you'll receive previous reward tiers as well.)
Includes Discord benefits
About Ryan J. Rhoades
Hi! I'm Ryan. Welcome to my Patreon!
My friends and I are building a tribe that is dedicated to helping each another succeed in their creative endeavors, and we'd love to invite you to join us. We are doing so via various multimedia channels including 
The Creative Revolution Podcast
and our private Discord community for artists, creators, startups, and entrepreneurs.
Do you want to learn practical steps on how to make a living doing what you love?
Are you an creator or business owner who is looking for a community to support you in bringing your ideas to life?

Or, maybe you don't know what you want to create yet and want to learn how to make something, out of nothing? (Because let's face it, that's all any of this really is, right?)
You've come to the right place!
Our mission is to empower you to take your ideas to the next level, no matter where you are in the process. We do this by sharing what we've learned on the journey so far and connecting you with people and resources who can help.
In our private Creator's Community on Discord, we share tips, feedback, and resources to help
you bring your ideas to life. 
On my podcast, I interview a variety of awesome creators who are thriving by doing what they love: musicians who are cutting their first album, business owners who are building their own client base, YouTubers who have a consistent and devoted fan base, etc.
I want to shift the "starving artist" mentality to a "thriving creator" mentality by helping you realize what is actually available to you, at your fingertips, right now. I'll share practical tips, wisdom from movers and shakers across the globe, and point you to specific resources so you have the tools that you need to move forward.
SO, WHY PATREON?
Connecting with people like you and creating supportive communities takes a lot of time and energy. Especially when doing so well often means building something new away from the black hole of the ad-driven social media app business model.
I don't know anyone who isn't tired of it.
We all joined these networks to connect with people and it's become harder and harder to do so in the last number of years as algorithms have contributed to dividing us far more than they have helped unite us. 
Our Creator Community is being built with the intention of demonstrating that it doesn't have to be this way. 
Community, connection, and creativity is a lot more fun when you're not constantly being interrupted by obnoxious ads, social media posturing or drama, and the latest doom-and-gloom 💀 headlines that are dominating and devastating the consciousness of the planet.  
Supporting me on Patreon is a way that you can help my team and I continue to make all of the stuff we make — and in so doing, you're helping to invest in the community and contribute to what we make together.
There are various levels of support available, some of which give you access to things like:
Early access to replays of our live webinars and coaching/process videos, early access to podcast topics, etc
Patron-only creative consultations via video chat where we all mastermind together on your various projects and help move you forward in your creative pursuits
Access to our private creator community so that you can interact more closely with us and other creative entrepreneurs who are building their projects, businesses and brand - (this is all on our private Discord server)
Sweet deals on our artwork, clothing, and products at our online store

Patron-only access to behind-the-scenes projects that our team is working on
-----------------
Here are some more details about who we are, what we've been working on, and what you can expect by supporting us:
My wife Laura and I started a design agency called
Reformation Designs
in 2011. We specialized in brand development, business and creative coaching, as well as multimedia, digital art, and product design
(check out our original products, including yoga pants, at RDshop.biz!)
We're no longer taking on design-for-hire clients but have shifted more into a consulting role for other artists and business owners who are working on bringing their own ideas to life.
Our community is the vehicle for helping my team and I do that.
We love the various creative arts and helping others harness the creative process. More than that, we love helping creative entrepreneurs figure out how to turn what they love to do into a sustainable living.
I regularly interview my creator/entrepreneur friends who are at various stages of making a living with their creativity on The Creative Revolution Podcast.

You can check out those episodes
 on the various podcasting platforms 
here
.
We have met a lot of amazing people throughout the years from all over the world who are blazing their own creative entrepreneurial path. People like
Nathan Landis Funk
(
actor/musician/writer
),
Cordell Winrow
(
personal trainer
),
Mary Bee
(
singer/songwriter
),
Erin Hickok
("The Connectress" and founder of
Cards for Connection
), Caleb & Jacob Wolcott of Semblance of Sanity (
YouTubers
), and lots more.
It's been exciting to see interactions between the guests and the audience, as well as hearing the great advice that has been shared so far on a wide variety of topics related to personal and professional development in various creative careers.
We would love to do more content like this on a more regular basis - sharing our resources and advice from the creative journey - and that's why we're here on Patreon. 

By being one of our patrons, you'll be helping my team and I continue making and sharing our art with the world and empowering artists everywhere with the tools and business knowledge they need to succeed as a creator. 


We'll be sharing things we're learning along the way, and your support makes it possible for us to stay focused on the creative process and creating new content and products for you all.
In one of the reward tiers I'll be offering the second book that I published, called "The Science of Getting Rich: How to Manifest & Monetize Your Ideas".

It's an updated version with new commentary on the 1910 original classic by Wallace Wattles, which has been a big inspiration as I've worked on developing my own skill-set in various creative arts like graphic design, music & video production, photography, web design, branding, etc.
The goal of this book and all the content we create around it is to empower this generation of entrepreneurs, artists, musicians, creators, and big thinkers to bring their ideas to life and leave this world a little better than we found it.
The book also includes many pages of reading recommendations - books that I have read over the course of my creative career thus far that have helped me and my team immensely in bridging the gap between ideas and reality, for things like graphics, videos, projects, events, websites, and businesses.
We are looking forward to connecting more with you, and we sincerely appreciate all your support and patronage now and over the years. We couldn't do what we do without the love and support of countless friends, family, patrons and fans around the world, and we appreciate you all deeply for being in our corner!
I am super excited to connect more with you and help you along your creative journey!- Ryan Rhoades, Founder & Creative Director at 
Reformation Designs
When we reach $500/month, we will release at least one video per week.
1 of 2
Become a patron to
Unlock 15 exclusive posts
Connect via private message
Recent posts by Ryan J. Rhoades
How it works
Get started in 2 minutes