Simcha Fisher
blog posts, many worth reading -- & a weekly podcast
Select a membership level
Fishers of Pants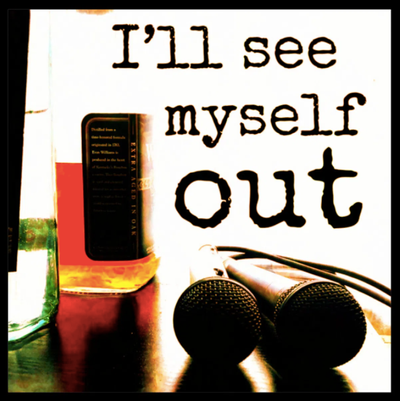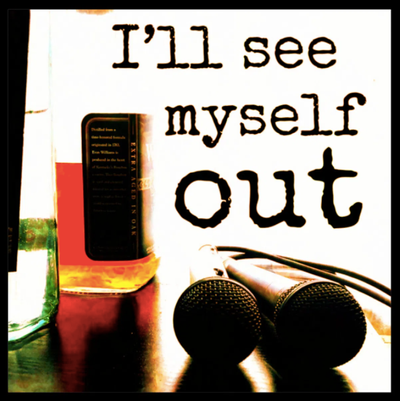 Movie Night with the Fishers! Damien and I love movies and we love to talk about movies. These podcasts are about 25 minutes. Pour a drink and join us. I'll send you a link whenever there's a new episode up. 
Little Two-Legs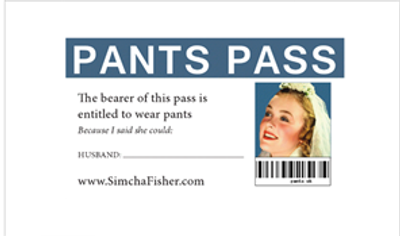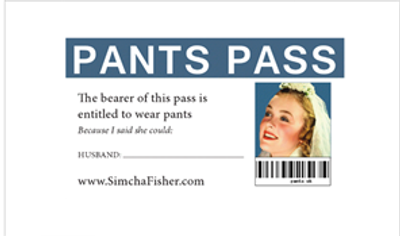 Access to podcast PLUS one Pants Pass sticker, entitling the bearer to go out in public with pants on. Ladies, make sure your husband signs it first, please. 
About Simcha Fisher
Hi! I'm Simcha Fisher and I'm a compulsive writer, a selective pedant, a drinker, a failed homeschooler, and a blabbermouth who always keeps a shoulder open, just in case that stupid muse feels like stopping by. I write with my ten children on my mind and sometimes literally on my head. And I like to cook. 
I write for a variety of platforms, but 
simchafisher.com
is all mine. I've kept the ads as minimal and unobtrusive as I can, and I'm also trying real hard to do less reactive headline chasing and argy bargy insta-commentary. So the kind folks who support me through Patreon with even a dollar a month truly keep the site afloat while I do projects that take more time but are more worthwhile (like
Black Catholics respond to Abby Johnson
and
my interview with the co-founder of Exodus 90
) and also things with a small but devoted audience (like my weekly
What's For Supper? food posts
). And straight up stupid stuff (like
Vortex Valentines)
. Direct support from patrons also allows me to decide what I want to write about, without having to argue with an editor or an advisory board, which is why I've been able to run articles about
Christendom College
and
The Legion of Christ
and
The Slaves of the Immaculate Heart of Mary
.
Pretty much all I know how to do is write, and I used to make money writing things like twelve SEO-optimized articles about cigar materials in a day. I'm very grateful to be able to make a living covering things that interest me, instead.
My husband
and I are both freelancers, which is a liberating but precarious way to support a large family. So to my patrons, a heartfelt thanks. I'm so grateful you've stuck with me. We hope you enjoy the new podcast.
Show more
Every month, I aim to pay the mortgage and buy food. Not a lofty goal, but I'm kind of attached to it.


1 of 1
Recent posts by Simcha Fisher
How it works
Get started in 2 minutes