Select a membership level
Regular Patron
You get access to my Patreon-only blog where I may post high quality renders of the artwork I usually post on pixiv or tumblr without my watermark. May also get access to artwork/versions of existing stuff that I will only post on Patreon, Asys related things, etc.

Premium Patron
NOTE: This does not add any special benefits at this time, this one is currently just if you really like my stuff and want to contribute more.
About Simon Phommaneth
About me
I'm Simon Phommaneth, a freelance graphic designer/independent illustrator/comic artist. I also sometimes do hand-drawn animation and 3D models.
I draw anime/manga style illustrations and artwork based on original and fan content, including videogames, anime, manga, etc.; I also stream videogames and/or artstream on occasion or I visit other people's streams, but I don't really monetize my streams or anything.
I also do commissions, which you can find more information
here
. Or you can look at the image below.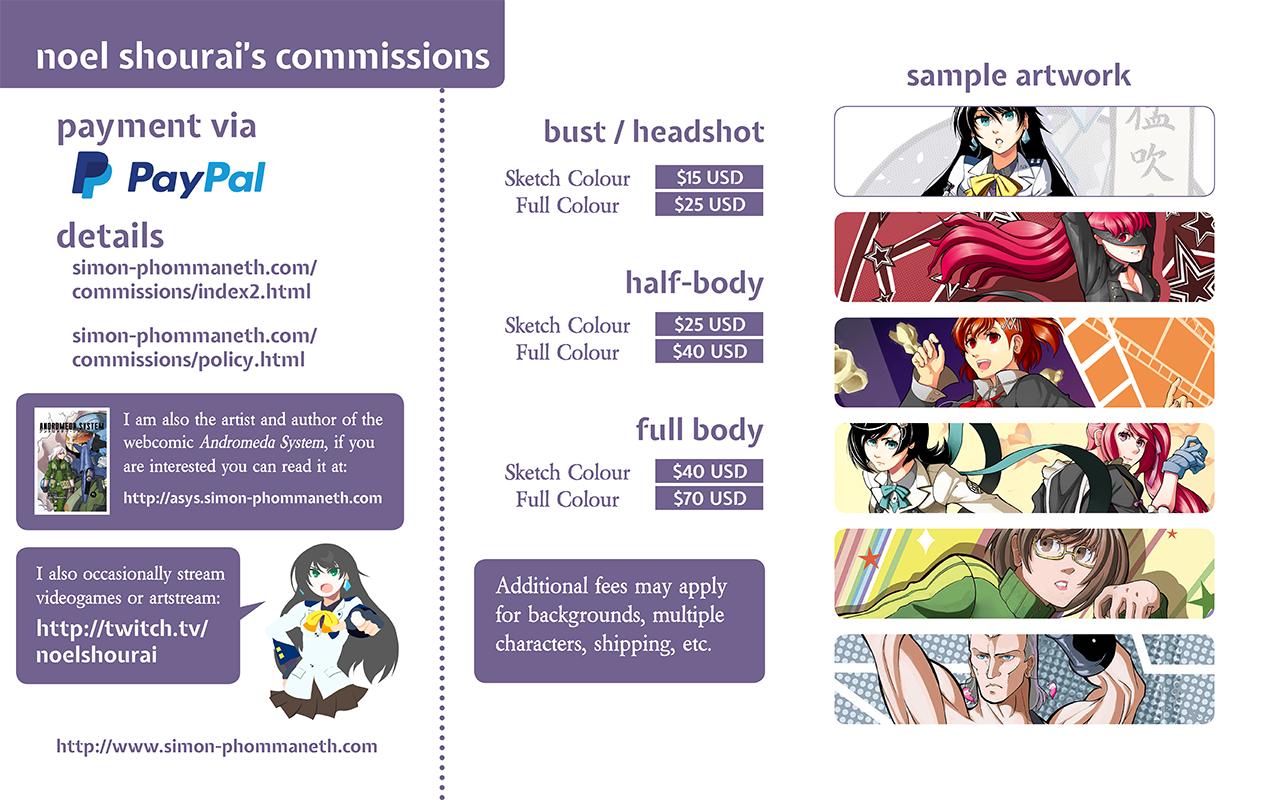 How much to pledge?
If you pledge $5 or more, you will get access to a Patron-only blog where I will be posting non-watermarked, higher resolution versions of my artwork. If you would rather just get a commissioned artwork, see the above image and link.
Even if you don't pledge anything, I will still do illustrations/work on comics because I enjoy it--however, it would make my life a whole lot easier, meaning I can be productive and even do things for you as well.
Andromeda System
I also (sometimes) work on an online graphic novel called
Andromeda System
, which you can find
here
.
Andromeda System
is a military aviation-based comic set in a near future setting and centered around a mercenary fighter pilot named White Raven and her private army as they pursue a mysterious terrorist organization that is in possession of state-of-the-art military hardware, including a stolen sixth generation fighter jet. Heavy anti-war and political themes may be involved. It is a chapter-by-chapter story and follows a serious/dark tone.
In simple terms, it's an original comic that is in the same vein as a certain real life military planes vs. cheesy anime superweapons videogame franchise that I am very fond of. As well as a certain stealth game series about a mercenary who basically does the same thing as the above, except instead of leading an army and waging an air war with antiquated fighter jets he runs around in a cardboard box and hopes everyone around him is none the wiser.
If you noticed this Patreon used to be focused squarely on
Andromeda System
, it turned out to be a whole lot more work than I realized; especially since I am writing, penciling, inking, screentoning, lettering and even editing my work all on my own.
Because of that, I expanded this page to focus on my general artwork and illustrations as well as my comic. If you prefer to support my comic specifically, then by all means.
NOTE: As of this writing, I currently have no further plans to publish Andromeda System as a webcomic, starting with a revised version of the pilot chapter onwards it will be a print comic instead.
Links
Be sure to visit the following sites if you're interested in supporting me.
Making this hobby sustainable, meaning posting artwork and comics more frequently

1 of 1
By becoming a patron, you'll instantly unlock access to 38 exclusive posts
By becoming a patron, you'll instantly unlock access to 38 exclusive posts
Recent posts by Simon Phommaneth
How it works
Get started in 2 minutes