Steve Eulberg
is creating toe-tapping, smile-inducing folkgrass music
Select a membership level
The Tools to Balance YOUR Creative Life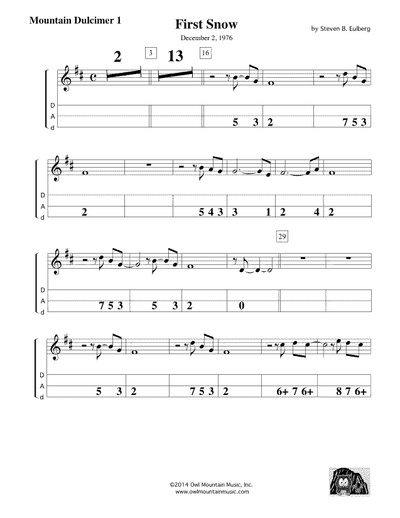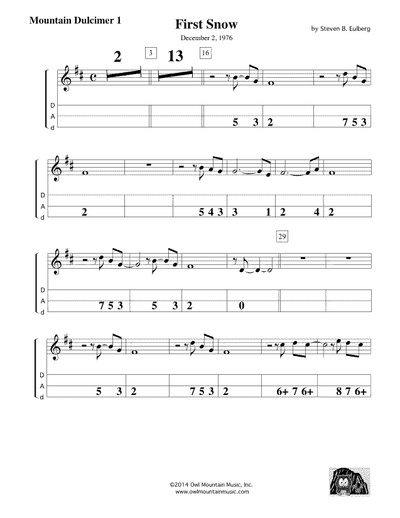 *Free sheet music/dulcimer tablature as they get released.

*Access to my patron-only stream.

*Immediate access to mp3 tracks when they are released.

*a complimentary subscription to Habits of the Muse 
(a weekly email to support the daily habit of musical creativity)

*a complimentary subscription to the one minute videos:  
Habits for Your Healthy Music Habitat (a weekly email to support the daily habit of musical creativity)
Hand-Written Thank-you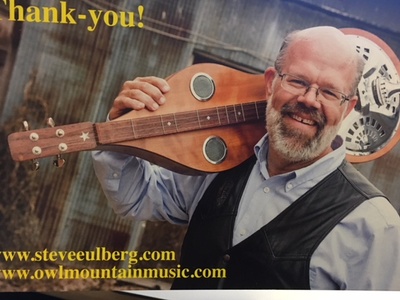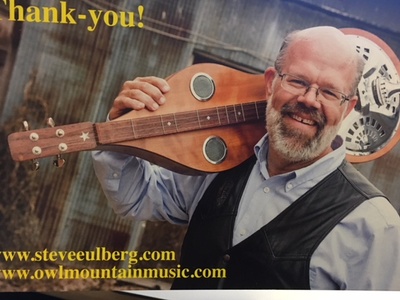 *Hand-written Thank-You card , plus
*A free download card for one of my recordings (Soaring, Holy Mountain, I Celebrate Life! or Between the Tracks)

*10% off Coupon for everything in the Owl Mountain Music Store.

All the other benefits of the previous levels!
40 Dulcimer-Filled Years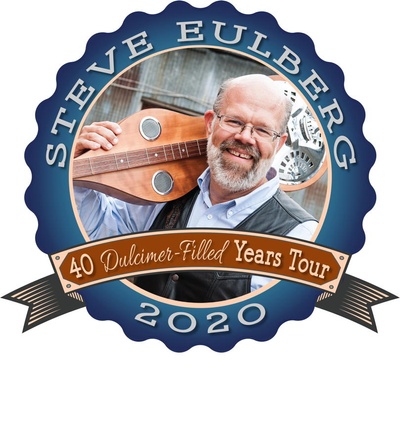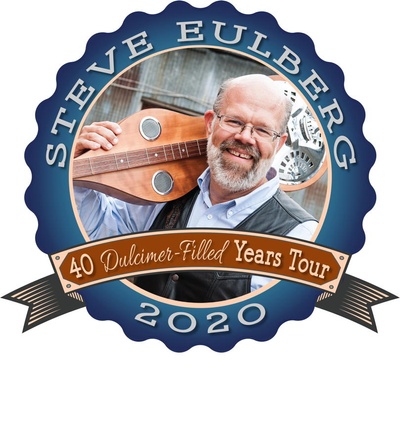 Stories, Tunes & Highlights from my 40 Dulcimer-Filled Years; PLUS:  Monthly Patron-Only Hang-out
All the other benefits of the previous levels! 
About Steve Eulberg

Why Patreon?
Welcome to my Patreon Page!  
I am
inviting you to become a Patron
to support my work to accomplish the
goals listed below.
As a poet, a singer of traditional songs, a creator of new ones, and an arranger of tunes for ensembles of dulcimers, I look forward to the chance to give you, my supporter,
first access
to these new creations.
As I compose and record new songs, create dulcimer orchestra arrangements and arrange classical and jazz tunes for mountain dulcimer, I am eager to
share them all
with you!
How does it work?

You agree to pledge an amount (as little as $5) per month to support the work I mentioned above. Patreon collects these funds and processes them at the beginning of each month. You can stop or start your patronage whenever you wish.
There are different rewards for each level of patronage, and as different Milestone Goals are reached there are more benefits for all patrons, regardless of your sponsorship level.
You can start and stop, or edit your pledge at anytime.
Payment is processed by Patreon at the beginning of each month.
What Are My Goals?
1.  Creating New Music.
As a self-booking performing musician, my daily challenge is balancing the teeter-totter familiar to many artists: The business side of our career with creating new work. Your support can help me tip the teeter-totter toward the creation side!  I will be working on projects in the following areas:
A. Music to support Healing and Relaxation.  

Some years ago I was commissioned to write a soundtrack for a relaxation video 
Serenade to the Canada Goose
.  
Recently I was able to create an hour-long hammered dulcimer reflection
(
Half Moon Bay
)
to support practitioners of massage and Reiki.  
Between the Tracks
is a brand new patron-supported CD of instrumental guitar solos that continue exploring this side of my composing soul. 

Patrons have first access to this healing resource.

B. New songs.

As a songwriter, I am composing and wrestling with words to express my gratitude for all the
beauty in the world
,
even as I bear painful witness to its sometime absence.  

As these are composed and recorded in both audio and video formats, these will be shared with you first!  
I include archives of past work as part of my Patreon feed as a special benefit for my patrons.
C. New Dulcimer Orchestra Arrangements.
The 
Dulcimer Orchestra Library
gathers, commissions and provides accessible arrangements of classical music for dulcimer ensembles.
I have produced a reliable and accessible collection of creative dulcimer arrangements that will inspire people of all abilities to form dulcimer ensembles, bridging gaps to create shared musical experiences and equip each participant to grow and live fully as creative individuals.
PROCESS:   
Each arrangement needs to be formatted for hardcopy and digital production, with a conductor's score, musical notation and mountain dulcimer tablature.  
Each part is then recorded and mixed for the entire ensemble, then again with each part louder, but still in the context of the ensemble and finally with each part absent, karaoke-style, so that the player can practice on his or her own.  
Then the arrangement is taught to an orchestra and performed and the work is documented with video.   The entire process takes over 34 hours of work per arrangement.
There are 
currently 30 pieces
available for performance, with several more close to completion.
Thanks to your Patron Support
26
 of these are available as 
downloadable products
!

Your level of support can give you access to these completed arrangements, as do meeting the Milestone Goals.

If you wish to request an arrangement, you can do that by choosing that level of support.


2.  Creating a Digital Archive of my Current Work.
My 
18 recorded CDs
are all available in a digital format, but only eight of my 
13 published books
is available this way.  Each book takes about
25-30 hours
to complete.
I will create them and
make them available to you first!
If you have one that you want to request first, you can make that request on my Patreon Page.


3.  Sharing the Music
.  
I have made New Songbooks for each of these recordings:  
Holy Mountain
, 
Soaring
and am planning 
a piece of it all
.  
Some of these songs already exist in a published Lead Sheet format, but many do not.
In addition, I will create
dulcimer tablature
for the pieces that do not already have them.  
These will be produced in both digital and hard copy format and made available to you first!




4. Helping Others Share the Music
.
I will continue to create lessons and resources to help other people share the music of their soul.  

As a patron, you get behind-the-scenes views into this process.

You also get a subscription to the weekly email resource:
Habits from the Muse,
and the weekly Video resource
Habits for Your Healthy Music Habitat

#ThankYouPatrons
$556.42 of $600
per month
When we reach this level, I will be able to take a 1-Week Sabbatical from Teaching in order to focus on creating.  
Each Patron will receive a "thanks-for-the-breather" gift.
1 of 5
Become a patron to
Unlock 373 exclusive posts
Connect via private message
Recent posts by Steve Eulberg
How it works
Get started in 2 minutes