Sylessae
Creating digital artwork and livestreaming!
Select a membership level
Pay What You Want
You decide how much to give. For your generous support, every month you'll receive:
‣ High Resolution Artworks
‣ Advanced Commission Notice
‣ First Look At New Illustrations
‣ Video Painting Process
‣ Polls/Q&A Events
‣ Photoshop Brushes
‣ 10% Store Discount
Includes Discord benefits
Art Collector
Limited (28 remaining)
‣ Access to Digital Rewards
‣ Collection of Monthly Mailed Prints (3-5 Prints)
‣ Includes The Latest Monthly Illustrations
‣ Collectible Creative Motivation Quote Cards
Includes Discord benefits
Limited Edition Signed Print
Limited (12 remaining)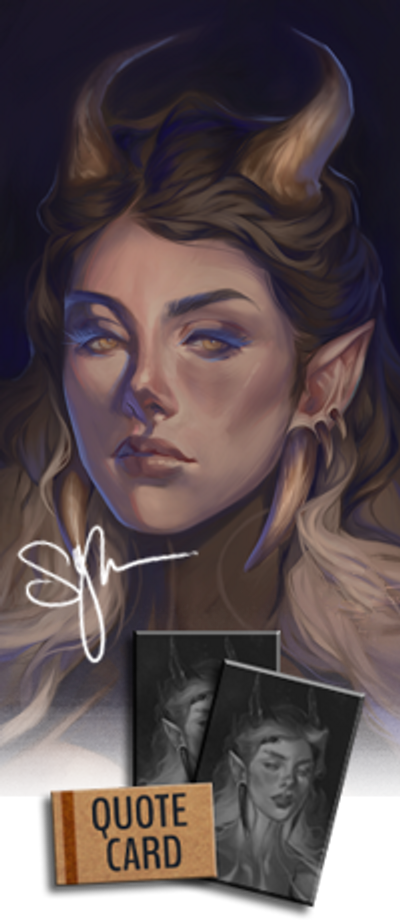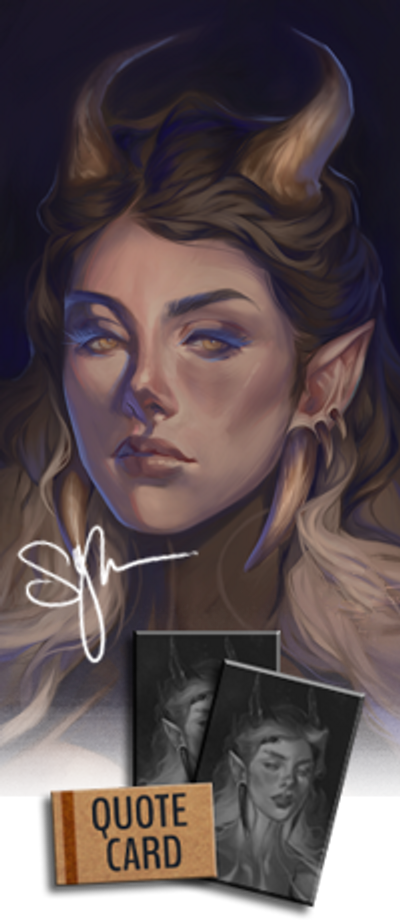 This is a limited edition art print!
‣ Access to Digital & Art Collector Rewards
‣ Limited Edition Signed Print
‣ Collectible Quote Card
This is a fine art print. International orders outside of the US will require additional costs to cover shipping! I will contact you for this fee after the promotion ends.
Includes Discord benefits
About Sylessae
Hi there, I'm Sylessae! I'm a high energy artist with a positive outlook on life - there's never a moment where I'm not laughing, smiling, or happy to share my artwork with the internet. My characters are predominantly fantasy girls with the not-so-occasional pointed ears and horns.

I wasn't always working as an artist. For the first half of my life I was told art wasn't a career and quit doodling even as a hobby. It wasn't until three years ago when I discovered the world of digital art and fantasy characters that I decided I wanted to chase a new dream. I worked two jobs while I taught myself art; it was an immensely challenging situation that I think was key in developing my work ethic as an individual.

Now I channel that energy into patreon and encouraging others to follow their dreams. I work full-time as a digital artist and spend every week with the community in the form of livestreaming.

I believe creativity is possible in anyone. The person who tells you otherwise simply can't imagine a beautifully painted future - a future I know you're more than capable of painting for yourself given the right tools. Whether you are an art collector, a hobbyist or someone looking for a career in art I hope that, if nothing else, this page leaves you feeling inspired to embark on your own creative adventure.

I'm right here with you.

These are a few of the things you can expect to see as part of joining us here:

‣ LIVESTREAMING ON TWITCH
I spend a lot of time with my community! Some artists are difficult to connect with but I never want to feel out of reach. We're family here - all growing together in a creative community; shouldn't we spend it on a platform that allows for real time chat?

‣ CREATIVE MINDSET COACHING -
This course isn't the standard "learn to draw" roadmap - we go deeper than that. Yup, we are going to poke that creative brain of yours. We will bust through your art block and get to root of why you feel stuck as an artist, together, so that we can begin to paint the beautiful future you deserve. Depending on the course level you choose, you'll have access to individual 1-on-1 sessions with Sylessae that can include feedback, paint overs, instruction and even breakdown of your creative schedule.

‣ DAEMON ANIMAURAS SERIES
Daemon Animauras is a series based on strong fantasy female characters. Each girl is defined by the features of a single animal, interpreted in a way that best represents my style and imagination. Characters blend within snippets of story to invoke a sense of wonder while viewing each painting. Each girl will be available as a limited edition print through patreon; as for a larger project (like an art book or zine) once the collection is completed, that is yet to be determined.

‣ CRYSTALS SERIES
Are you surprised? Another series based on ladies, only this time we're showcasing girls with the properties of beautiful, rare crystals. Their stories unfold around the mysticism and wonder of gems, finding beauty where others might see a simple stone.

‣ SKETCHES & ILLUSTRATIONS
Sketches often keep me busy between larger projects! The illustrations, however, are the big projects with a focus on color and characters. Still, I'm always reaching out and learning new things to improve. Generally, all of the work here is original. 

‣ YOUTUBE
Our youtube channel is currently a work in progress. We're learning as we go and providing content that's intended to bring a little positivity into your own processes and creations. Your support funds each video and hey, they'll even be released to you before everyone else!

When I'm not painting, streaming or drinking coffee, I also like to talk to my plants and take naps with my cat.
★ Become a patron today to join our cozy art community. You will not be charged immediately; instead, you will be charged on the first of every month! Rewards are sent out via patreon message on the 5th. Past month's terms are available via gumroad but pledge today so you don't miss out!
If we reach the 200 patron goal I will host a live character design session on twitch where we DESIGN a horned babe TOGETHER and raffle her off to the community!

1 of 1
Become a patron to
Unlock 241 exclusive posts
Connect via private message
How it works
Get started in 2 minutes