Sylvie von Duuglas-Ittu
is creating Muay Thai articles, Documentary Videos and Fights from Thailand
Select a membership level
Patron Supporter - Minimum
The suggested pledge is $5, but as little as $1 will get you access to some of the very best of Patreon support. 
* You will have immediate access to the 5 most recent entries of the "Preserve the Legacy" Muay Thai Library documentary project. These are long form training videos with legends, around 1 hour in length, accompanied by my commentary and analysis. Read about these videos here. Watch new sessions as they are published each month.
* Access to the much beloved Muay Thai Bones podcast for iTunes or any other subscription service. Hours long discussion of everything involved in the Muay Thai life, the most in-depth topics  taken on. The podcast involves audio versions of the Muay Thai Library are well.
* I write regularly on my blog 8limbs.us, but patrons are able to read articles written for my only patrons, what I'm calling my Patreon Magazine, in-depth stories of my experiences and perspectives as a fighter in Thailand.
Suggested Pledge $5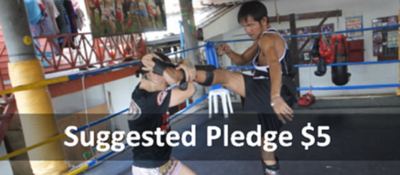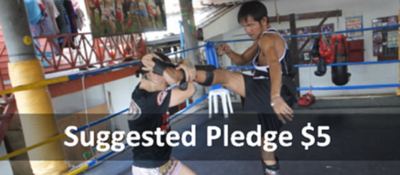 $5
is the suggested pledge amount, going to support the documentation of the techniques of legends in the Preserve the Legacy project documenting the great men and techniques of Thailand,
read about that here
.
A $5 pledge gives you access to the last 15 published sessions in the Library, and also gives you access to bonus session material, long form sessions not included in the Muay Thai Library. This totals over 20 hours of commentary documentary video.
It also gives access to my new Muay Thai Burnout fitness videos.  
Know that you are also actively supporting me as a fighter as I pursue an unheard of 450 fights in Thailand, and all my work as a writer at 8limbs.us.
All lower pledge rewards included.
Full Muay Thai Library Access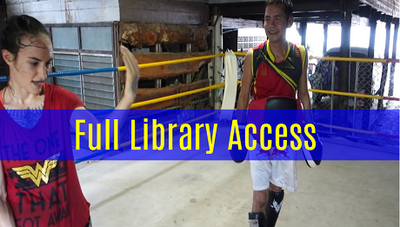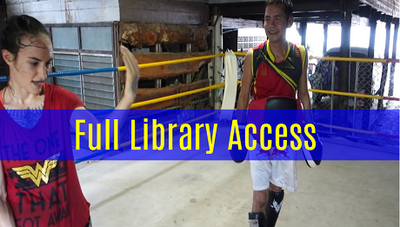 A supportive pledge of $10 not only lifts up this project to new levels, it gives access to the full Muay Thai Library beyond the 15 most recent videos, and all the bonus videos. Everyone month more than 1 session is added so the full archive you have access to will grow. The aim is to have 100s of hours of documentary sessions in the Library. 
All lower level rewards included.
About Sylvie von Duuglas-Ittu
Thank You for Considering to Support My Content

If you are here to get access to my Patreon Muay Thai Library project, you can read about that here. Every patron gets immediate access to a growing list of long form videos that document the subtle techniques of Thailand, and some of the greatest fighters who ever fought. In joining you not only can study these videos, but you are supporting the continuing process of finding, filming and detailing these masters of technique. The suggested pledge is $5. Below is a more general introduction to me, my Muay Thai fighting, blogging and videography, and why I ask for your support.

10% of all all pledges is added to my Kru Fund, sent to the krus and ex-fighters who have made my Muay Thai Library possible.
Read about the Kru Fund here
. I also add to the Kru Fund all net profits derived from the sale of my shorts and shirts: www.8limbs.us/store

for those who don't know me, this film short is a good introduction 
The Things I Share and Think About
After several years of writing out of pure passion I have transition to becoming a
professional
Muay Thai writer and to make my journalist efforts sustainable. Without this change my 
8limbsus.com
writing would have likely come to an end. I've needed to start writing for my readers. The response has been pretty incredible, and sponsors have stepped up in support - and at this point 8limbsus.com, all of my writing, filming and fighting has become sustainable through my patron pledges.
Most know me already because you've been following me for a while now. For those that don't my background: I began blogging about 10 years ago, around the same time I started putting up videos of my training 
on YouTube
. My hope has always been to just share with others what I'm experiencing, and to pass on the contact I was having with my teachers. But the YouTube channel grew, as did my blogging, and I eventually saved up enough money to move to Thailand to train and fight full time. And I started a small website as a home for my blogging and shares:
 8limbsus.com
.
I hit the ground running since I came to Thailand, and as you can see above I've pushed everything to the limit. I've fought 260+ times in that period (updated),
more in Thailand than any other westerner in history
, man or woman. The entire time I've pushed myself to write and video share as much as I possibility could to help make things more clear, more imaginable for those back home. I know that before I came to Thailand there was very little I could find about what it is like to train and fight full time here, especially for women - I wanted to change that. And it may be fair to say that I've shared more in English on Muay Thai and Thai Muay Thai culture than anyone previously has, and hopefully I have inspired others to write and video share as well. The hope is that each fighter, each person, will put their story out there, create more ripples in the pond. 
I've since expanded my Muay Thai writing to include a 2nd site devoted entirely to in-depth technique discussion and sharing: 
sylviestudy.com
. This was only accomplished through the support of my patrons, and it is a home for the concentrated study Thai legends and mental training observations. Adjunct to Sylvie Study is a new 
Vimeo On Demand channel
that holds an Intensive Series, now 30 hours of training with single legends over multiple days. While the Muay Thai Library shows you a legendary kru or fighter in a single session, the Intensive series allows their style to unfold over many sessions, in some cases over 30. Historically there is no other documentation like this. Also, the On Demand set up allows me to raise money much more directly for the krus involved. They receive 55% of of the net profits of all On Demand sales, and get the chance to be supported by their knowledge directly. By tier, patrons can get promocodes for up to 15% discounts for these On Demand purchases. 
Me as a Fighter - Making History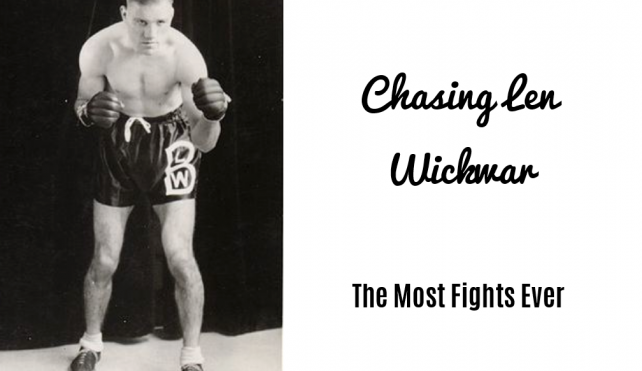 Support me in Breaking the Unbreakable Record
My incredible fight rate over these years has inspired me to take on the professional fighting record that has long thought to be untouchable: Boxer Len Wickwar's 470 documented fights, completed in 1947. This is going to take me the better part of 10 more years, but this is an enormous accomplishment to achieve, and I am asking everyone to cheer me on and life me up in it. You can read about that record and my attempt in my post: 
Most Fights Ever: Chasing Len Wickar and the "Untouchable" Record.
This kind of record is so huge and would require so much support and endurance, it could only mean something on the larger scale of a community. I appreciate any support helping me get there, from cheering me on #ChasingLen to becoming a patron.
Aside from the unbreakable Len Wickwar record, my other impossible goals include fighting for Olympic Gold, and eventually winning a Lumpinee belt (currently barred from women). You can 
read about those goals here
.
What Do I Create?
Aside from fighting and training like crazy on 8limbs.us I've liked to write about the 
history of Muay Thai
, and cover the female Muay Thai fighting scene in Thailand closely. I'm interested in contemporary Muay Thai gym culture, and 
how western women fit in it
. I share a lot of my training experiences, and 
technical tips
that I have discovered from my various instructors, or that I have improvised. I vlog often. I also have been, in a larger sense 
a reporter and advocate of female Thai fighters in Thailand
. Those that have 
subscribed to my blog
have receive a stream of varied information from Thailand over a 1,200 articles published since 2012. More than 50,000 follow my video content on 
my YouTube channel
which has been documenting my training since the early days in Master K's basement (now more than 3,400 videos posted). It has been a full time job, but a labor of love. Some of 
my best posts can be found here
. If you haven't,
you can subscribe to my blog posts
here. 
This isn't even to mention the exciting work I'm doing on 
sylviestudy.com
With patron help I've created the 
Muay Thai Roundtable forum
, the best deep discussion Muay Thai space on the Internet.
For patrons in particular, beyond everything else, I've saved the best. I've created exclusive article and feature content. Here is a Table of Contents for the exclusive material patrons only can access: 
Table of Contents - Exclusive material
- there are magazine level articles, diary entries, behind the scenes footage and interviews, burnout workouts, updates on my diet and nutrition, fight footage with my commentary, in-depth breakdown analysis of video with legends, and translated interviews with great fighters of Thailand's past. This is all in addition to the 
Muay Thai Library itself
, which is the foremost digital archive of Thai techniques available, anywhere, which patrons have access to. There is a huge amount of exclusive content for my patrons.
Among all else I've also established a Muay Thai internet forum: The 
Muay Thai Roundtable
. This is a one of a kind internet space, designed for the sharing of knowledge, far from the argument-driven sites that are more common in the fighting arts. In fact, the forum also has a Women Only section where women can find fellow female athletes to turn to for support or as knowledge sources, as women often can find themselves isolated in gym spaces. 
And Last But Not Least
, aside from supporting me as a fighter and a writer, you are supporting the filming of my 
Muay Thai Library documentary project
. This is the most comprehensive long form documentation of Muay Thai technique effort in history. The aim is to film at least 250 hours with over 150 krus and ex-fighters, as they teach their Muay, each completed with audio commentary to make explicit many subtle things that might be hidden from viewers. Unlike many documentary projects this one allows you to see the Library in progress, as each session is published. Patron pledges make this project possible as I search out legends and lessor known krus across Thailand, hopefully preserving not only their techniques, many of them at the edge of being lost, but also the energies of these men who have given themselves to Muay Thai.
 10% of all pledges go into my 
Kru Fund
.
There are also several long term plans for books in the works, including a female fighter's guide for women in Thailand, and perhaps my personal story as well.
Why Support My Content?


This answer is simple. Support it because you value it. I have made it for the last several opening years free of charge, really just for the joy of it.  And I have benefited immensely from the connections to people I've made around the world through the sharing. I've come upon rough times, and the reality is that without support I very well may have to stop producing what I write and film. If it is meaningful to you to help give me a leg up to help make sure it continues and expands, I appreciate the aid to no end.
staying touch as a patron:
Subscribe to my Sylvie Study website:
www.bit.ly/sylvie-study
Subscribe to my 8limbsus website:
www.bit.ly/sylvie-8limbsus
Subscribe to my YouTube Channel:
www.bit.ly/sylvie-youtube

Join the Muay Thai Roundtable Forum: 
https://8limbsus.com/muay-thai-forum/
photo credit above: 
Warriors of the Mongkon


If you would prefer to donate and support directly with Bitcoin, you can do so with this address: 1BhaVE4A1uBTPnw5V6TWtGnHRT5E41cHSF

This is a goal of true sustainability for my writing on 8limbs.us along with the perpetuation and growth the Muay Thai Library documentary project.
3 of 3
Become a patron to
Unlock 252 exclusive posts
Connect via private message
Recent posts by Sylvie von Duuglas-Ittu
How it works
Get started in 2 minutes