Kip Manley
is creating Serial Fiction
Select a membership level
Behind the scenes!
Thanks from me, and access to the behind-the-scenes blog posts, with title reveals, character revelations, raw and alternate cover images, and theoretical musings.
Free eBooks!
Thanks, the blog, and—
Free ebooks. You'll receive each new installment as it's completed, months (or days) before it's released online, in ebook or PDF form. Also, as each new collection is finalized, you'll receive a free copy in ebook or PDF form.
Free 'zines!
Thanks, blog, ebooks, and—
Free zines. You'll receive a free copy of each new episode completed during your patronage in chapbook form, shipped as they're printed—as well as a free (and personalized!) copy of each new collection in paperback form.
About Kip Manley
My name is
Kip Manley
; I'm a writer living here in Portland, Oregon, where I labor away at a wicked concoction of urban pastoral and incantatory fantastic, a modern fantasy epic doled out in coffee-break installments.
City of Roses
is—well, I've tried summing it up over the years, fielding taglines that reach for the intriguingly oblique ("The ten thousand things, the one true only") and the wryly self-deprecating ("The city of Portland, only with more sword fights"). —It's about what happens when
Jo Maguire
, a highly strung, underemployed telemarketer, meets
Ysabel
, a princess of unspecified pedigree—but it's also about ghost bicycles, retired river-gods, boar-hunts in shopping malls, secret struggles over cities that might never were—but it's also about Violence, and Power, and Romance, about genrejumps and genderfuck and hearts broken cleanly and otherwise, and that moment when the bass and all the drums except maybe a handclap drop out of the bridge and you're left hanging from an aching thread of melody waiting almost dreading the moment when the beat comes back—and also, yes, the occasional bit of swordplay.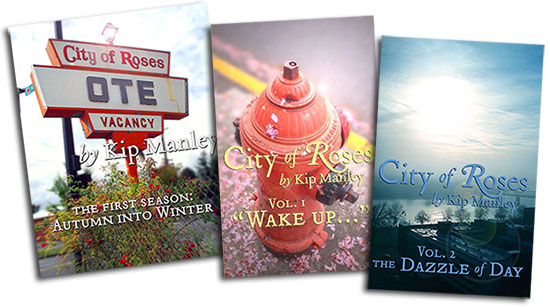 What others have said.
"City of Roses
by Kip Manley is the closest I came to a really well-crafted, character-driven fantasy… its mix of young, bohemian characters and mythic fantasy tropes reminded me strongly of Charles de Lint. Manley's prose style is a couple of cuts above the increasingly tedious first-person narrations of urban fantasy." —
the Guardian
"Kip Manley is worth reading. He says interesting things, and he actually knows how to write." —
Teresa Nielsen Hayden
"As I read
"Wake up…"
, I found my cynicism undone over and over again. 'Oh,' my inner cynic said, 'look, here's Celtic-tinged music. Here's the love triangle, with genders switched up and mixed. Here's the smart-ass protagonist getting in trouble because she's too willing to throw a verbal punch.' But then Manley would whip those familiar elements into a moment rooted in idealism and hope, but with a healthy dose of life's tragedies, the entire, swirling, beautiful mess tumbling my inner cynic on her ass." —
Bookslut
"Kip Manley's
City of Roses
is the most fun I've had with a book in a good while." —
Felix Gilman


What I'm asking for.
The first season of City of Roses, Autumn into Winter, has been completed; the second season, Spring; Summer, is halfway done. Both are now available 
for free online
, in 
chapbook form
, or collected in 
ebooks and paperbacks
available at 
the usual outlets
. It's taken more than ten years to get to this point—I'd rather like to pick up the pace as we round out season two, and move on to seasons three (Summer) and four (Winter, and then Spring). A regular stream of Patreon money will help to clear the time and mental space I'll need to do that; the goals and milestones to the side there are a stab at what that might look like, and take.
Redesign! Nothing drastic, but the look-and-feel could use a little buff and polish: the website, new editions of the paperback collections, the zines.
3 of 4
By becoming a patron, you'll instantly unlock access to 81 exclusive posts
By becoming a patron, you'll instantly unlock access to 81 exclusive posts
Recent posts by Kip Manley
How it works
Get started in 2 minutes