The White Pube
is creating better criticism than JJ
Select a membership level
POSTCARD

zarina will post you a postcard with a lil note to say thank u. Just a sweet lil token of our appreciation, bc honestly, we do appreciate u - v v v v v much <3

(this postcard is normal postcard size, it's A6 soooo 14.8 x 10.5 cm)
Little Sticker <3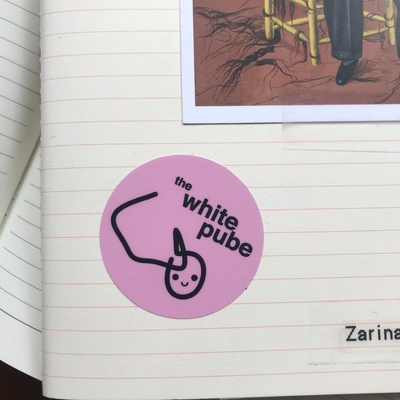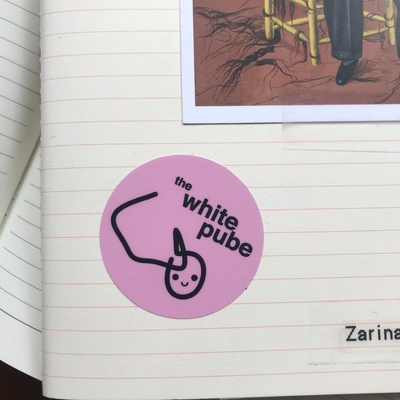 To thank you for your incredible generosity, we will send u the postcard AND this cute lil pink sticker of our logo and a smiley pube AWH. 

(the sticker isn't too big, it's about 5cm in diameter).
BIG STICKER & it's HOLOGRAPHIC AWHH YISS
Quite frankly BAFFLED and incredulous @ ur generosity if u give us $5 a month - thank u thank u thank uuuu. 
to properly convey our gratitude, we will send u a postcard, little pink sticker AND this RLY RLY COOL HOLOGRAPHIC PUBE STICKER!!

(the holo pube sticker is a bit bigger than the pink pube sticker. it's abouuut 6.5cm tall and 7.5cm wide. the holo is rllllly cool tbh, rly shiny ugh yesss)
About The White Pube
< this video is so outdated please ignore and read this instead til we film a new one :-) >
Hello you nice people 🌞 thanks for even being on this page having a gander
We are Zarina Muhammad and Gabrielle de la Puente and we run a website together called The White Pube. We publish weekly writing about exhibitions, video games, the wider art industry, books, food and life in general. We also run a residency on our homepage, a Successful Funding Application Library, a grant for working class writers, and a podcast where we publish audio versions of our texts (plus we sometimes just use it to have a chat). 
The White Pube stated as a bit of a joke back in 2015 when we were art student because we hated the way art was written about (and who was getting to write about it tbh) and we thought it would be funny if we gave it a try. We tried writing more cazjjjj, tried actually sharing opinions; tried writing through the body rather than the canon as prime reference. The past few years have been wild. What started as a joke is now our actual real life jobs: we write but we also spent lots of time trying to fight for a fairer art world however we can.
It doesn't feel right to ask for public funding to cover the weekly texts on the website when it's just our readership that consume them. So we are on Patreon because it's feels right, because it's one to one. Patreon allows you to pledge upwards of $1/month to someone you want to support and we like that system (atm 1 dollar = 81p. We are UK based - London and Liverpool - but signed up when the only currency available was dollars).
At first, we used Patreon to cover train fares to exhibitions but it has grown enough that we can use it to pay ourselves a wage. Tens of thousands of people visit 
thewhitepube.com
every month, so our aim is for lots and lots of $1/81p pledges to reflect this. Hopefully, we can use this to make a living and pay the rent. If it goes high enough, we can up the fees we pay our residents, and finally invite guests onto the podcast once we can pay them. Plus the more we get from Patreon, the less we have to stress hunting for random freelance work. More writing time. Love love love to be reader-supported.
It would be very nice if you could donate 81p on a monthly basis because it all adds up. If you cannot, maybe someone else can support us on ur behalf, like how you can gift sponsor a tiger? That is so cute.
Thank you for making our dreams come true and don't forget all our accounts are on
thewhitepube.com/accounts
if you want a nose.
ok
LOVE N LIGHT, and thank you.
Gabrielle de la Puente and Zarina Muhammad
The White Pube
xxxxxxxxxxx
$1,965.44 of $2,000
per month
We reached the first goal which I... how? so we have tentatively added a new one in the hopes of making 2K dollars which is £1,621. This would be a very good full time base pay for the two of us and it could also cover TWP residency fees past and present and take the pressure of hunting down freelance work to pay the bills
2 of 3
By becoming a patron, you'll instantly unlock access to 7 exclusive posts
By becoming a patron, you'll instantly unlock access to 7 exclusive posts
Recent posts by The White Pube
How it works
Get started in 2 minutes