Tiny Art Gallery
is creating tiny community art galleries with website and books
Select a membership level
Postcard of the art from the Gallery
You will receive a color postcard with pictures of the art added to the Gallery. 
Paperback book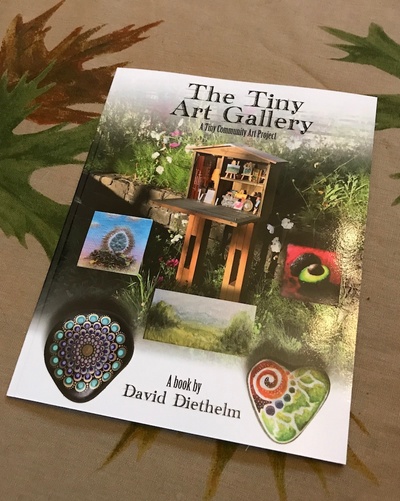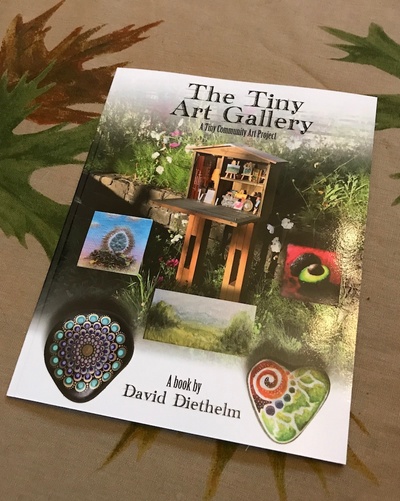 For three or more months of pledges, you'll get a postcard (see above) and a color paperback book with the art from the Gallery.
Hardcover book (available if funded)
(available if funded)
For three or more months of pledges, you will get two postcards (see above), and a special color hardcover book with images of the art from the Gallery. This book will include additional 'behind the scenes' images and additional commentary.
About Tiny Art Gallery

The Tiny Art Gallery.
Please check out the short video about Tiny Art Gallery, which is now three galleries!
This year's book is going to a big one. Lots of things have happened. So much enthusiasm for this project from neighbors in the areas around the galleries.
Ongoing support for art supplies, photography and web hosting would be greatly appreciated. 


August 2018 Update:
The Third Tiny Art Gallery, in Florence Oregon has been very busy, the neighbors are obviously having a great time. Check out the latest art here: https://t2m.io/bsV3aESs

June 2018 Update:
We have a second location that will be officially opening July 28th! It's a super modern glass and metal enclosure (think MOMA). Check out the webpage for more info on the opening events 
http://tinyargallery.org
.
 The location on the coast of Oregon in Florence is now open. Check the website for its Gallery page. An 'outside durning the day and inside at night' location will be opening at a local art gallery in the coming months.
And there is the rumor of one more in Ames, Iowa. I'll have more on this as it develops.

This leads to several new streams of images for the book, but also increases the pressure on a way to gather an display the images well. I'd really like to build a new website that will have individual pages for each Gallery location. And I would like to help with art supplies in the various locations if possible (including some that aren't officially affiliated with TAG).
Also, Eugene Magazine will be doing a piece on the Tiny Art Gallery for their Fall edition. I'll post links to it on the website when it's out.

A bit about the Tiny Art Gallery:
This project is inspired by the 
Little Free Library
movement. It is a way to get more people thinking about and interacting with art. Art galleries in the classic sense have a hard time because they have to sell art, and art is usually expensive. Therefore, some people don't have personal access to art, unless they make it, or have money to buy art. That's where the 
Tiny Art Gallery
(TAG) comes in. 
Community artists borrow art supplies and a canvas and make a little piece of art (around 2"x2", or 2"x3", or maybe a little sculpture, like the painted rock in the above picture) and put it in the Gallery. There will likely be attrition, so patrons assistance will be
very
helpful in keeping the TAG supplied. 
The unique aspect of the Tiny Art Gallery - home shows with photos for the artists to see.
Neighbors can borrow a piece or two (with easels) and take them home to display. They are asked to take a photo and email it to
[email protected]
so it can be displayed on the website
http://ecojusticepress.com/tinyartgallery.html
, for the artists and others to enjoy.
New pieces added to the TAG will be regularly photographed and uploaded to the website.
These photos will be on postcards and assembled into books as rewards for patrons. 
The book is done, and is available for purchase. If you want a copy of it and don't really want to be a patron, it's available for $14.95 +S/H at 
tinyartgallery.org
. 8"x10" full color.
Get the latest info on the project or join the mailing list here: 
ecojusticepress.com/tinyartgallery.html


A BIG thank you to current patrons and fans!
To get art supplies beyond what has already been purchased.
15 packs of canvases and easels are $28+shipping,
Various small paint sets range from $9-$20+shipping.
I found a good deal on small brushes 20 for ~ $20+shipping. 
Having a few extra sets of paints would have been very helpful for the rush to make art near the completion of the book — all sets of paint were borrowed and I didn't have any more in reserve.
1 of 2
By becoming a patron, you'll instantly unlock access to 3 exclusive posts
By becoming a patron, you'll instantly unlock access to 3 exclusive posts
Recent posts by Tiny Art Gallery
How it works
Get started in 2 minutes