Mikhail Vokabre
is creating slice of life illustrations of the world in ink and watercolour
Select a membership level
Zink White (≈ a metro ticket)
Rewards:
+ Raccoon hug
+ Early access to 1000px paintings
Titanium White (≈ a small pan of paint)
Limited (15 of 19 remaining)
Rewards:
+ Raccoon hug
+ Early access to paintings
+ Access to high-res scans, backstories and techniques
+ Your name mentioned online and on exhibitions
Yellow Ochre (≈ a few sheets of paper)
Rewards:
+ (New, possibly limited) Welcome postcard with a little hand-drawn artwork on a back
+ Your name mentioned online and on exhibitions
* Early access to paintings in high-res with backstories
About Mikhail Vokabre
There exists in this world a curious tendency of creators to focus on making new worlds out of thin air (or rather thin paper). And then, when it comes to the much familiar and much curious ball of rock floating around a ball of fiery gas, there's this popular tendency to investigate and reproduce this ball with precise photographic and videographic equipment.
Why not, probably said me to myself, why not give Tokyo and Moscow the same treatment as creators gave to Ankh-Morpork and Sto-Lat, and why not do so not in form of perfect representation, but distilled essence, spilled on paper with brushes and paint. Why not investigate in brush strokes the horrors and wonders of this much confusing sphere.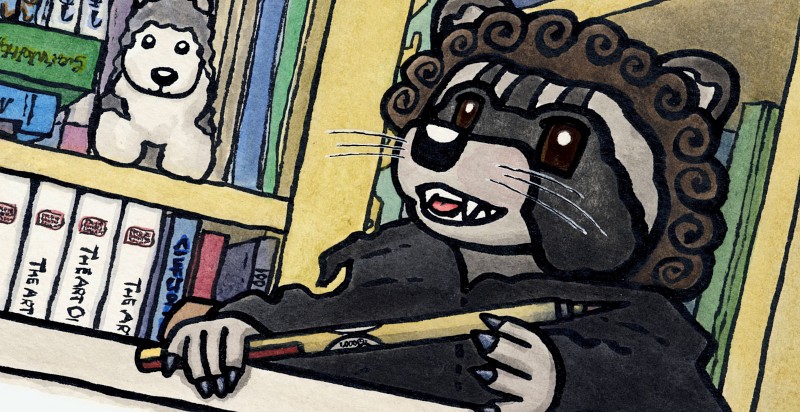 Hello intelligent beings of the æetherweb, I am Mikhail Vokabre, a self-reflecting Jewish-Russian raccoon from the east border of Moscow, and I save this world on paper with brushes and paint. I'm here to invite everyone to join on the much curious journey of lights and lines, and make it so this fantastical real world will get illustrated in ink and colour.
I make slice of life illustrations, published here, as well as on 
vokabre.com
, 
instagram
, 
pixiv
; (and i also sometimes appear on 
youtube
with robots and side stories). Here you are to witness the brush strokes of much details and stories of much confusion, because the world that is being illustrated, itself if of much detail, and even more so, of much confusion.
To travellers I offer sunrises over the seas and portraits of democratic activists; I offer stories, of creative process, of history, lists of art materials, never told anywhere except here. Only supporters see the high-res scans. The names are listed at 
vokabre.com
, and very rarely when this happens, on exhibitions. For some there are not only prints, but artworks, and most importantly, postcards, sent via real mail, with real stamps, with real, not printed art.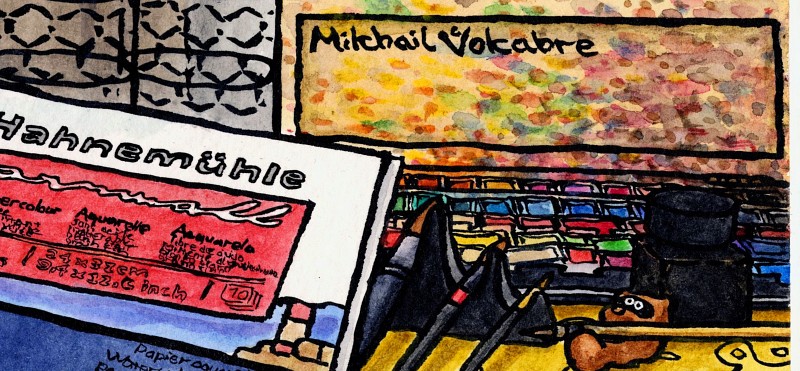 None of the illustrations are sold, all of them are published for free online each week. (In addition to that there are postcard artworks published). Only side commissions are my income, and even the accidental
membership
on merit in Japan Illustrators' Association is nothing but a title. This journey of light and lines happens because of the brilliant travellers.
Like a good story in a good book, this journey is somewhat difficult and quite unpredictable. At any point my bank account or even this account might be shut down. Or perhaps something worse could happen. Being expelled from an art school and one university, unemployed, arrested, fined, denied a visitor visa to Britain, it is all not necessarily quite nice.
But then, if one is called a "character" by a person who then was a friend, perhaps one shouldn't expect anything else. Perhaps this is a trade one gets for witnessing such moments as people waiting in solidarity for Alexey Navalny at police-barricaded Vnukovo airport, or the first sun of the year appearing on the shore through the clouds over Kanagawa.
Perhaps these moments of this confusing floating world, illustrated and saved on paper with brushes and colours, are worthy of the journey. Join.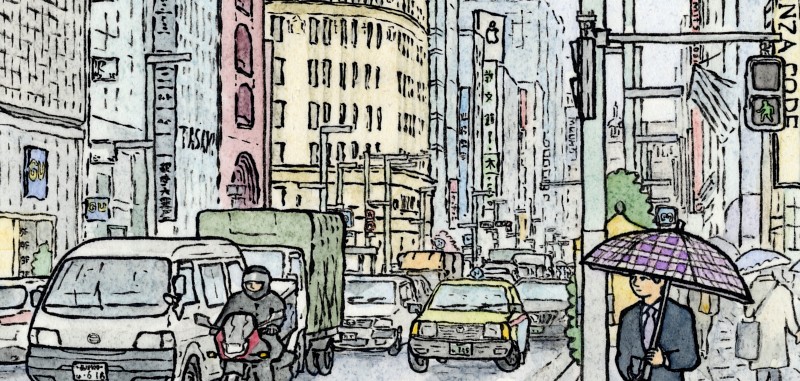 By becoming a patron, you'll instantly unlock access to 373 exclusive posts
By becoming a patron, you'll instantly unlock access to 373 exclusive posts
Recent posts by Mikhail Vokabre
How it works
Get started in 2 minutes