WBS Classic
is creating a tribute to the Webchat Broadcasting System
Select a membership level
Keeping The Lights On
Helps cover basic maintenance and operating costs, keeping WBS Classic free and open to all visitors. A little bit goes a long way. Patrons at this tier and above enjoy an enhanced scrollback (aka. chat history) feature.
Down At The Speak Easy
Patrons at this tier and above are able to manager their own private unlisted rooms.
A Toast To The Host
Patrons at this tier are able to manage their own publicly listed rooms.
About WBS Classic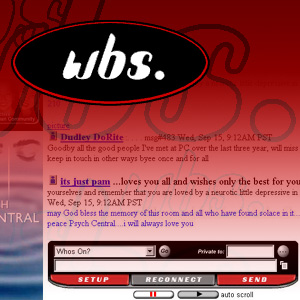 Before the titans of social media, in the era of dial-up modems, guestbooks and AOL, the Webchat Broadcasting System (WBS) was a popular and unique online community destination the world over, advanced for its time and unrivaled since.
WBS Classic is an ongoing fan-supported effort to reasonably recreate that experience.
Fans who pitch in a little to help keep the lights on and the site open to all comers will be thanked with special access to premium features and the newest developments.
Classic-WBS.NET
Recent posts by WBS Classic
How it works
Get started in 2 minutes