White Mountain Druid Sanctuary
is creating Shrines
Select a membership level
Every Amount Helps!
Every amount helps and we are so thankful.  You have our endless appreciation for your support!
Thank you for 10 years
Limited (19 of 20 remaining)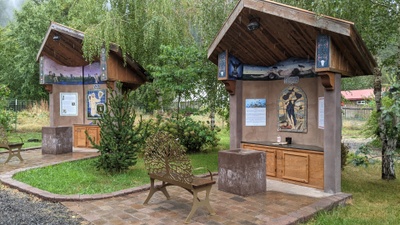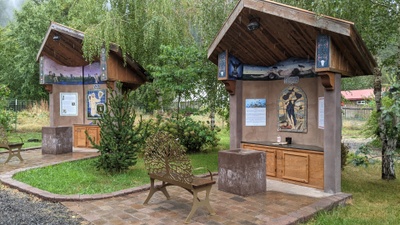 We've been building Shrines for a decade!  A dollar for each year.  In the beginning there were two, The Morrigan and The Dagda.
4x8 inch Brick
Limited (9 of 10 remaining)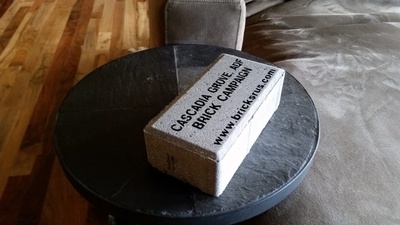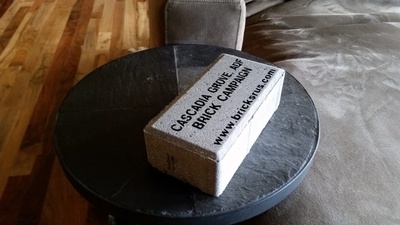 You'll get a 4x8 inch paver brick engraved with 3 lines of text placed along the walkway leading up to the Goddess Rhiannon's Shrine or Taranis' Shrine.  Text can be anything you like, i.e. name, organization, grove, dedication etc. It is limited to 3 lines of 18 characters each and is subject to our team's approval.  

About White Mountain Druid Sanctuary
Thank you for visiting White Mountain Druid Sanctuary's (WMDS) Patreon page! Please be sure to check our posts for the latest news on our shrines - Rhiannon and Taranis are the 2021 projects. 
WMDS is a druid site dedicated to honoring the sacred Ancestors, the Nature Spirits and the ancient Indo-European deities. It is inspired by Ár nDraíocht Féin: A Druid Fellowship (ADF) which "is a Pagan church based on ancient Indo-European traditions expressed through public worship, study, and fellowship."
White Mountain Druid Sanctuary is raising money for the purposes of:
Building a pagan site for Druids in a modern setting to honor the deities and beings that our Indo-European ancestors did.
Creating the Shrine to the Goddess Brigid. 
Building a Shrine around the statue of Lleu Llaw Gyffes.
Maintaining the Shrines and structures we have built so far - The Stone Circle, the Labyrinth, the Sanctuary building itself, and Shrines to the Daghda, the Morrigan, Lugh, Taranis, Cernunnos, the goddess Samona and the Nature Spirits.
During 2020, we built a Shrine to the Goddess Brigid. It is an outdoor shrine (like all the others) made to withstand harsh winters and heavy snows. The shrine has been constructed with concrete walls and a wooden roof - all forming a sheltered area that includes a granite shelf for lighting and placing incense and other offerings. 
The Goddess Brigid's Shrine as of summer 2021. This is the inside.  The only thing left to do is the custom made hood over the round fire altar.  The everlasting flame is just to the right of the image.
Unique to the Goddess Brigid's Shrine is place for a fire inside the Shrine to honor her capacity as a Hearth goddess.  In addtion to a fireplace, we have built an everlasting flame that stays lit all the time.  There is one of a kind artwork of her across from the flame facing due west.  
The Goddess Brigid's everlasting flame. It is fueled by a permanent gas line which you can see at the bottom.  It is also encased in glass from inside the Shrine and outside to keep it safe.
Her custom made artwork hangs on the eastern wall inside Her Shrine looking directly west toward the Stone Circle and the Cernunnos Shrine.
Custom made artwork for the Goddess Brigid's Shrine.  "Eternal be the flame of Lady Brigid's inspiration".
White Mountain Druid Sanctuary is one of the few places in the country that has imagined and created an environment similar to what we believe our ancient ancestors worshiped in, and then placed it in a modern setting. Grounded in what we know from artifacts and written history, ADF has created rituals that honor the Indo-European pantheons of old. At White Mountain Druid Sanctuary, we are creating a place in which we can honor the Gods and Goddesses of old, the Nature Spirits, and our Ancestors.
One definite peace of mind you have as a contributor is that a significant amount of work has already been completed on other shrines. We already know exactly how to get the work done and we've already been successful at doing this before. If you would like to see more details on each feature at WMDS, we have a blog at
http://witchesandpagans.com/pagan-paths-blogs/cas...
Below are examples of our other Shrines.  The first one for Lleu Llaw Gyffes was also built last summer and the details will be completed this summer, 2020.
Lleu Llaw Gyffes as of fall 2019. He is the Welsh god of transformation.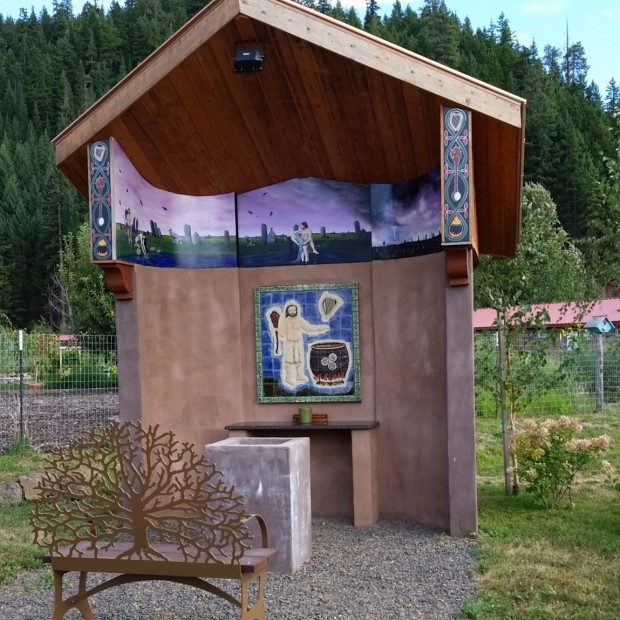 Shrine to The Dagdha, Irish god of appetite and magic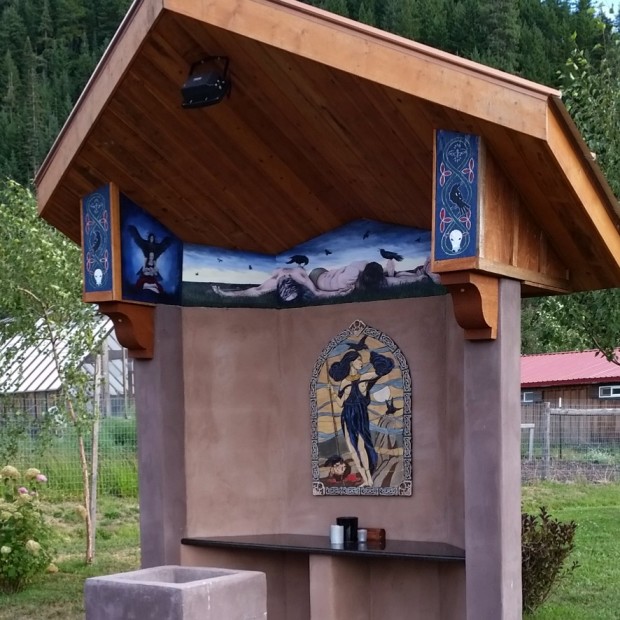 Shrine to The Morrigan, Irish goddess of battle, death, and rebirth


The Goddess Samona's Shrine in the summer 2019.  She is our local goddess of the land and the White Salmon River.

Shrine to Cernunnos, Gaulish god of the forest, underworld, liminality and commerce.
To watch the consecration of this Shrine, see the video below.
https://youtu.be/p4Z0BcsuOYc
The Morrigan, the Dagdha, Cernunnos and Samona's Shrines are built with concrete blocks, stucco and metal roofs. Trout Lake, Washington can get from 3-6 feet of snow at once so the Shrines are built to be beautiful and sturdy.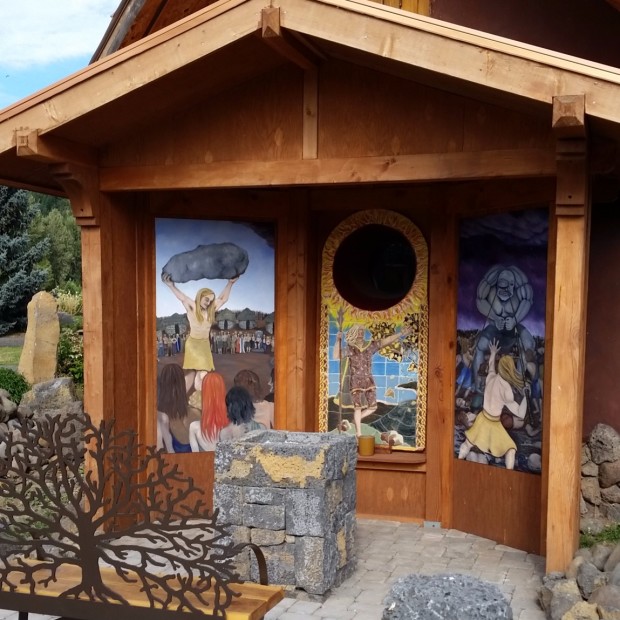 Shrine to Lugh, Irish god of many talents


Lugh's Shrine is built against the back of the Sanctuary building and is somewhat sheltered by it. The walls are wooden with a metal roof.
The Sanctuary building
The Sanctuary building is made of cob and has a tree sculpted into the east wall. We use it for indoor rituals on cold evenings.
Inside of Sanctuary building with tree sculpture and fireplace
There is also a labyrinth
Labyrinth looking south towards Stone Circle.  The smaller red roof to the right is the Cernunnos Shrine.  The larger red roof to the left is the Sanctuary.
The labyrinth was built for WMDS and the Mt Adams Zen Temple. Both Buddhists and Druids can be seen walking and meditating along its Cretan design.
All of these features surround the Stone Circle itself.  Stone circles predate Celtic druids but we pay homage to their makers by celebrating our rituals in the middle of one. It has 20 foot basalt pillars of varying size as well as benches, an altar, a three foot fire pit, a well and an axis mundi.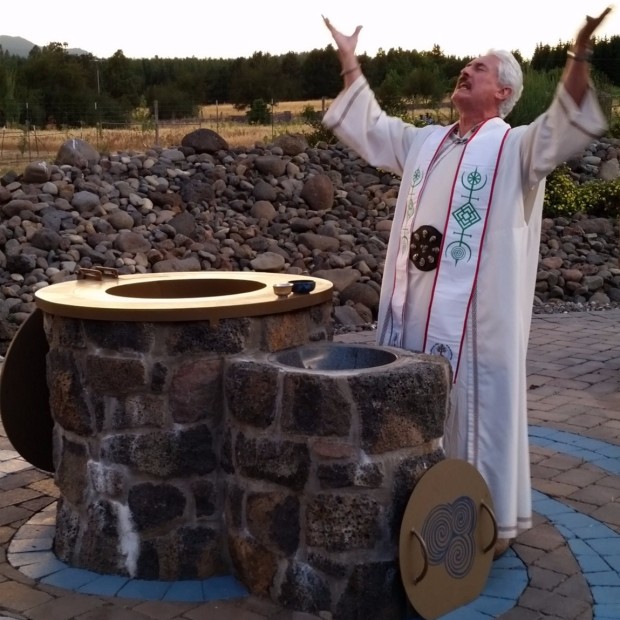 Kirk Thomas during the Lughnasadh ritual at the Well at the west end of the Stone Circle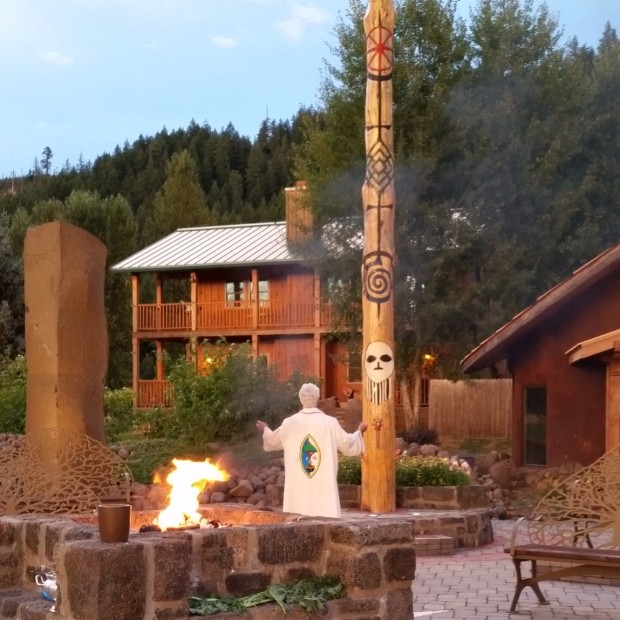 East end of Stone Circle, including Axis Mundi with fire pit in the foreground
WMDS resides on the grounds of the Trout Lake Abbey Complex in Washington state. It is wholly owned by Kirk Thomas and Kozen Sampson. The Abbey is home to:
A Stone Circle with 20 foot basalt pillars
A Labyrinth
Several Shrines - Druid and Buddhist
A Buddhist Temple (Mt Adams Zen Temple)
A B&B with rooms, a hostel and sites available for tent camping.
A commercial kitchen and space for holding retreats and group events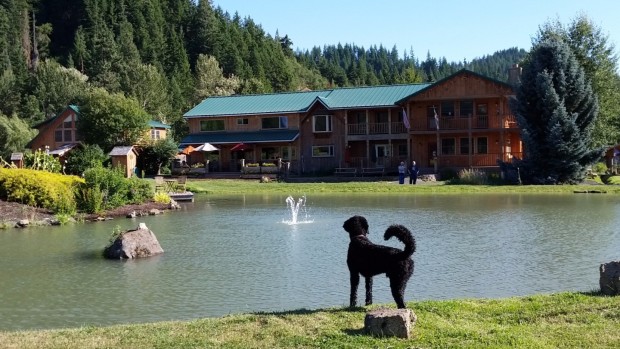 Trout Lake Abbey B&B
And did we mention the unobstructed breathtaking view of Mt Adams? (below)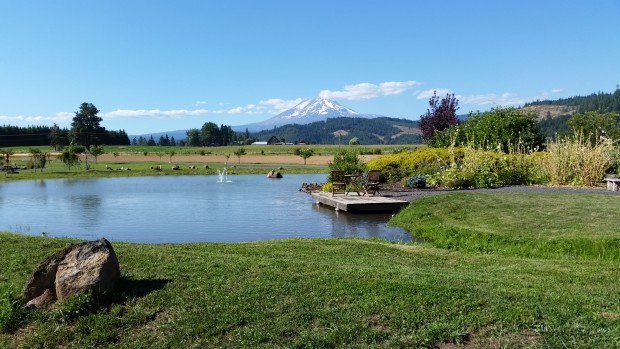 View from the Trout Lake Abbey B&B

The mountain can be seen from most spots on the property and is a constant, calm companion to all of the complex's guests.
Aerial view of White Mountain Druid Sanctuary and Trout Lake Abbey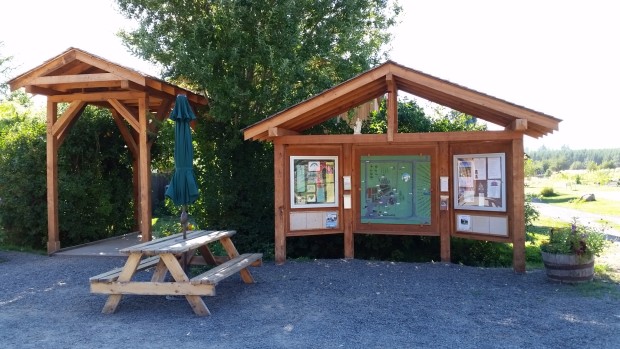 Entrance to Trout Lake Abbey B&B

Below is an example of the engraved paving brick you can get as a perk. These bricks will lead up to the Shrine. This is a 4x8 inch brick (below). We also have 8x8 inch bricks and replicas.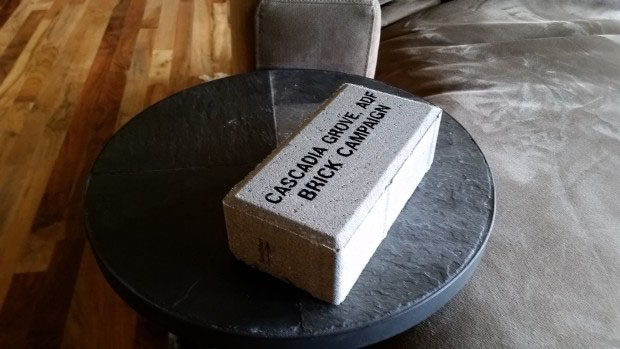 An example of the engraved brick 


Replica brick
The small red square above is an example of a replica brick that is available when you order the 8x8 inch engraved brick.  The 8x8 inch brick looks just like the 4x8 inch brick above but with bigger dimensions.  You can fit 6 lines of 18 characters on the 8x8 inch brick.  The replica has a felt back and is a perfect addition for your home shrine.  
If you have read this far, you may be wondering what is next.  We always have plans!  Here is the statue of the Earth Mother whose Shrine will be started in summer 2021.
Earth Mother statue 
If you can't contribute now, here's how you can still help. Tell your friends!
Come and visit!
Trout Lake Abbey exists for people to visit, wander the Labyrinth and the Stone Circle, and make offerings at the shrines.
A bit of small print.  
We send out perks twice a year, probably around January and Summer. 
For a short video of Kirk building the wall of the Cernunnos Shrine really fast, click here: https://www.youtube.com/watch?v=A1EbB4JQ00w
For a past introduction video, click here: https://www.youtube.com/watch?v=TrCGeJEpzao
We welcome all people of good will and actions.  We ask for visitors to behave as the best versions of themselves with openness, kindness and their best intents and behaviors. (To see ADF's specific stand on this, follow this link: https://www.adf.org/blogs/ad/08242016-2118) 
This page is created and managed by Cascadia Grove in the Puget Sound area of Washington State.
$245.17 of $500
per month
We will be completing much of the Goddess Rhiannon's Shrine and Taranis' Shrine this summer, 2021!  The Goddess Brigid's Shrine is only missing the hood over the fireplace.  It has to be custom made so it will take a while longer.  For more info about our work, scroll through our Patreon page and check out our Posts for the latest updates.  Thanks to everyone who has donated so far - we couldn't do this without you!

1 of 1
Recent posts by White Mountain Druid Sanctuary
How it works
Get started in 2 minutes