Yo! MTG Taps!
is creating Podcasts
Select a membership level
Starter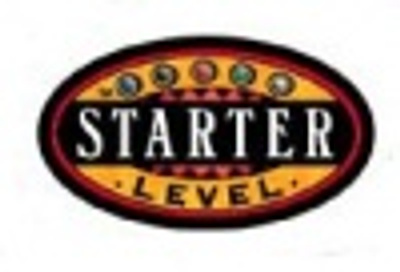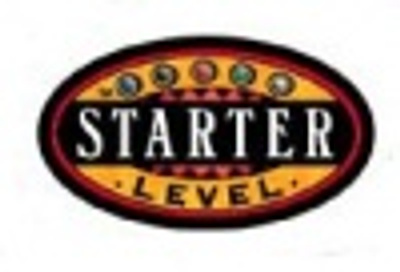 Starter level patrons will receive:
Patreon feed access
Discord server access
A fancy new YMTGT sticker to vandalize your own deck box with! (Vandalism is a crime, however. You have been warned.) 
 Yo! - an occasional Patreon-Exclusive show* where we discuss hot topics in a timely manner (but not Hot Topic)
Your name listed on the Patron Thank You page on YMTGT.com
*You will not be charged for episodes of Yo!
Includes Discord benefits
Advanced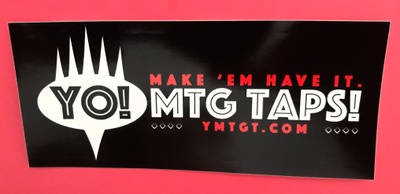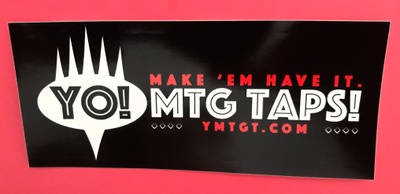 At the Advanced level, you'll receive:
Everything at the $1 tier PLUS
 a YMTGT BUMPER STICKER (pictured above!) to show your love for the show on your car or binder.  (These bumper stickers are pretty much only available here. If you run into me at an event you might wind up with one of the smaller stickers, but I never carry these with me. -bhj)
Includes Discord benefits
About Yo! MTG Taps!
Yo! MTG Taps! is back!
As of 2019, original members Joey and bigheadjoe have reunited and are releasing episodes on a bi-weekly basis. Founded in 2009, YMTGT has naturally gone through some evolutions over the years, including the addition of co-host Stephen Marshall in 2014 before wrapping the most recent iteration of the show in 2016.
Now, nearly 10 years after recording Episode 1, our lives are much different than they once were. Joey is happily married with a beautiful baby girl, Aurelia (who he swears is not named after a Magic card… suuuuuuure, Joey); and bigheadjoe is finishing his Associate of Science degree in Dallas and is about to start his B.A. in Anthropology. Add full time jobs and relationships to the equation, and producing a show is much harder for us than just, "meet me at Rosedale Park."
We are happy to announce that we are now sponsored by CoolStuffInc.com! Evan Erwin has always been a strong supporter of the show, and we are excited to join the CSI family alongside such immense talents as Erin Campbell, Reuben Bresler, Adrian Sullivan, and Michael J. Flores! It's basically a family reunion. 
We know many people would argue, "they're sponsored, what do they need a Patreon for?" (And, believe me, I used to be one of those people. -bhj) But the nature of sponsorship is one of mutual benefit. They provide us with a wider audience, and we provide them with quality content. The costs of time and money to produce a show aren't nearly met with sponsorship alone.
That's where you come in. Becoming a Patron of YMTGT helps us cover the costs of hosting, audio equipment, and helps justify the time away from our jobs and families to produce the highest quality show for our listeners. Also, we'll return the favor by delivering some sweet stickers, tokens*, and t-shirts* directly to your door. (Not in person, though. We'll try not to make it weird.)
*Tokens and t-shirts will be available when their respective tiers are unlocked in our goals section
ALL Patrons will also have access to Yo! - Our Patreon-exclusive short-form podcast where we briefly address hot-button topics in a more timely manner than a bi-weekly podcast allows (an example of which can be found here). Other perks include direct challenges from the hosts on MTG Arena, and more fun stuff that we're still dreaming up at this point.
Join us as we discuss Standard, a bit of Modern, and likely at least some #ArenaGrumping. And, of course, thanks so much for your support.
About the hosts:
Joey Pasco has been playing MTG since January 1995. Around May 1995 he taught bigheadjoe how to play, and a bond originally created by a mutual love for Nirvana was strengthened. They began Yo! MTG Taps! after deciding that a show name that good couldn't just sit on the shelf of unrealized ideas. At the insistence of Michael J. Flores, they decided to take the show seriously, and were picked up by StarCityGames.com as a result. This led to a short stint for bhj, and a long tenure for Joey, on SCGLive (now known as the SCGTour), providing coverage for the StarCityGames.com Open Series, and Joey even had a vote for the Pro Tour Hall of Fame. All because they shared a passion for this crazy game, and a friendship that created an undeniable chemistry on their podcast.
$10.80 of $25
per episode
At $25 per episode, bhj can finally replace this busted headset with one that looks nicer and sounds better.
1 of 3
Become a patron to
Connect via private message
Recent posts by Yo! MTG Taps!
How it works
Get started in 2 minutes